Finnovista y Startupbootcamp, the global network of industry-focused accelerator programs, have chosen its Fintech subsidiary in Mexico City as the host for its first scale and innovation program: Startupbootcamp Scale.
This new program is the result of a joint-venture created by Finnovista and Startupbootcamp Fintech in 2016 to drive Fintech entrepreneurship in the regions of Latin America and Spain, through acceleration and scaling programs for Fintech startups.
Startupbootcamp Scale targets growth stage Fintech companies (pre-Series A funding) with a presence in Latin America, as well as those who seek entry into the region. This initiative provides companies with the opportunity to collaborate with mentors and specialized corporate partners of the financial industry in order to break down the growth barriers faced by these type of startups.
Startupbootcamp Scale Fintech Mexico City is managed by Finnovista and has the support of leading corporate partners in the region, such as: Visa, Fiinlab powered by Gentera, BanRegio, HSBC México, IGNIA, EY Mexico y White & Case.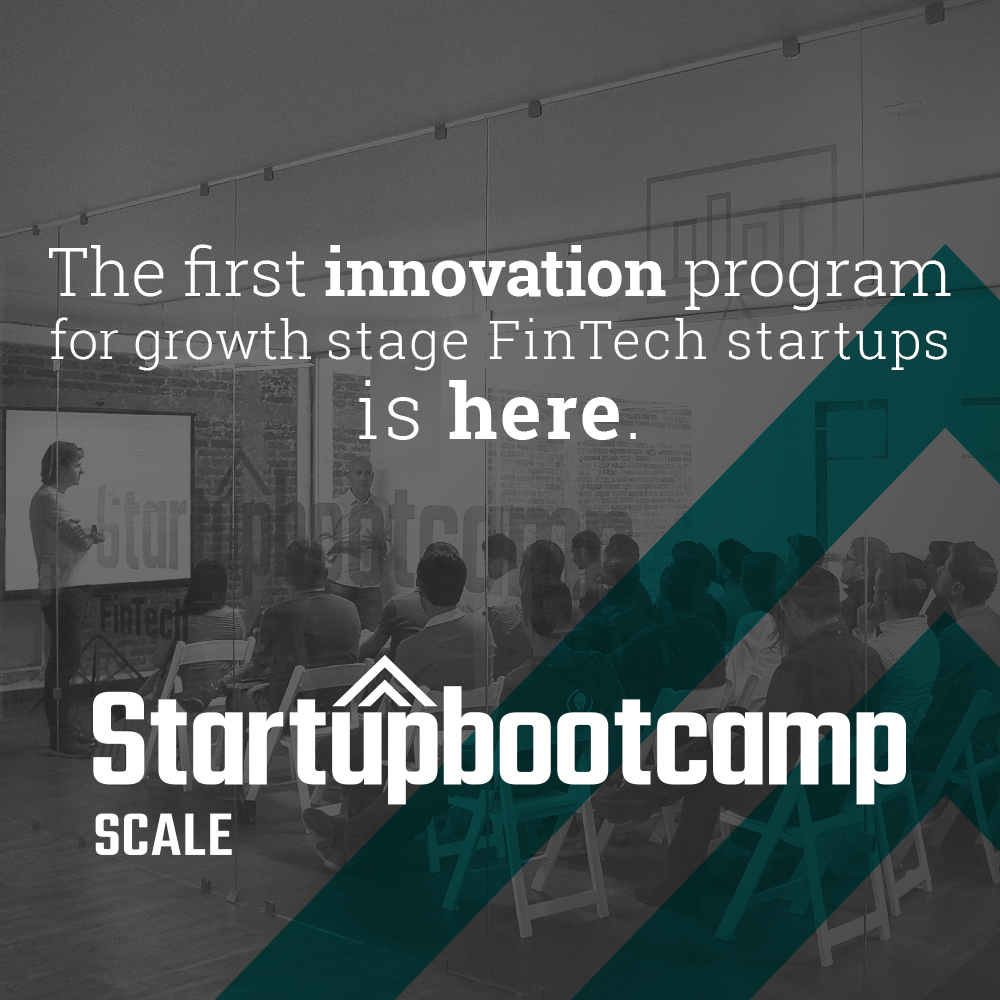 Nektarios Liolios, CEO and co-founder of Startupbootcamp FinTech, said: "The idea for Startupbootcamp Scale grew from a recognition that there is a necessity to focus on addressing the needs of startups with validated business models. An innovation program like this doesn't exist, that is targeted at working with companies looking to scale up their businesses. Our industry knowledge combined with an intimate understanding of key markets means that we are equipped to deliver a program that benefits both the startup companies and corporate sponsors."
Fermín Bueno, Managing Partner at Finnovista and Startupbootcamp SCALE FinTech Mexico City, said: "Our experience in the Latin American FinTech ecosystem led us to launch a scale program in Mexico with such a fertile market in this industry. Startups in the region need multiple tools to further develop and expand their businesses, and even more, the possibility to work side by side with the financial industry as a way to advance innovation and economic development in the region. Therefore, Startupbootcamp Scale is looking to ease these challenges in the market and bring inclusive digital finance to every corner of Latin America."
Scaling process: six months beginning on March 26
Starting today and until the following February 3rd, the application is open for the program Startupbootcamp Scale FinTech Mexico City. All startups interested in scaling up their business in Latin America, to apply and read more about the program at the following link.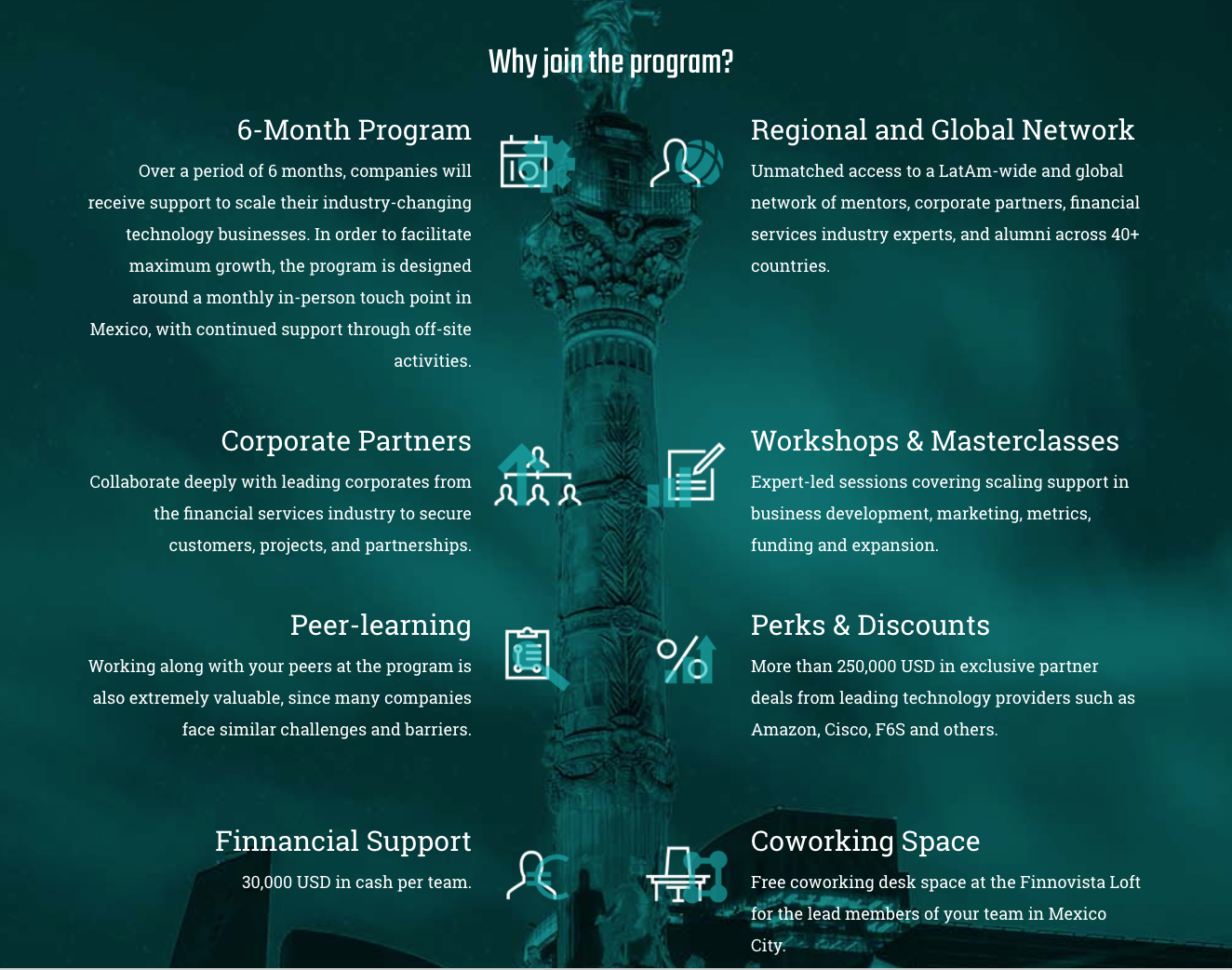 For six months, the selected startups will have access to close support, multiple workshops and networking events, including master classes and projects to develop skills and business.
Participating in the program will provide the startups with:
 

Collaboration with different actors in the development of tools that enable their scaling and presence in new markets, or their growth in existing markets.

 

Financial support of $30,000 USD.

 

Opportunities to showcase their progress throughout the 6 month period
The program requires the startups to be on-site once a month for various activities, and Startupbootcamp Scale FinTech Mexico City will access 4% of equity of each startup that joins the program.
Regarding the announcement, the corporate partners said:
Juan Carlos Guillermety, Vice President of Products and Innovation in Payments for Visa Mexico says: "Visa seeks to collaborate with FinTech companies to co-create the future of payments and with our financial partners, accelerate together the adoption of new technologies in the country. In that sense, we are excited to participate in Startupbootcamp SCALE; through our open platform, Visa Developer Platform, we collaborate with startups so that they can leverage our high infrastructure and complement their own solutions with these assets".
Jorge Gutiérrez, CEO of Fiinlab powered by Gentera states: "Our constant struggle for financial inclusion has been reinforced by collaborating with agents such as Startupbootcamp FinTech and Finnovista. We are eager to catapult startups with great opportunities for exponential growth in this program. "
"We are delighted to continue our collaboration with the Finnovista team. From Banregio we are committed to the collaboration with FinTech companies and co-create solutions that help to launch better services and financial products for the end customer", says Demetrio Strimpópulos, Director of BanregioLABS.
"In HSBC Mexico, we consider that this program is essential to boost the scaling of FinTech startups in Mexico and Latin America. Through the program, we will be able to deliver knowledge, networks and financial means to establish successful collaborations with startups that will benefit our clients", says Juan Carlos Espinosa, director of Digital Strategy and Innovation at HSBC Mexico.
"We are convinced that there are great opportunities for innovation and disruption in digital financial services in Latin America, so we joined to the effort of Startupbootcamp Scale and Finnovista, in this new program they launch," says Álvaro Rodríguez, founding partner of IGNIA.
"It is a pleasure for EY to work hand in hand with the FinTech ecosystem, driving its development through our participation in Startupbootcamp Scale: a pioneering program in the scaling of FinTech companies, not only in Latin America, but throughout the world", highlights Ignacio Aldonza, Leading Financial Services Office Partner of EY.
"We are committed to the economic and social development of the region, and that is why we have participated in different projects that generate a positive impact. Startupbootcamp Scale not only allows us to boost entrepreneurial talent in the region but also to increase the competitiveness of an industry that requires innovation, "concludes Iker Arriola, Partner at White & Case.
If you are a startup or you are interested in Startupbootcamp Scale and want more information, please access the program's website here or Social Media channels:  
Twitter: @sbcScaleFinTech
LinkedIn: /startupbootcampscale
Facebook: https://www.facebook.com/sbcFinTechMexicoCity/