LAVCA, a non-profit member organization that supports private equity & venture capital in Latin America, has recently published the 2017 LAVCA Industry Data & Analysis, which summarizes the results of the Latin American Private Equity & Venture Capital Association's ninth annual survey of nearly 250 fund management firms active in Latin America and the Caribbean. Finnovista did not want to miss the opportunity to interview Julie Ruvolo, Director of Venture Capital of LAVCA, who share her insights on the potential growth of Venture Capital in Latin America, especially after 2016 the number of VC deals reached a record high. This is particularly noteworthy within the Fintech sector, as 25% of venture investments in IT in the region have been allocated in this segment.
What role does Fintech play in venture capital in Latin America? What does the future have in store for this sector?
It's the most well-funded IT sector, according to LAVCA data, representing about 25% of 2016 venture investments in IT, and about 50% of venture dollars invested in IT in the region.
According to the LAVCA 2017 VC report, the number of deals in Latin America is increasing year by year. What are the main reasons behind this increase, and how does this compare to other markets?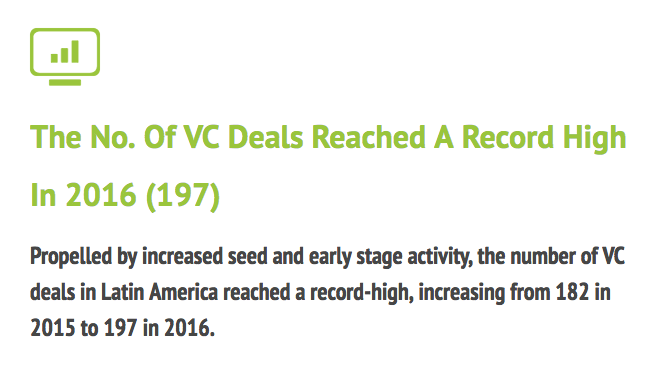 The number of VC deals in Latin America reached a record high in 2016, increasing from 182 in 2015 to 197 in 2016, propelled by increasing seed and early stage activity. Contributing factors include the evolution of the venture and entrepreneurial ecosystem not only in Brazil, but also in Argentina, Mexico, Chile, and Colombia. 
In parallel, a culture of innovation has taken hold as governments around the region, as well as the private sector, have promoted new accelerators, programs, and co-working spaces dedicated to entrepreneurs. Investors also cite increased deal flow (in terms of both volume and quality) as a driver for activity in 2015/2016, and we have seen a number of international VC investors returning to or entering the region for investment.
Brazil continues to be the country with the highest amount of VC investment. What Latin American countries do you expect to compete with Brazil in the following years?
We have seen compelling activity across a number of the major markets in Latin America, contributing to an overall increase in deal activity in 2016. According to LAVCA data, Brazil was the largest Latin American VC market in 2016 in terms of capital invested, with US$279m, or 56% of the regional total, deployed through 64 transactions. Mexico was the second largest market for VC deals, with US$130m deployed through 73 transactions, up from the US$86m that was invested via 48 deals in 2015.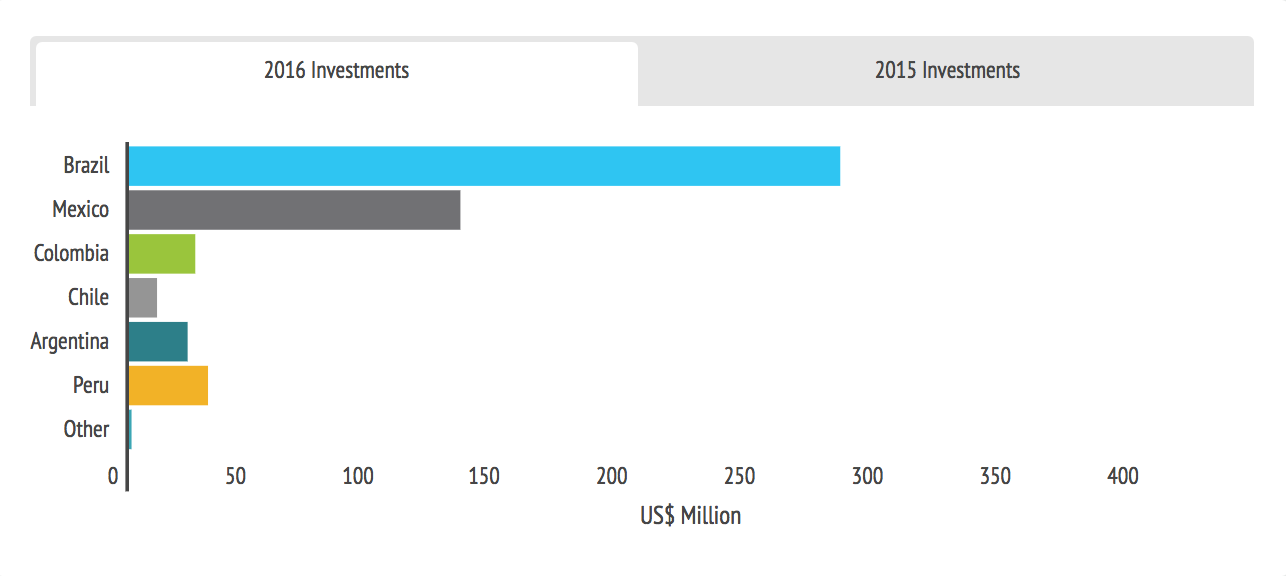 Overall, Mexico recorded the highest number of VC deals in Latin America across all investment stages (seed, early, and expansion) for the first time in 2016. With US$23m in capital deployed, VC activity in Argentina increased from 17 transactions in 2015 to 26 in 2016. Chile, Colombia, and Peru captured a total of US$67m through 29 VC transactions, representing a significant year-on-year increase for the Andean region.
That said, one trend LAVCA is following with interest is the increase in co-investments among locally based fund managers, as well as an increase in cross-border investments, which is an important indication of a maturing venture ecosystem. A notable example of this is KaszeK's investment in Mexico's Konfio, alongside Jaguar Ventures. This was KaszeK's debut investment in the Mexico – they are most active in Brazil.
According to LAVCA 2017 report, one quarter  of the deals within the IT sector in Latin America took place in the Fintech sector. Do you expect this trend to continue or do you believe that other sectors will surpass the Fintech sector?
Fintech is an important area of investment when you look at the secular landscape: Over half the region's population is online, but only a fraction of the adult population can actually transact online. Based on our data, the macro environment, region demographics, and comments from fund managers, LAVCA forecasts increased activity in agtech, edtech, and healthtech/biotech in the region in coming years.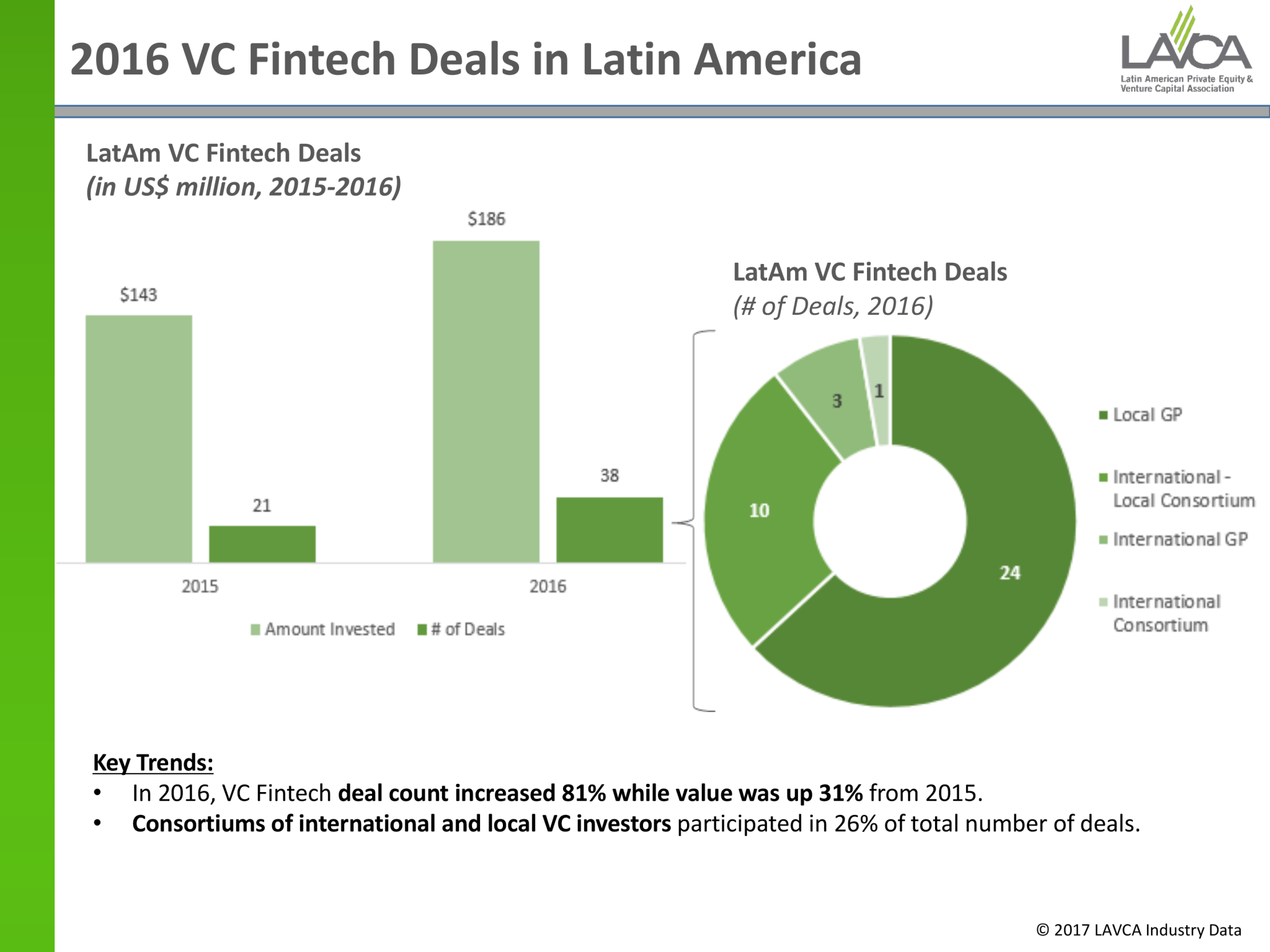 Are current deals taking place in Fintech in Latin America carried out mostly by local or international investors?
Syndicates of international and local VC investors participated in 26% of the total number of fintech deals in 2016. We see local syndicates of investors doing the early investing and heavy lifting of identifying promising companies and scaling them to a certain point; international investors are partnering with them for growth rounds, but sometimes coming in earlier as well.
Examples include: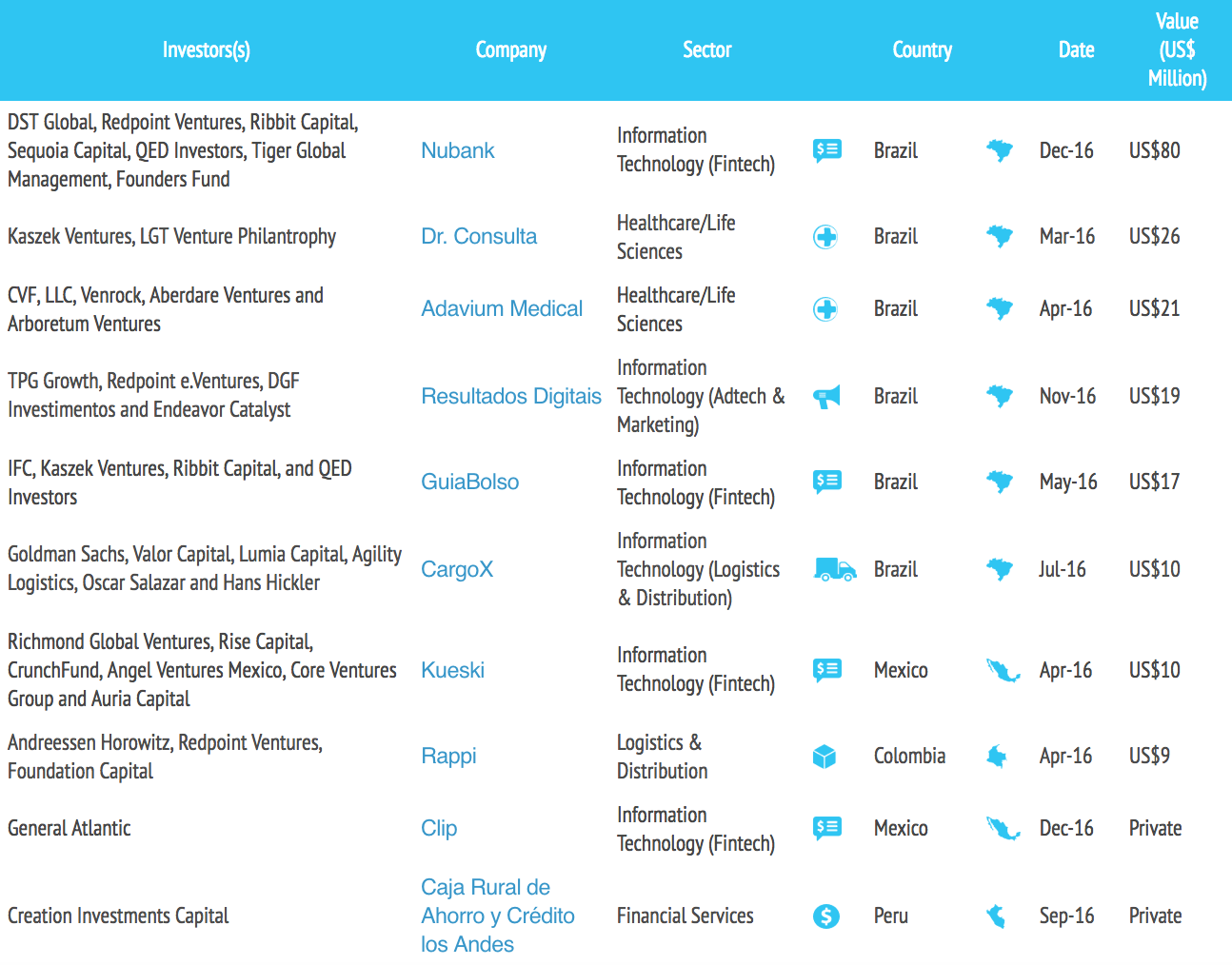 – General Atlantic's Series B in mobile payment service company Clip
– International investors Richmond Global Ventures, Rise Capital, CrunchFund, Victory Park Capital, and Core Ventures Group joining Mexican investors Variv Capital, Angel Ventures Mexico, and Auria Capital in a Series A in online lending company Kueski
– Quona Capital, QED Investors, and KaszeK Ventures' Series A in Mexican online lending platform Konfio along with Jaguar Ventures
– A Series D in Brazilian fintech startup Nubank led by DST Global with participation from Redpoint Ventures and Ribbit Capital and previous backers Sequoia Capital, QED Investors, Tiger Global, and Founders Fund
– Ribbit Capital, KaszeK Ventures, IFC, and QED Investors in Brazil's GuiaBolso
According to the 2016 LAVCA report Latin America venture capital investments reached US$500m in 197 transactions. This represents an 8% increase in number of transactions and a 16% decrease in amount invested y-o-y. What are the main reasons for both the increase in transactions and the decrease in amount of capital invested?
A lower number of expansion stage transactions, which require larger ticket sizes, was the main factor for the 16% decrease in amount invested as compared to the 2015. The jump in the number of transactions can mainly be attributed to increased seed and early stage activity, which also contributed to lower overall totals, as these investments are smaller ticket sizes.
Why is Latin America still one of the most undervalued or undercapitalized emerging markets? What are the key steps the region has to take in order to overcome these barriers and transition from an emerging market into a global one?
With 60% of the population online, LatAm dominates three of the top five social markets globally, and two of Uber's top cities globally, and is growing 4G and smartphone penetration at a much faster clip than the global average. In order to transition from an emerging market to a global one, it is imperative to get most of the region's population online, and we need to see a healthy investment ecosystem develop to support new tech innovation (both of which we feel are well underway).
About Julie Ruvolo | Director of Venture Capital Strategy, LAVCA
Jul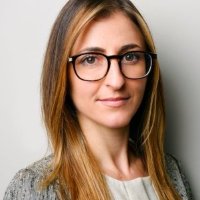 ie is Director of Venture Capital Strategy at LAVCA where she manages venture investor relationships in Latin America and globally and oversees venture-related educational programs and digital content. Prior to joining LAVCA, Julie covered tech and innovation in Brazil as a journalist for TechCrunch, Fusion, Buzzfeed, GOOD Magazine, Advertising Age, The Atlantic's CityLab.com and Forbes.com. Until 2010, she served as COO of Solvate, a venture-backed startup she co-founded to provide startups on-demand access to exceptional talent, and was an active member of the community of women in digital in New York City. She received her B.A. in Cultural and Social Anthropology from Stanford University in 2004 with honors distinction for research conducted in Rio de Janeiro.