Today, March 1, 2017, Finnovista announced the launch of the Startupbootcamp FinTech accelerator program for Latin American startups in Mexico City. The program is the first of a series of actions stemming from the joint venture created by Finnovista and Startupbootcamp Fintech to accelerate Fintech entrepreneurship in Latin America and Spain, and carry out the mission of promoting the Fintech ecosystem and connect it with global and regional financial industry players.
Following the success of programs in London, Amsterdam, New York, Singapore and Mumbai, Startupbootcamp FinTech looks to accelerate Latin American startups offering them funding and tools for growth through mentoring, access to corporate partners and clients, and taking advantage of Mexico City as a launchpad to the rest of Latin America. FinTech startups from Latin America can apply now and take part in the most prestigious international FinTech accelerator program.
Startupbootcamp FinTech Mexico City has the support and active participation of regional and global leaders in financial services, such as Visa, the global payments network; Fiinlab powered by Gentera, the largest microfinance institution in Latin America; BanRegio, the leading SME bank in Mexico; EY, the leading global professional services firm; and international law firm White & Case.
The program will accelerate 10 FinTech companies taking them to the next level through an intensive program that will help consolidate their businesses. Additionally, the program will offer funding, direct access to financial industry players in the region, specialised mentoring, work space in the heart of Mexico City and access to a global network of investors and VCs, among many other benefits. The main objective is to help these startups implement a successful strategy and prepare them to scale.
The program will be led by Nektarios Liolios, co-founder of Startupbootcamp FinTech; Andrés Fontao and Fermín Bueno, co-founders of Finnovista, acting as Managing Partners of the program; and Eduardo Morelos, Program Director of Startupbootcamp FinTech Mexico City.
"At Finnovista we have developed and articulated the FinTech ecosystem in Latin America for over four years. Throughout this time, we have witnessed how FinTech startups have drastically increased the pace of innovation in financial services, shaping the digital transformation of the sector and leaving behind traditional financial entities in terms of innovation. However, we are convinced that in growing economies, startups cannot scale by themselves, and they need to place greater emphasis on creating partnerships with traditional players within the industry. This understanding has led us to launch a Startupbootcamp FinTech program for Latin America in collaboration with recognized corporate partners  at  both the global and regional level", states Fermín Bueno, co-founder of Finnovista.
"We are excited to announce our first program for Latin American in a joint venture with Finnovista, the most widely recognized promoter of the FinTech ecosystem in the region. The project consists of a regional accelerator program in which, from Startupbootcamp, we will support the participating FinTech startups in the development of their business models and will connect them to financial institutions, in addition to specialised training and mentoring. With this we will help them grow their business and capture new strategic partners, at the same time we'll provide them with the necessary funding in the initial stages", said Nektarios Liolios, co-founder and CEO of Startupbootcamp FinTech.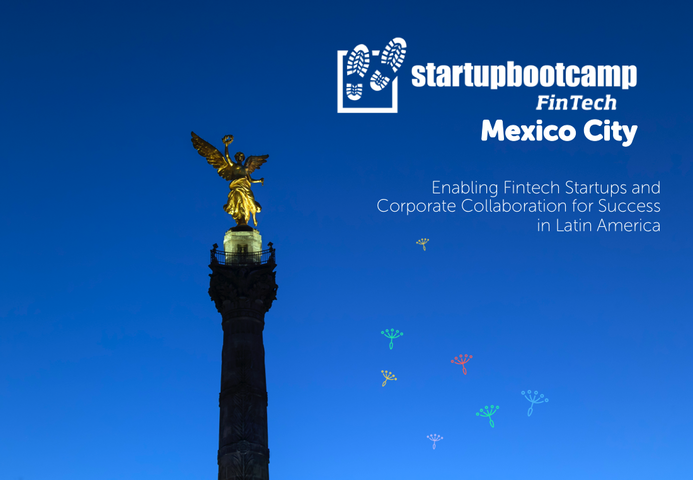 Between March and May, Startupbootcamp Fintech Mexico City will embark on a roadshow across most Latin American cities hosting a series of events called 'FastTrack Days'. Through these events, the most promising FinTech startups will have the chance to learn about the program first-hand. These events will take place in cities like Buenos Aires, Santiago, Montevideo, Bogotá, Medellín, Quito, Lima, São Paulo, Rio de Janeiro, Mexico City, Guadalajara, Monterrey, as well as Miami and Madrid. The program will begin on July 17th with the 10 selected teams.
The consortium of industry partners that support the program is initially formed by Visa, Fiinlab powered by Gentera, BanRegio, EY and White & Case, although the program will continue to onboard partners to complement the consortium with two or three additional partners that can be either financial institutions, investors or other players linked to the traditional financial services industry in the region.
"Through the Visa Everywhere Initiative Visa is on a mission to partner with startups to co-create the future of Payments. That's why we are excited to support Finnovista and sponsor Startupbootcamp FinTech Mexico City as a way to find innovative ways to improve the payment experience for consumers", said Juan Carlos Guillermety, Vice-president of Products and Payments Innovation at Visa Mexico.
"Fiinlab was created by Gentera with the purpose of confronting the challenges that affect the large segment of the population that lacks access to financial services. After 26 years working to achieve total financial inclusion, we are convinced that this mission will be reinforced with an active participation in projects like Startupbootcamp FinTech, collaborating hand in hand with Finnovista, one of our most important strategic partners. We are excited about the launch of the program and look forward to meeting the most promising startups in the region", stated Enrique Majós, CEO of Fiinlab.
"In 2014 we started to immerse ourselves in the Mexican and global Fintech ecosystems to better understand the efforts being made by entrepreneurs to improve products and services in the financial services industry. In parallel, we identified problem areas in the Mexican financial system, for which we defined focus areas through which we wanted to connect with talent to jointly offer value-added services. Our objective: connect, collaborate and build with Fintech startups from around the globe that can offer relevant solutions. We are convinced that Startupbootcamp FinTech Mexico City is the platform that will help us achieve our objective," said Demetrio Strimpópulos, Director of BanregioLABS.
"At EY we are committed to empowering entrepreneurs capable of transforming a diverse range of industries. We know that collaboration and knowledge exchange are key elements that strengthen the ecosystem and guide startups towards sustainable and high impact growth. The Fintech industry in Mexico is robust, with startups and entrepreneurs that have the capability of positioning the country as a leading Fintech hub among Spanish-speaking markets. Through Startupbootcamp FinTech, these startups can get to the next level," highlighted Ignacio Aldonza, Partner Financial Services Office, EY.
"We are a global law firm committed to the development of our community; therefore we seek to participate in projects that impact positively in different areas. Participating in the Startupbootcamp FinTech not only allows us to boost the talent of entrepreneurs, but also to increase competitiveness in a promising sector as the financial" said Iker Arriola, Executive Partner at White & Case Mexico.
As of today, the application period for the accelerator program of Startupbootcamp FinTech Mexico City is open. Interested startups can apply HERE.