The world's leading Fintech accelerator is looking for the best FinTech early-stage startups in the region for the third year in a row. This time, the team has scheduled 13 events in Latin America, Madrid and Miami, in order to meet the best talent.
On March 26th, Startupbootcamp FinTech Mexico City announced the call for its third generation. Any startup interested in building up their business through the accelerator's network, expertise and mentoring, is invited to apply until June 23rd.
As part of its recruitment efforts, the initiative will visit 11 innovation hubs throughout its FastTrack Tour, and invites all interested early stage startups to register through the following link.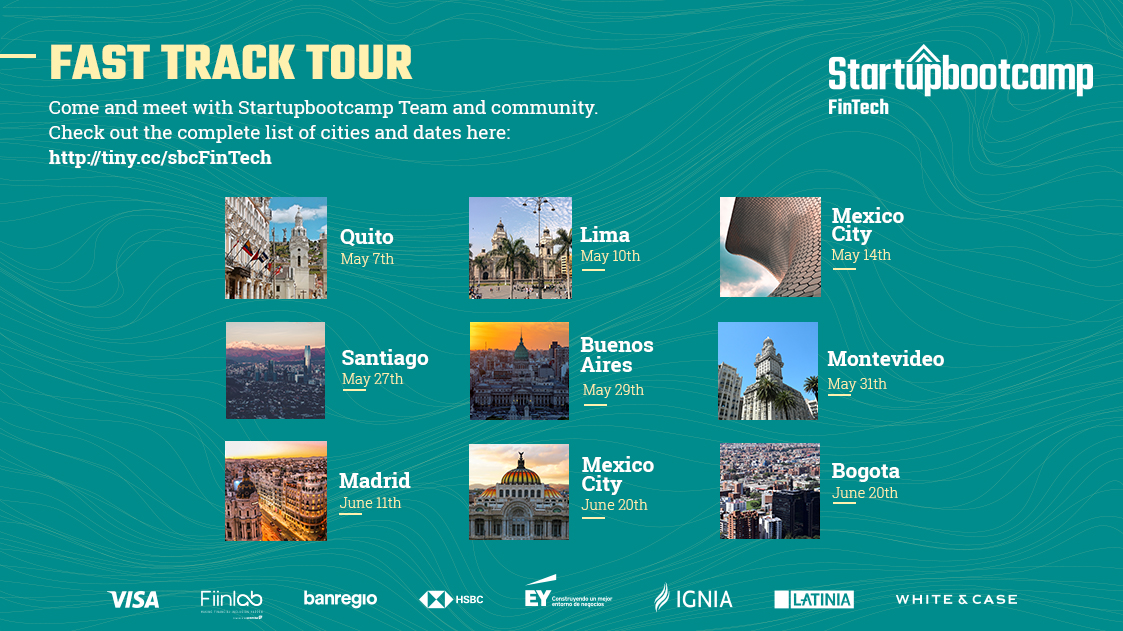 After applying, the best projects will be chosen. The selected startups will have the opportunity to meet with the local team, receive mentoring and feedback on their financial-technological solutions and be a step closer to become a part of the third generation of this regional acceleration program.
About this tour, Christine Chang, director of Startupbootcamp for Latin America remarks: "We want to know each city's entrepreneurship ecosystems first hand. We are aware of the existence of great talent in the region, and we would love to meet with the largest possible number of startups and let them know what Startupbootcamp FinTech has to offer to consolidate their FinTechs. "
But how does Startupbootcamp FinTech help startups? This initiative builds up high impact financial-technological companies through mentoring and collaboration with key industry agents, especially corporate partners such as Visa, HSBC México, Banregio, IGNIA, Latinia, Fiinlab powered by Gentera, EY México and White & Case.
Since Startupbootcamp was launched in the region in March 2017, the local team has personally met with about 500 startups eligible to be part of the network, has graduated two generations, and has accelerated early stage 20 companies.
The first Fast Tracks of this 2019 tour took place a few weeks ago in Bogota, Guadalajara (Mexico) and Monterrey, but registrations are open for startups that want to participate in the following cities: Quito, Lima, Mexico City, Santiago, Buenos Aires, Montevideo, Madrid, and the second edition in Bogota.
When this call ends, the best 10 best FinTech startups in the region will be chosen, who will receive a USD 16,500 financial support, a workspace in Finnovista Loft in the heart of Mexico City for three months, specialized mentoring and access to a global support network.
Selected companies will be announced in August, while the program will start on September 9th. For more information, to apply to the program or to get to know the exact dates and venues of the FastTrack Tour, please visit the following site or find out what the last edition was like at the 2018 Demo Day video.