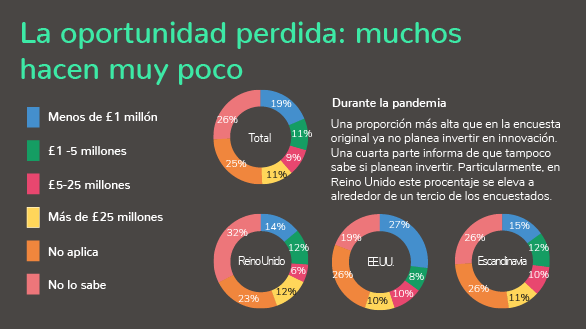 We are living in a time in which innovation can make the difference between companies that come out of this crisis stronger and those that disappear. That is why we ask ourselves: which is the closest future for business innovation in Fintech and Insurtech in Latin America and Spain, what steps should decision-makers take to obtain tangible results from their innovation activities? Due to the turbulence in the market and the uncertainty that we still have to live, we reel off some answers in this post while we launch the new services of Finnovista for results-driven innovation.
Technology revolutionized the financial industry giving way to the digitalization of services and a strong increase of players who saw niches and opportunities in the sector, making Fintech and Insurtech startups play an increasingly important role in the market.
Today there are many fronts in which the disruption of the Fintech and Insurtech ecosystem is creating opportunities and threats to the transformation of the industry but, if there is one that stands out it is undoubtedly embedded finance, also known as the commercialization of open banking. As my colleague, Simon Torrance, a specialist in new business models enabled by digital platforms, shares in a recent post, Embedded Finance is an opportunity of over $7 trillion over the next ten years, more than twice the value of markets in the 30 largest global financial institutions.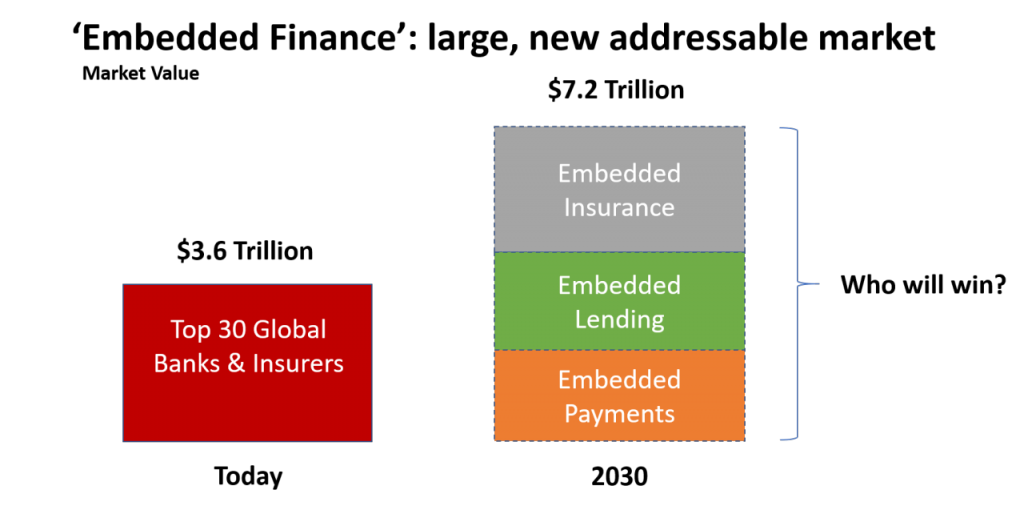 The most interesting aspect of this trend is that Fintechs are taking the lead over banks and insurance companies, creating complex Embedded Finance offerings through banking as a service platforms. Therefore, banks and insurers can and must move forward and take bolder and more strategic steps to reclaim this great opportunity, which threatens to leave them in commoditized market positions. Time for action, at scale!
Financial institutions cannot be left behind in leading the advance of technology in the industry and in attending to the increasingly demanding needs of consumers, especially when Fintechs are already serving this demand of the population and SMEs. Therefore, it is increasingly necessary to have a business strategy that includes not only the creation of new services and products or the digitalization of these but also an entrepreneurial company culture that transforms methodologies and work dynamics for the benefit of all stakeholders, through innovation based on real business results.
How to innovate in Fintech and Insurtech in Latin America and Spain and see results:
As recognized in the white paper 'Why crises are for innovation, not hibernation' by Finnovista in collaboration with Rainmaking, "the key for today's global organizations is to use innovation more effectively to drive their own growth out of the current turmoil and beyond. There has never been a better or more vital time to do so".
These are some of the tips that directors and innovation managers in the financial and banking sector can start following to innovate in Fintech and Insurtech and continue to grow: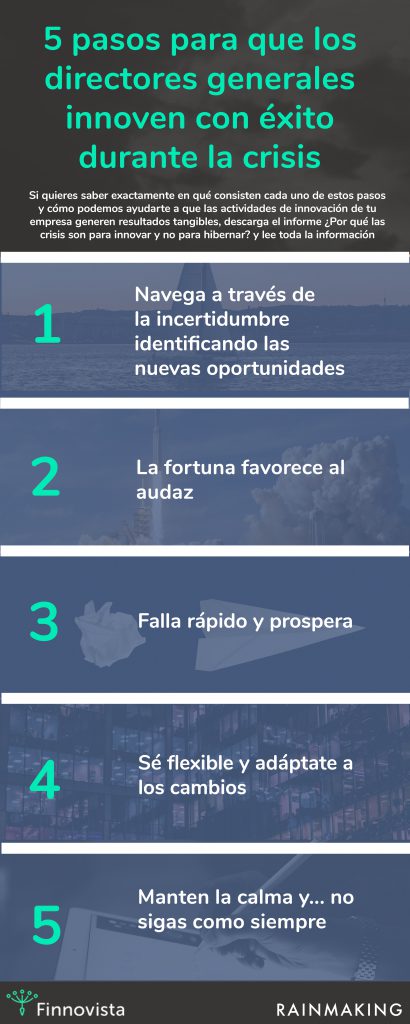 Begin to develop an innovation thesis: The innovation thesis will help any manager to identify the company's priorities in the short, medium, and long term. Based on market data and evaluating the internal and external capabilities of the company, as well as the available assets to implement a successful innovation strategy, this can be combined with the business strategy by prioritizing new spaces of opportunity for growth and market position. Solutions such as Compass® offer innovation managers a clear vision of the present, with all its challenges and opportunities in the Fintech and Insurtech sectors in Latin America, Spain, and other regions of the world.
Turn on the levers that help you grow through corporate entrepreneurship: Corporate entrepreneurship can help your organization experiment with new business models, drive transformation in the mindset and skills of your team, and lead a culture of innovation in the company. Partners like Finnovista will help your company to avoid regular mistakes in innovation projects involving startups and will help to implement the most suitable working formulas for your collaboration with external entrepreneurs to translate into growth for the organization.
Creating intra-entrepreneurs: Sometimes, companies must, due to strategic issues or lack of talent outside the organization, develop their own innovative solutions internally. For the entrepreneurial mindset to take hold within the company, one option is to set up a co-creation laboratory, hand in hand with an expert innovation partner such as Finnovista and its partner Rainmaking, in which through collaborative innovation with startups, business problems are solved and pilots are implemented that allow real business results to be obtained with a direct impact on the bottom line.
Applying the BAU + I philosophy: Times of change give rise to the most surprising creations, and this has been demonstrated by previous historical periods such as the Second World War, which led to the invention of the computer and rocket technology; or the last recession of 2008 with the appearance of new business models enabled by marketplaces and digital platforms such as Uber, Airbnb, Groupon or Whatsapp. It is understandable that in times of uncertainty many managers of large corporations decide to continue with 'Business as a Usual' (BAU), that is: to continue with business as usual. However, at this time it is necessary to put the innovation strategy in place to open new avenues for growth and see tangible results in the income statement. Therefore, while we continue to make decisions within the BAU, we must now add the I for Innovation to the equation if we want to deal positively in times of uncertainty like these.
These are just a few steps for CEOs to successfully innovate during the crisis. In our white paper 'Why crises are for innovation and not for hibernation' you will find a wider guide to navigate through uncertainty and identify new opportunities via results-driven innovation.