The percentage of companies that do not plan to invest in innovation this year has increased from 8% in mid-March, when we started talking to more than 300 directors and executives from different parts of the world, to 25% in mid-April this year. Why don't companies invest in innovation as much as they should? Haven't we learned that in the last recession the winners were those who invested in creating new income sources from outside the core business?
These statistics, recently revealed in the report 'Why Crises Call for Innovation, Not Hibernation' published by Finnovista, reflect that there is a large number of corporations that at the beginning of last March decided to stay put, instead of playing offense and investing during the crisis.
Regarding the financial services industry, as Visa's senior vice president of Products and Innovation for Latin America Rubén Salazar comments in the report:
"Banks' technology investment is mainly driven by immediate needs and compliance developments. The levels of investments in labs, new products and user experience is limited but growing. Banks know they are competing with new business models and changing consumer behaviour."

Many companies do not invest enough in innovation and many develop it with a low success rate and often without a clear strategy. My partner Fermín Bueno shared some advice so that directors and innovation managers in the financial and banking sector in Latin America and Spain can start from to innovate at Fintech and Insurtech and continue to grow.
Innovate looking for tangible results
At Finnovista we are aware that many managers and executives in the sector do not achieve all the results they expect through the innovation activities. Thus, we have launched new results-driven innovation solutions that are clearly reflected in the business' income statement.
Innovation is not easy, but in addition to that, a quarter of all companies in which the managers we have spoken with work , admit to having limited or no innovation budgets at all. While innovation can produce an impressive return on investment when executed correctly, achieving it is often a challenge. That's why it's important for leaders and their teams to be able to quantify failure, as well as learn from the obstacles that stand in their way.
10 reasons why innovation fails
In the report 'Why Crises Call for Innovation, Not Hibernation' we have collected the 10 main reasons why innovation fails, according to these more than 300 managers from different parts of the world that we have interviewed. In this infographic we have collected the reasons why innovation fails.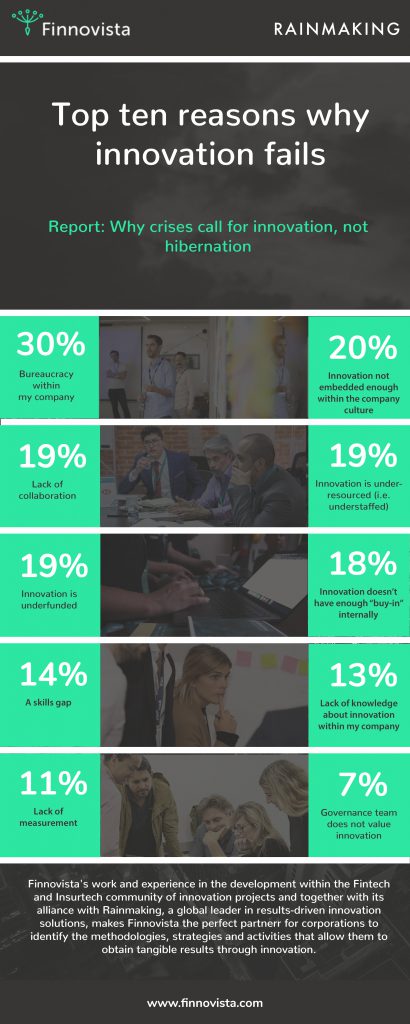 In the report published by Finnovista in collaboration with Rainmaking you can explore how to use innovation to emerge stronger from the crisis and achieve tangible business results.