This is the second of a to discuss the Fintech and Insurtech ecosystem in Mexico and Latin America, and how corporate innovation, financial inclusion and appointments such as FINNOSUMMIT are key in these times of economic uncertainty to activate collaboration between all actors in the ecosystem to solve the important challenges of the future.
With more than 10 years of experience in ecommerce and having been part of several entrepreneurial ecosystems such as Tralix, Yattos and the first version of Ticketmaster for Mexico, Brazil and Argentina, is the Co-Founder of , a payment system to support businesses of all sizes, from large retailers, transport, marketplaces and models specialised in ecommerce, to small businesses that are starting their business in the digital environment and need a multifunctional payment gateway, easy to implement and that doesn't generate many difficulties in its management.
In 2017, after previously having participated in the BBVA Open Talent competition, and as part of this, in the final held at FINNOSUMMIT in Mexico, BBVA connected with Openpay and started to develop an alliance that would make the Mexican startup Fintech one of the first in Mexico and Latin America to become part of a bank to strengthen its transaction systems.
In the last edition of FINNOSUMMIT in Mexico, Eric Núñez participated in one of the panels at the event: 'So you're being acquired', how he started his project of entrepreneurship, scaling and integrating with a corporate. Now, in the middle of a global crisis due to the Covid-19 pandemic, this entrepreneur shares his impressions and advice to keep innovating and solving real society problems together with the financial industry.
From an entrepreneur's point of view, how can they help in times of economic uncertainty?
An American writer said: "Bad times have a scientific value. They are times that a good – entrepreneur – would not miss ""Bad times have a scientific value. These are occasions a good learner -an entrepreneur- would not miss." Entrepreneurs always hold on to their optimism. We believe that times of change, however difficult they may be, will also bring us new opportunities.
In times of crisis like the one we are experiencing, inefficiencies and problems come to light that we would, perhaps, have not detected. Finding the right problem is an entrepreneur's greatest challenge. That is why it becomes an opportunity for talented entrepreneurs to identify the right challenge.
An essential component of an entrepreneur has to do with the ability to react, which means thinking up and experimenting as quickly as possible with creative solutions as soon as we detect opportunities, but always being aware that we have to generate a positive impact on society.
Our life after this crisis will be very different. It will be the biggest boost to the digital transformation of companies of all sizes. For example, we are already developing new solutions to accelerate the electronic payment processes for businesses which don't have an app or a website and are looking for a fast, economical and immediate option to continue operating their business in this contingency in which we are living.
For example, some of the innovations that we will see are new investment models, medical and hospital insurance, which will be the new offer.
According to the latest published recently by Finnovista, the Fintech ecosystem is still strong. Do you believe the crisis that is hitting the world right now will mean a setback or will open a door of opportunities for the sector in Mexico? And in Latin America in general?
We will definitely see more innovative solutions in the Fintech industry. It is clear that the current financial models has not been able to reach a significant percentage of the population, especially the unbanked, and that this crisis is making more evident the need to develop solutions accessible to these unattended sectors.
The real challenge will be to ensure that the platforms are adapted to the new social needs, but I believe that this is a good time precisely to initiate projects that might have seemed unfeasible in the past and which can now become a reality.
Companies which work at very traditional formats are the most affected in this contingency period. While the change is something that had already been happening a couple of years ago, today the need to act and migrate to the use of cutting-edge technologies becomes imminent.
Keeping in mind that the recommendations of the authorities are to be cautious in the handling of cash, Which impact do you think all this can have on the digital payments venture? Do you think that a crisis like the current crisis can change the dependence that Mexico and Latin America still have on cash?
We have Paynet, a method of cash collection and I can say that the use is something that will not easily stop in a short time. In fact, our statistics show a significant increase in ecommerce operations with cash payout.
Cash-using will continue to be important and some reasons have to do with cultural processes, low bankability, etc. In the future we will see new players and Fintech solutions that aim to evolve this payment method. However, until now, no one has been able to match the convenience of using cash, which is immediately accessible, does not generate commissions when using it, is anonymous…, to mention a few reasons.
The present crisis makes evident the advantages not only of electronic money and wallets, as well as digital consumption, including processes of hiring of 100% digital services, from home and mobile devices without needing signatures and visits at branches. The coming phase of Fintech will include the transformation of current processes into digital, collaborative, resource-oriented processes that improve the complete experience for users.
In the first editions of FINNOSUMMIT, Openpay was one of the startups with the opportunity to speak directly with directors and executives of financial innovation. From these discussions came up an alliance between Openpay and BBVA which resulted in later merging with the company. Would you tell or explain to any other entrepreneurs all the benefits for participating in this kind of initiatives/events and for holding active partnerships with the banks?
Entrepreneurship is the same as resilience. It consists of seeking and knocking over many doors until the right is opened, and we would never get to this one until we have knocked on all the previous ones. FINNOSUMMIT have become a very important event connecting banks with Fintech and promoting partnerships between banks and startups. That is the ideal place to show the value of the company.
Of course that was not the first door we knocked on. There had been many before us who helped us in discovering areas of opportunity, new people, ways to improve processes and other procedures, etc., and which prepared us for the time when Finnovista gave us the opportunity to explore conversations with banking companies in FINNOSUMMIT.
How did it feel to tell your case at the FSMEX19?
At Openpay we stick to the believe that honor brought us here today and we have to support entrepreneurship and, a very important part of this, has to do with remembering when we were entrepreneurs and the only thing we were looking for was for people to give us the opportunity to try our service. When we were given that opportunity, we were ready to take advantage of it and deliver excellent results.
In the process to forge an alliance with a corporation, which mistakes did you make? And which advice would you give to the other entrepreneurs?
Fortunately, we have been able to carry out a long, but very interesting process in which we have worked hand in hand so that the group can take advantage of the value that Openpay brings to the market and we can adopt the good business practices forged in the experience that an institution like the one that gives us its name today has.
Advice: Learn and adopt all that is good, create value together and accept what is different, keep the purpose clear and generate partnerships with corporations that share these values and purposes, regardless of size. On the other hand, it is very important not to fail to identify opportunities and to experiment, to use the experience and talent acquired.
Three recommendations for a major company to look at your project:
That the business model adds value. Focus on your product. It has to be unique, solve a need and complement the offer of the other. You must test the business model and see that it really works. If you focus on this, everything else comes into play.
It shows exponential growth. You have to be in constant growth, double or triple the number of users or sales. The numbers speak for themselves. If you have a good volume of transactions, you can validate your business. You have to create a fully scalable platform.
Form a working group with a lot of experience in the field. Large companies invest in the people who run the business model. Because it is not just a matter of having the idea and implementing it, but of executing it in the right way and that is only done with experience.
Will you be at FINNOSUMMIT 2020?
We hope to be in the next FINNOSUMMIT! We want to and are bound to continue being part of this community, supporting enterprises and talented people who in the future will be the "unicorns" that Mexico will project to the world.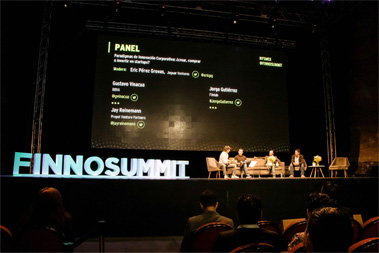 ---
With five previous editions, FINNOUSMMIT has become a must-go event where you can deepen your knowledge about the most advanced technological areas that are moving the Fintech and Insurtech sectors. Be part of the sixth edition of in Mexico 2020 with the special active offer.