Two billion,or 38 % of the world's adults do not use formal financial services and an even greater percentage of the poorest people do not have a bank account due to high costs, travel distances and the complex requirements to open a bank account, among other factors. These are the World Bank's startling figures on global financial inclusion.
This is where technology, and especially mobile technology, is positioned as a solution to this problem, as it offers an opportunity for development where traditional banking does not reach. In recent decades, different financial service providers have offered new opportunities to people excluded from the system. Although large corporations are incorporating solutions that allow payments and transfers through mobile devices, startups are the ones that have the greatest opportunity and are pioneers in developing technological innovations that allow the cheapening and massification of inclusive financial services.
Low-income populations benefit the most from this type of technological innovation. For example, according to the Mobile for Development study by the GSMA, African countries are at the forefront in the use of mobile phones as a means of payment. The continent had 165 million registered mobile banking users (55% of the world total) and 66 million active accounts (64%) at the beginning of this year. What's more, mobile banking penetration in Africa is 6 times higher than globally, i.e. 12% versus 2% of the total population. In terms of suppliers, 261 are known worldwide, of which more than half operate in sub-Saharan Africa.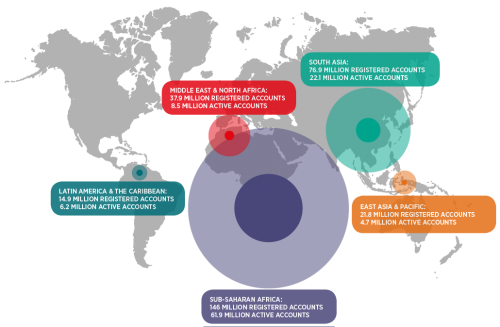 This shows that the mobile phone is key in emerging countries, as they have become the tool with which they can access advanced services that would otherwise be impossible for them. Many startups are focused on promoting this new business model, outside branches and supported by the intensive use of new technologies and some pioneering banks, far from seeing them as enemies, have decided to collaborate with them.
For example, BBVA has joined the Alliance for Financial Inclusion (AFI) to launch a special award that recognizes projects that provide digital financial solutions for people or small businesses with low incomes.  As a novelty in this year's edition of the international competition for startups, BBVA Open Talent, in which Finnovista collaborates with the organization, has included a special Financial Inclusion prize with which the winner will travel to Maputo, Mozambique, to present his project at the Global Policy Forum in September 2015. Not only that, but he will be able to participate in the immersion program along with the winners of Open Talent in London and Mexico. Without a doubt, a great opportunity for all those Fintech startups that want to change the world of traditional banking.
More information HERE.
The promotion of entrepreneurship as a driver of change has been the main motivation throughout her career and has been developed in the fields of communication and fundraising as well as marketing as a tool for social change. With a degree in communication from the URJC in Madrid, she has several years of experience in communication management having worked in several multinationals and non-profits.