Following the publication of our Fintech Radars for Colombia, Mexico, Chile and Spain, we have published the Fintech Radar Argentina, this being a market where more and more recognized platforms in the Fintech and startup ecosystems are being created. Examples abound in Argentina with crowdfunding platform Idea.me, online payments service MercadoPago and P2P online lending platform Afluenta, just to name a few.
Like other Latin American countries, in Argentina the digital transformation of the financial services industry has led to the rise of an increasing number of Fintech startups that are developing solutions to meet the consumer demands that traditional financial institutions have failed to cover. Thus, the Fintech Radar Argentina shows us 60 startups with technology-driven value propositions that are all on the cutting edge of digital financial services.
The prevalence of innovative platforms with business models that are enabled by the blockchain is remarkable, with different applications in many segments including payment transactions, smart contracts and lending.
Similar to other countries in the region, the Payments & Remittances segment tops the list of analyzed Fintech segments, representing 33% of the identified startups. In second place we have the Enterprise Financial Management (EFM) segment with 18% of the identified Fintech startups in Argentina, making it the market with the largest proportion of EFM startups when compared to other countries for which we have published our Fintech Radars. Lending is the third highest segment in Argentina with 13% of the startups. The mapping is complemented with 6 other segments, each one with between 2 and 4 startups that seek to position themselves as pioneers in their respective business areas: Crowdfunding, Wealth Management, Personal Finance Management, Insurance, Identity Solutions, Scoring & Fraud and Trading & Markets.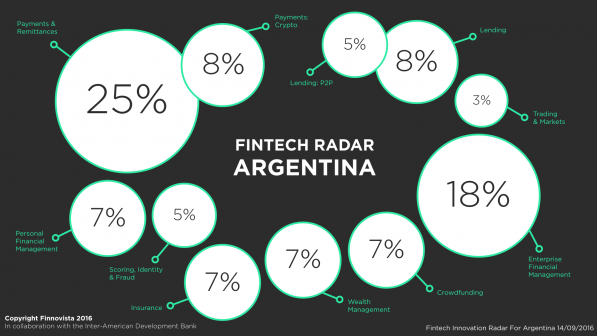 The increasing momentum of the Argentinian Fintech ecosystem, driven by public and private entities, as well as an increased collaboration between startups and traditional financial institutions will be two triggers that can better exploit the opportunities that Fintech offers its' users and consumers. Today conditions are right for more and more entrepreneurs to drive digital transformation of the financial services industry, but this won't be possible without the collaborative and permanent involvement of accelerators, venture capital funds, development banks and regulators, combined with the recognition of the banks and insurers that are facing an imminent change in the way of delivering financial services.
At Finnovista, we'd like to thank our network of mentors who have collaborated with this Fintech Radar Argentina. They include: Eduardo Amadeo, Lisa Besserman, Nico Berman, Alejandro Cosentino, Amanda Jacobson, Michelle Faerman, John Plaisted and Lorena Suárez.. Thanks to everyone for your support.
Do you know any Argentinian Fintech startup that is not included in our Fintech Radar?