With an 18% growth and around 100 new Fintech startups, Mexico consolidates itself as an undisputed leader in Financial Innovation in Latin America. However, 52% of startups consider that there will be high barriers to entry due to Mexican Fintech Law.
In this update of the Fintech Radar, Mexico recovers the leading position with 394 Fintech startups slightly ahead of Brazil, the second largest ecosystem in the region with 380 startups according to the last edition of the report Fintech in Latin America 2018: growth and consolidation released in November 2018 by the Inter-American Development Bank (IDB) and Finnovista.
Financial technology companies in Mexico have witnessed an important evolution on their sector over the last few months, since the enactment of the Fintech Law on March the 9th 2018 and the publication of the secondary regulations on September the 10th. While the waiting generated some uncertainty, especially among companies focused on electronic payments and crowdfunding, the Mexican Fintech ecosystem recorded an 18% growth in the number of existing Fintech startups since our last radar published by the end of July 2018.
This increase is conditioned by two factors. On the one hand, we have identified 98 new startups born over the last months, which represents a gross growth of 29.3%. On the other hand, we estimate that Fintech mortality rate lies in 11.3%.
In collaboration with Endeavor Mexico and with the results of a survey responded by more than a third of the Mexican Fintech startups (148 startups), we present the fourth update of the Fintech Radar Mexico. In addition, we invite you to watch out for the publication of a complementary white paper that Endeavor Mexico will be publishing in June.
Historically the prevailing Fintech segments in the Mexican ecosystem are the Payments and Remittances and the Lending segments. This trend still remains the same today, with these two segments accounting for 40.7% of the total startups. Other segments have experienced significant growth since our previous edition of the radar, led by the Digital Banking segment with the greatest annual growth (200%). This growth reflects the great interest and the existing opportunity for digital banks such as Flink, Albo or Hey, to mention some, to have an increasingly wide market adoption.
Currently the main segments in the market are as follows:
Lending, accounting for 20.6% with 81 startups.
Payments & Remittances accounting for 20.1% with 79 startups.
Enterprise Financial Management, representing 13.2% of total with 52 startups.
Personal Financial Management, with 9.9% of total with 39 startups.
Enterprise Technologies for Financial Institutions, which accounts for 9.1% of total with 36 startups.
Crowdfunding, with 29 startups, which represents 7.4% of total
Insurance, which represents 6,6% of total with 26 startups.
Alternative Scoring, Identity and Fraud, accounting for 4.1% with 16 startups.
Digital Banks, representing 3.8% with 15 startups.
Trading & Capital markets, with 13 startups, which represent 3.3% of total.
Wealth Management, with 8 startups, 2% of total.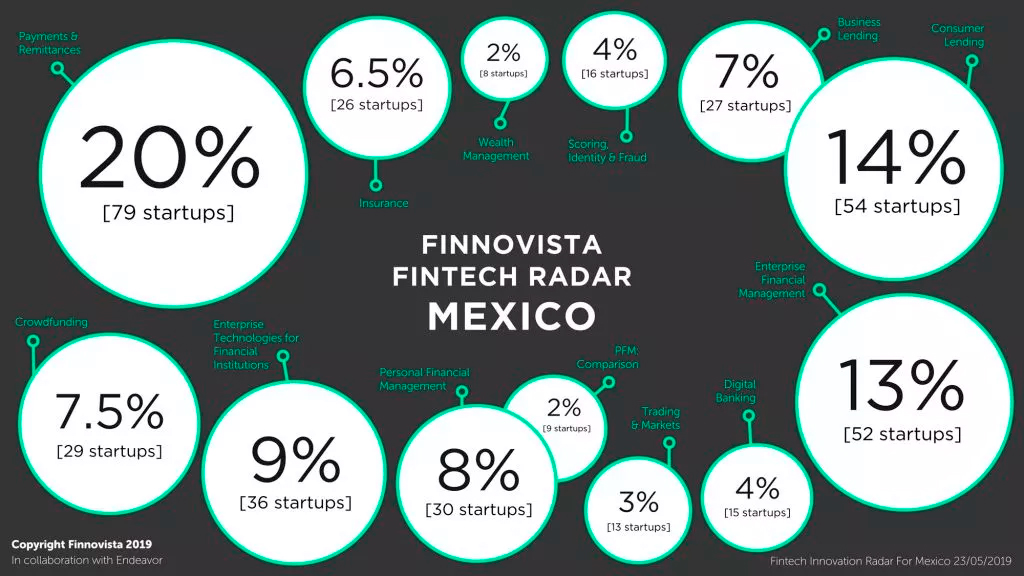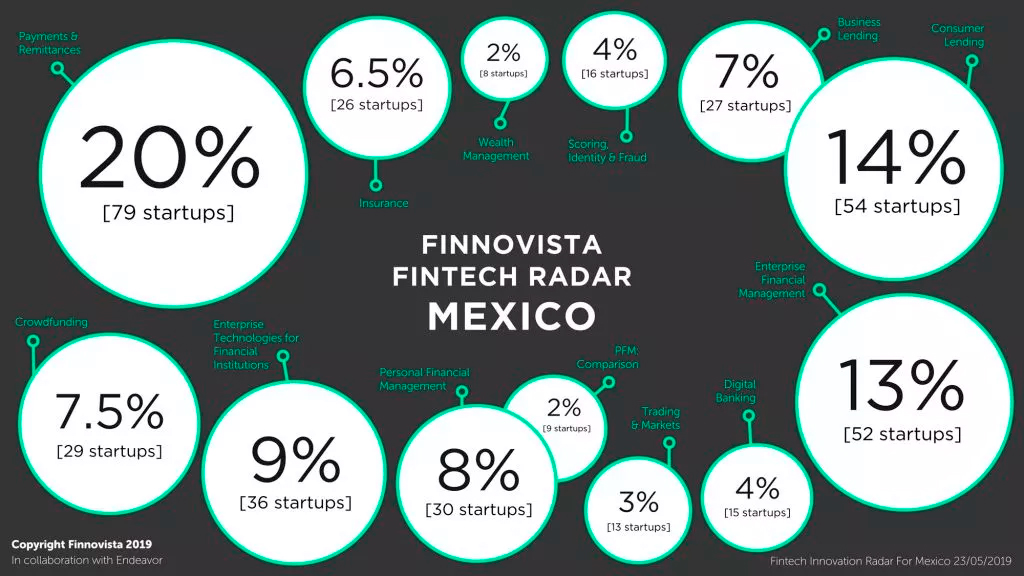 Though most of the Fintech segments experienced growth over the past year, some experienced a slight decrease. Such is the case of the Wealth Management segment, with a negative growth rate of 20%, and of the crowdfunding segment with a 3% decrease. At the other end of the spectrum are the Insurance; Alternative Scoring, Identity and Fraud; Enterprise Technologies for Financial Institutions, and Trading & Capital markets segments which experienced sustained growth over 30%.
The Fintech phenomenon has strengthened over the past 5 years, when around 70% of Mexican Fintech startups where born. Mexico City clearly demonstrates the most significant financial innovation, as this city is the origin of over half of the startups in the country (53%). Right after come Monterrey and Guadalajara with 15% and 11% of startups, respectively.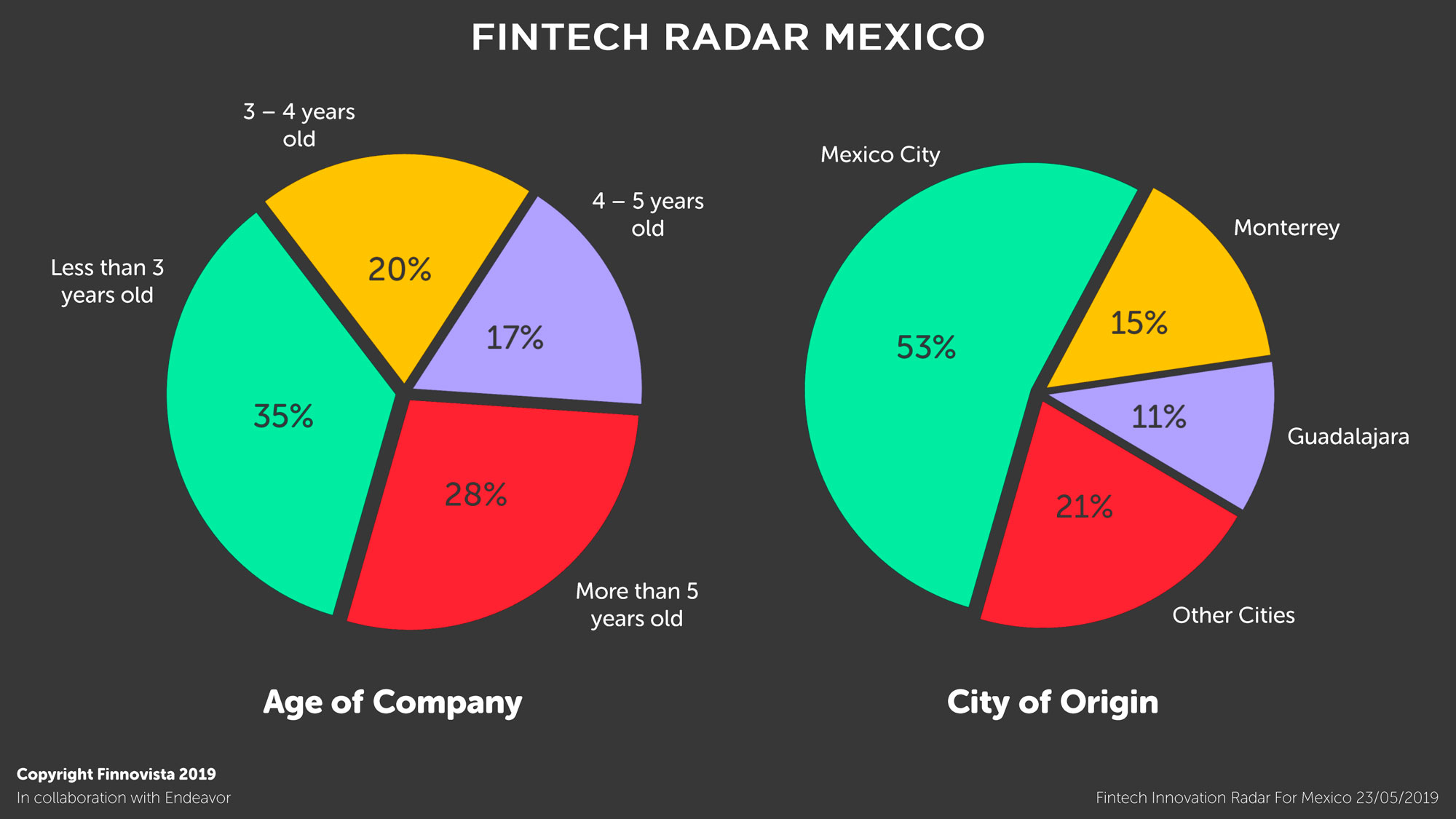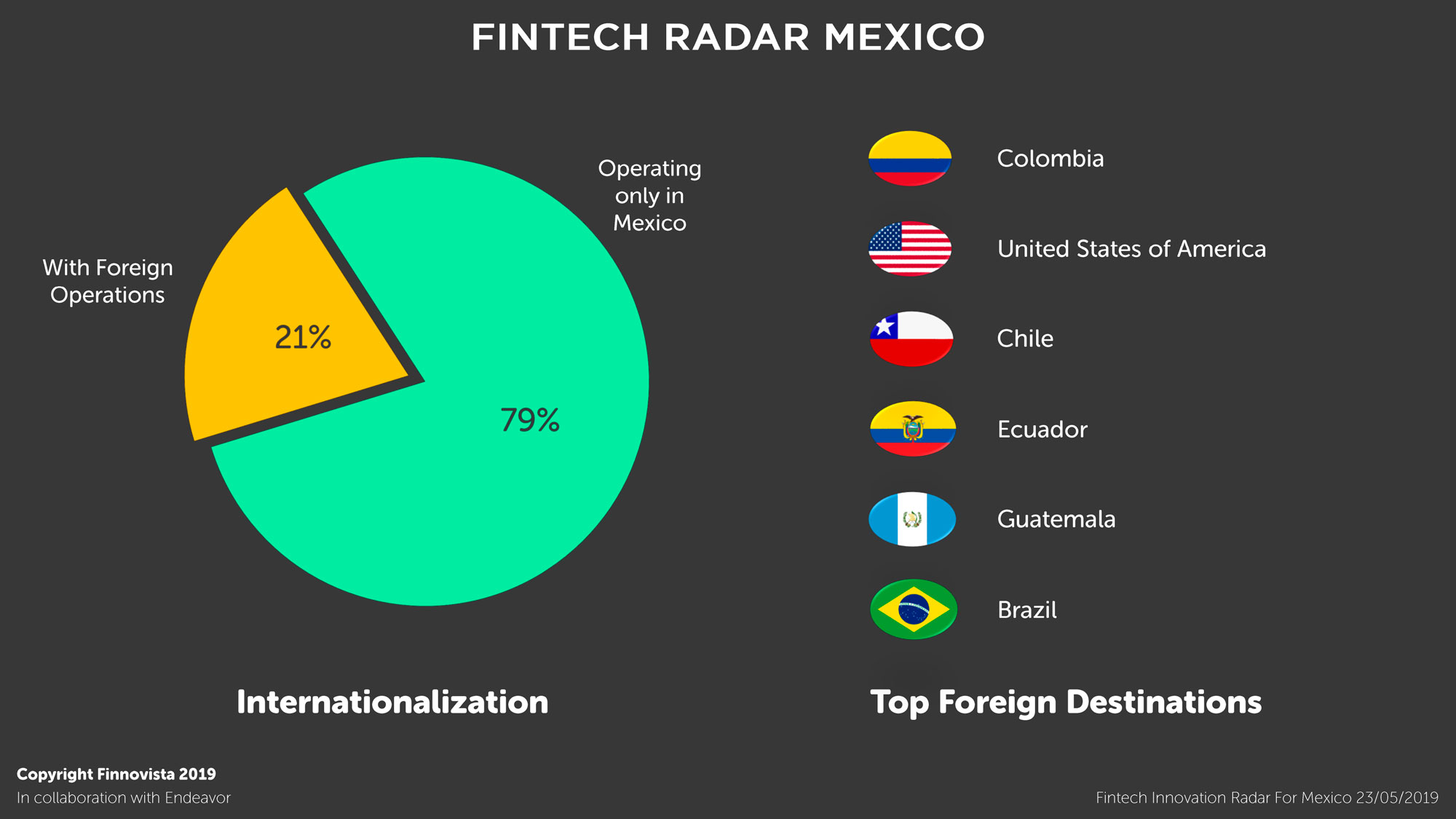 According to the conducted survey, most Mexican Fintech startups claim to be operating only in Mexico, while only one out of five confirmed operations beyond national borders, the same internationalization rate observed in the past edition. When analyzing the main destination countries of the startups that have begun their internationalization process, we observe that 84% of the international expansions take place within Latin America and the Caribbean particularly in Colombia. As per the Fintech startups that have expanded beyond the region, their main destination is the United States (32%).
In addition to boosting competitiveness and offering new financial services, new financial services available, the development of the Mexican Fintech ecosystem, has also become a job creation engine. Currently, 5% of startups claim to have over 100 employees as a result of the growth of their operations, capital and income. On the other hand, 56% of companies remain small, with less than 10 employees. In terms of gender parity, an estimated 33% of Mexican Fintech startups include women in their founding teams. This figure is consistent with the one observed at a regional level, demonstrating that Fintech is a strongly male dominated sector. As a result, significant efforts will be needed to achieve gender equality and to encourage more female entrepreneurs to start technology businesses for the financial industry.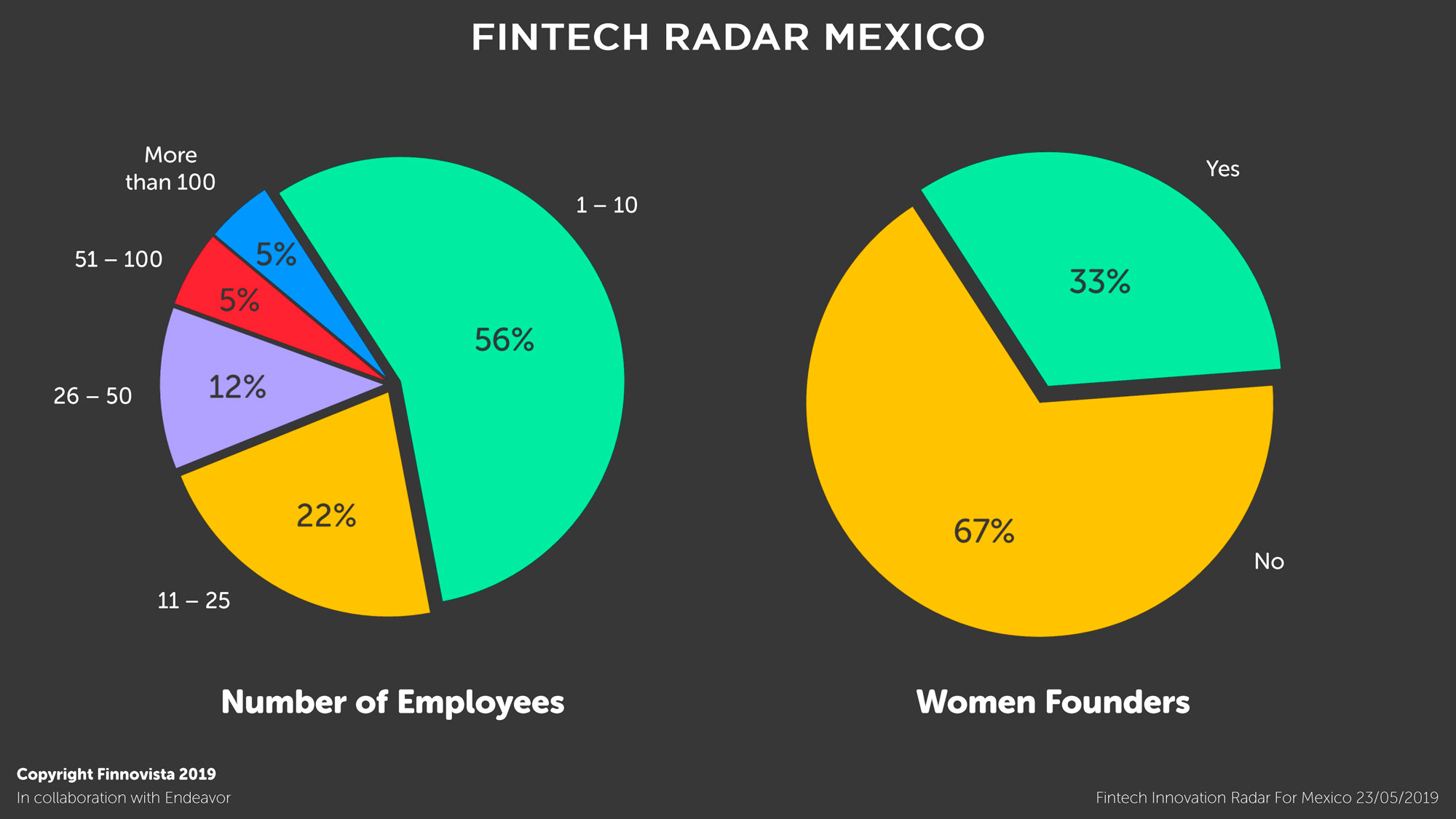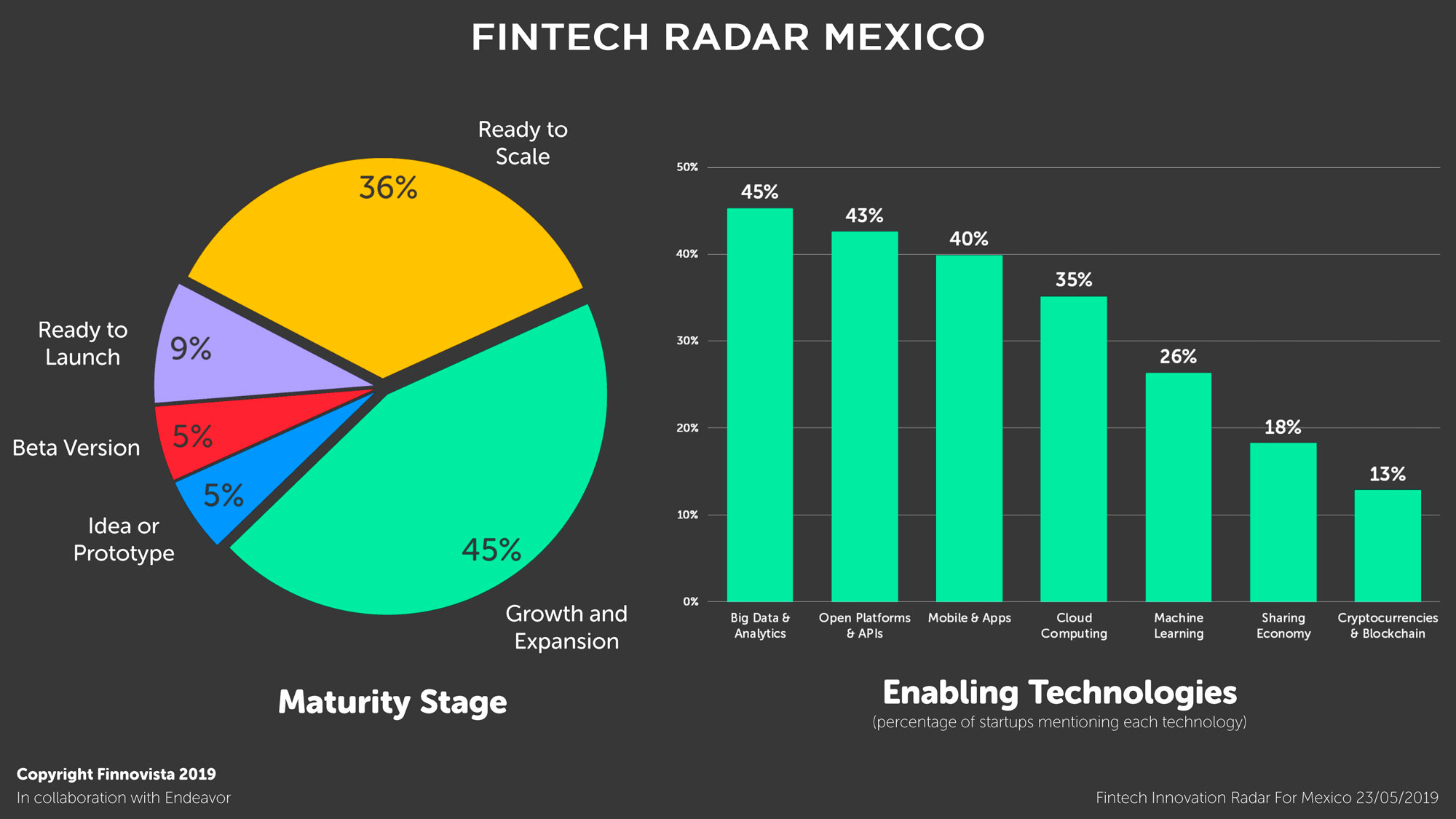 Regarding their maturity stage, 19% of surveyed Fintech startups claim to be in early stages ready for Commercial Launch, 36% recorded that they will be ready to Scale, while the remaining 45% is already in stages of Growth & Expansion. It's worth noting that, in the last edition of this radar, the latter was 31%, proof of the maturity progression within the ecosystem.
In terms of technologies enabling these services and business models, we note a predominance of Big Data and Analytics, followed by Open Platforms and APIs, used by 43% and 45% of surveyed startups respectively. In addition, 40% of the companies claim to have a Mobile Application and mention using Machine Learning for the implementation of their value proposition.
Financial inclusion remains a main focus for Mexican Fintech startups. The data showed by the most recent national survey on Financial Inclusión, released in 2018, indicates that the financially included adult population (between the ages of 18 and 70 years) increased by 37% between 2012 and 2018, with 54 million adults utilizing at least one financial product in 2018 (68% of total adult population). Likewise, the number of adults with more than one financial product increased by 9.8 million form 2012 to 2018, which would mean that 45% of the adult population has more than one financial product.
However, despite the progress over the past 6 years, 32% of the Mexican adult population still does not use any financial service or product and another 24% only has one. Thereby, financial services' inclusion and democratization is still a significant opportunity, which is seized by 35% of surveyed startups that point out that their main target customer are unbanked or underbanked consumers or SMEs. A similar percentage, 38%, is focused on banked consumers or SMEs, whilst the remaining 27% aims at corporates or financial entities.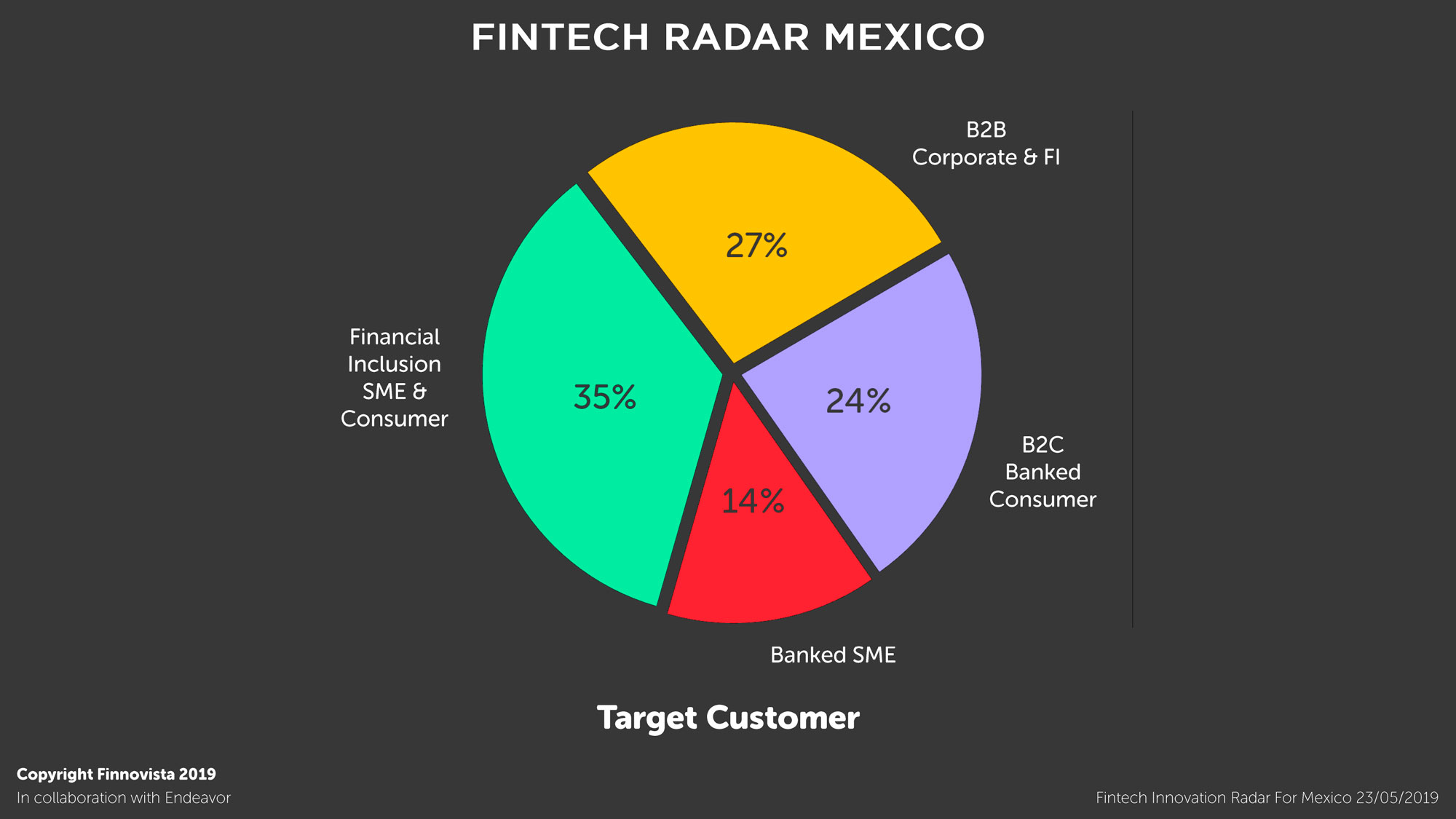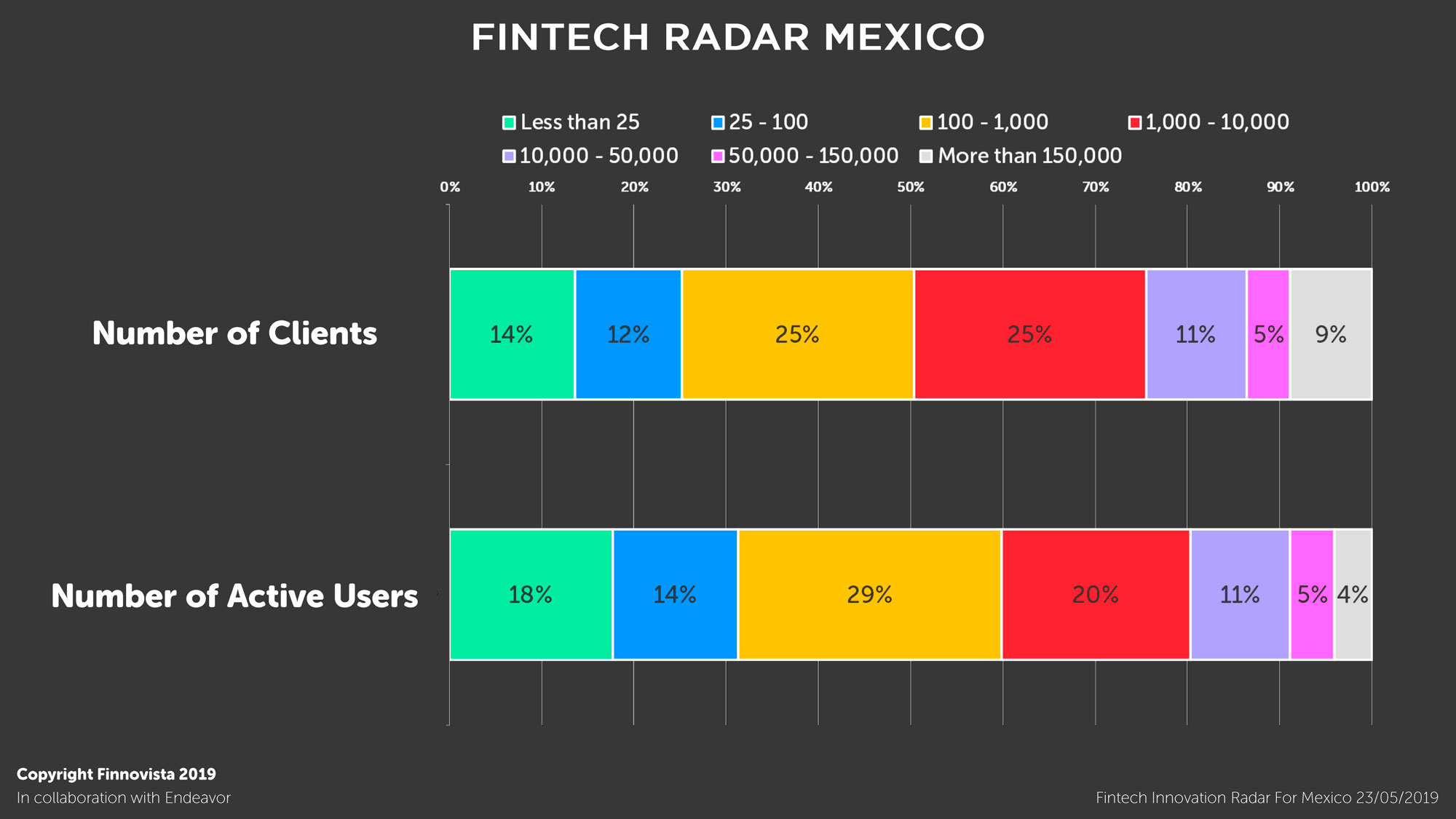 Based on the results from the survey, Mexican Fintech startups currently serve between 6 and 8 million active users. When asked about their registered clients, 50% of startups say to have over 1,000 users, and 20% of them claim to have over 10,000. Thus, Mexican Fintechs monthly gross transaction value is around $39 billion Mexican pesos, earning an annual income of $3,400 millions of Mexican pesos in 2018 (that is, on average, around $8.7 million Mexican pesos billed annually per Fintech startup). To put this into perspective, Paypal had an annual revenue of around $250 billion Mexican pesos in 2017.
So far, 69% of Mexican Fintech startups have received funding from third-party players in the past, of which 4% have raised over US $10 million, and 44% have raised less than US $100,000. The total amount received by all Mexican Fintech startups is estimated to be US $800 million. This would mean an average of US $2 million was raised per startup, although the ecosystem clearly includes some outliers with great performance such as Clip, a startup that has seemingly raised around US $160 million up to today.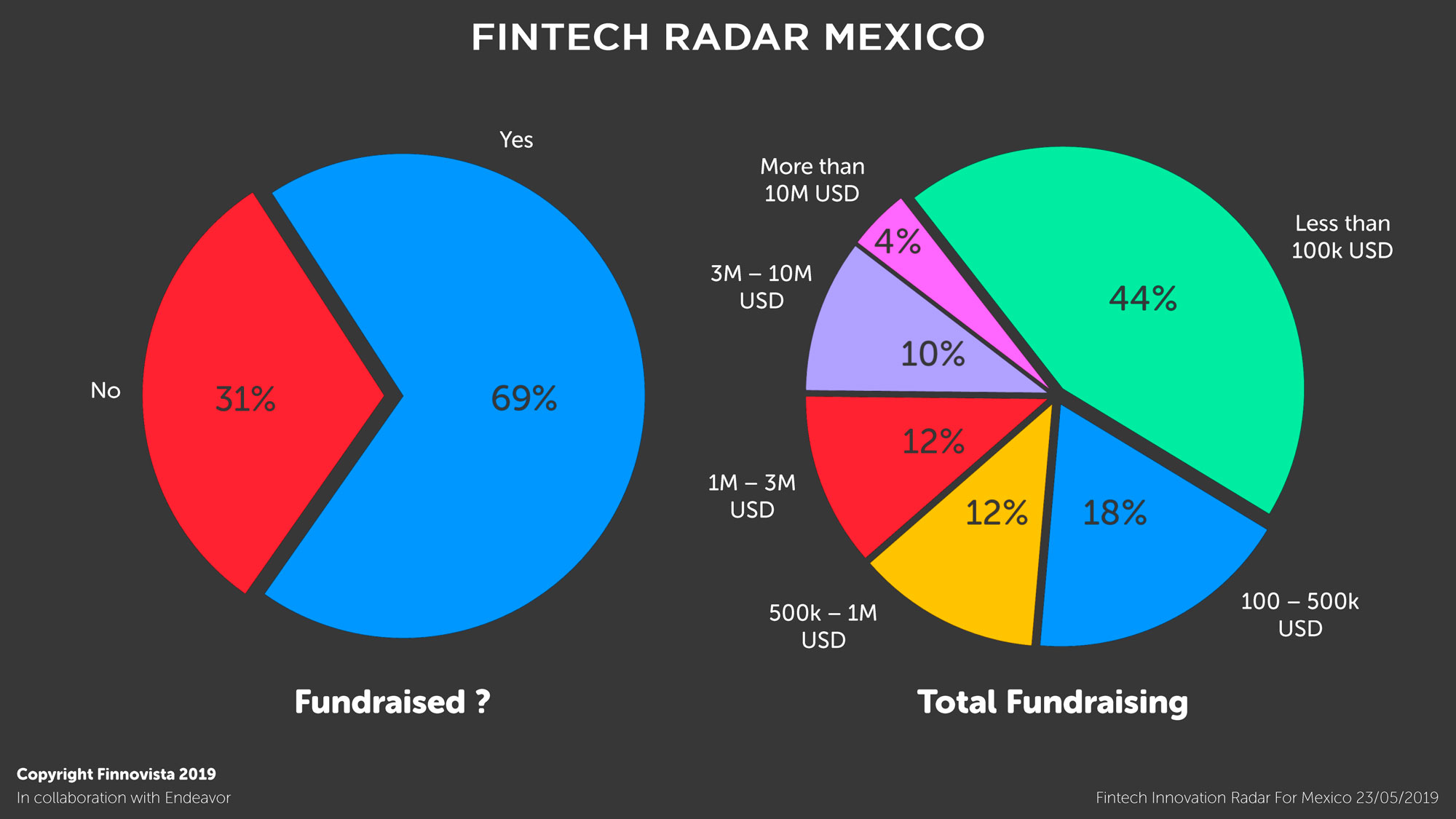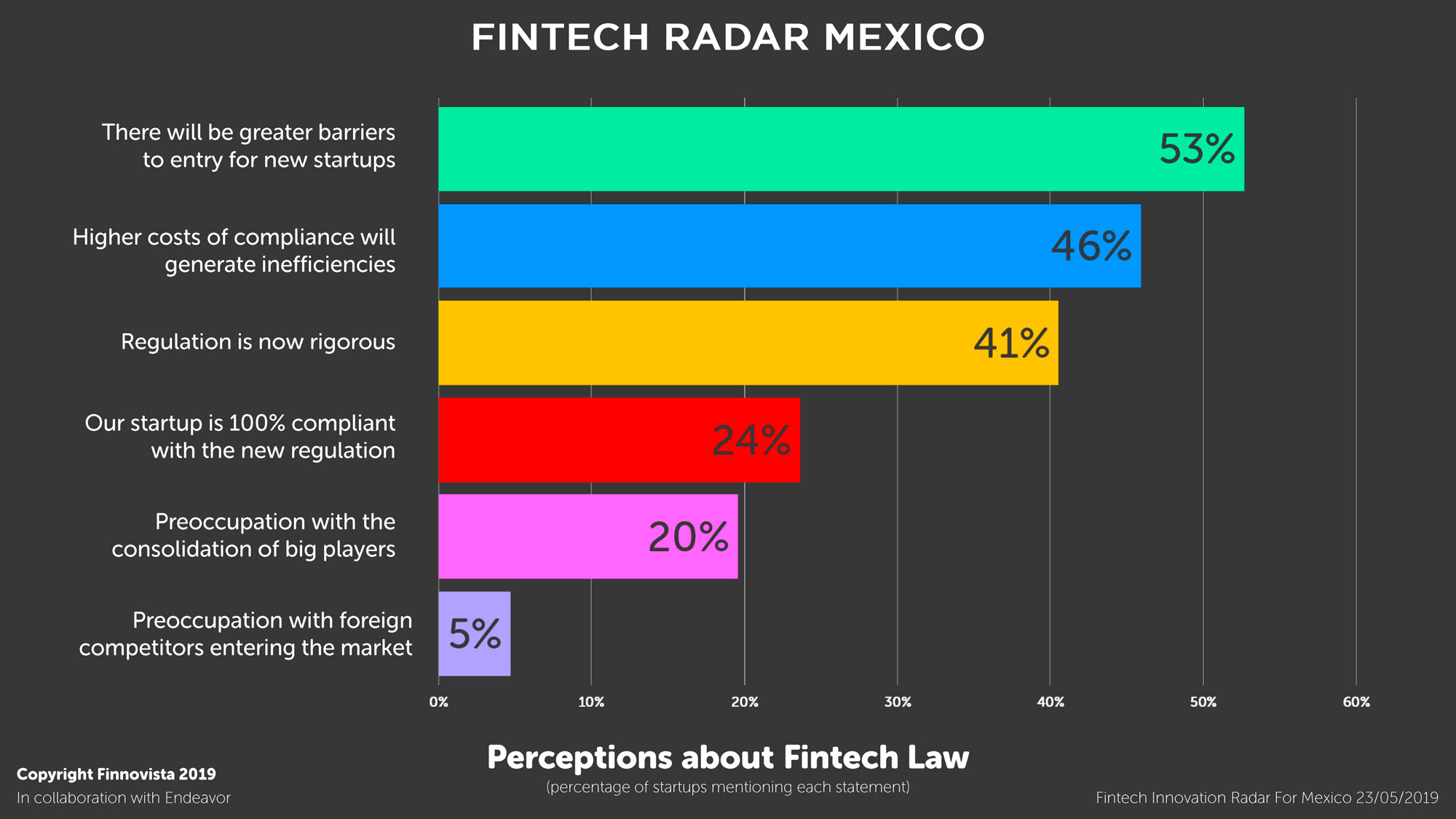 Finally, given the novelty of the Fintech Law, as we are only a few months prior to the first anniversary of the publication of the secondary regulations, we also asked startups about their positions on this new regulation. 53% of surveyed startups think that, as a result of the Law, "there will be greater barriers to entry for new startups" and 46% say that "higher costs of compliance will generate inefficiencies". It is also worth noting that 24% of Fintech startups claim to be "100% compliant with the new regulation" and ready to comply with September regulations, which, generally speaking, would only be relevant for electronic payment funds and Crowdfunding institutions.
From Finnovista we want to thank the following collaborators that have participated in the preparation of the 2019 edition of the Fintech Radar Mexico, among them: Rebeca Cepeda from Endeavor México, Miguel López from ALLVP, Eduardo Guraieb from Fintech México and Matthieu Albrieux from ACCION Venture Lab.
Do you know any other Fintech startup from Mexico that has not been included in our Fintech Radar?