The digital transformation of the financial sector is cutting across borders in Latin America as evidenced by this Fintech Radar Chile. Following the publication of our Fintech Radars for Colombia and Mexico, time has proved that the Fintech entrepreneurship is also very active in Chile, competing with other countries in the region in the innovation and transformation of the financial services.
In order to identify the startups that are innovating and leading the Fintech sector in Chile, Finnovista has identified and monitored 56 Fintech startups that are positively impacting the development of new, better and more efficient financial services through the use of technology. In this respect, Chile has an active ecosystem that represents a unique and growing opportunity for traditional financial institutions and more startups to be part of this trend that is changing the competitive landscape.
Financial services are crucial for the development of an economy, and have a strong impact on the reduction of poverty, resulting in an improved economy and social well-being that result from Fintech efforts.
With the Fintech Radar Chile we confirm that the Payments & Remittances segment is again the category with most activity, as is the case in other countries of the region, with 30% of the identified companies. In contrast, Crowdfunding is second with 14%, in contrast to Colombia and Mexico, where Lending was the category with the second most amount of activity. In the case of Chile, the Lending segment is ranked third in terms of the number of startups, along with Enterprise Financial Management, each with 11%. The mapping is complemented with 6 other segments that shows the main players who are looking to solve, using technology, the challenges that the financial industry is facing, such as Financial Education and Savings, Wealth Management, Personal Finance, Insurance, Scoring, Identity and Fraud solutions, and Trading & Markets.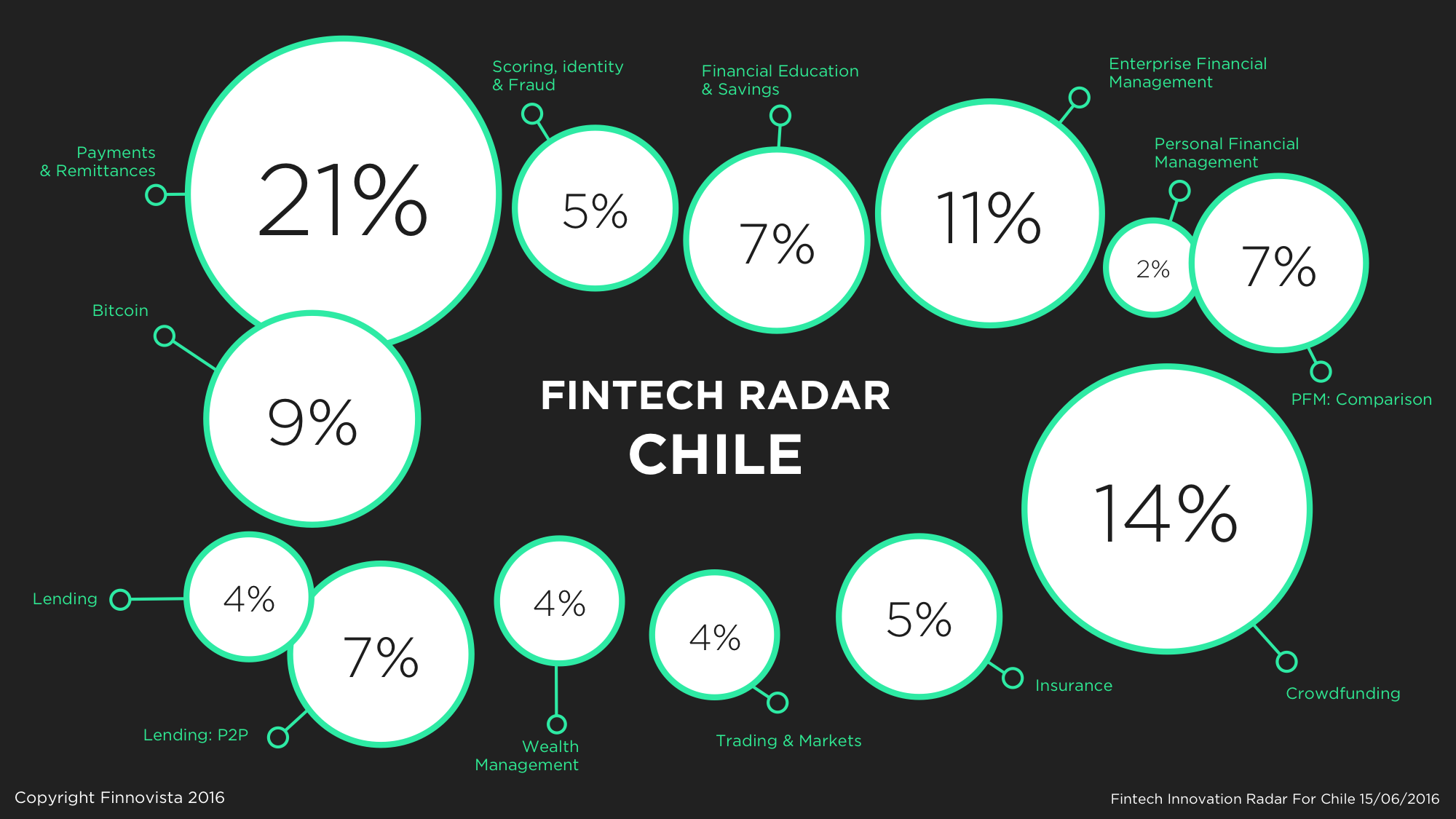 Interestingly, the innovations that are revolutionizing the financial services industry today with a greater understanding of market opportunities and customer needs are coming from startups and not incumbents. External innovation, developed with greater agility and more frequently, results both in a challenge and opportunity for financial institutions to take advantage of the benefits of working with Fintech startups in order to transfer an important part of their current revenue streams to these new digital businesses. Are banks in Chile prepared to be part to the Fintech revolution?
At Finnovista, we'd like to thank our network of mentors who have collaborated in this Fintech Radar Chile. They include: Claudio Barahona, Rocio Fonseca, Jorge Camus, Nicolas Shea, Gonzalo Illesca and Eduardo Amadeo. Thanks to everyone for your support.
Do you know any Chilean Fintech startup that is not included in our Fintech Radar?