Payments & Remittances remains the leading segment in the country while outstanding growth is observed for both the Enterprise Technologies for Financial Institutions (ETFI) and Enterprise Financial Management (EFM) segments
The Fintech ecosystem in Chile records a 49% growth in number of startups over the last 18 months, going from 75 in December 2017 to 112 in June 2019. Thus, the Fintech sector keeps a sustained growth since the first Fintech Radar elaborated by Finnovista in June 2016.
According to the past Fintech Radar edition for Chile, the third one in this series, Chilean Fintechs stand out for being the most mature in the region with two thirds of the startups created more than 3 years ago, and making this ecosystem especially attractive to investments.
Beyond the Radar, this report gathers the results from a survey responded by 49 out of the 112 Fintech startups identified in the country so far, representing 44% of all of them.
Our research also confirms that the mortality rate for Fintech startups in the Chilean ecosystem is close to 12% for the same period. Nevertheless, this new edition of the Radar includes 46 additional startups when compared to our past publication.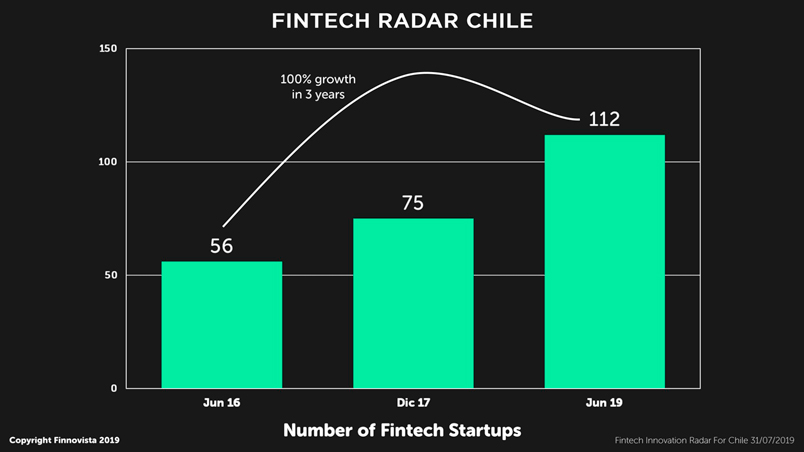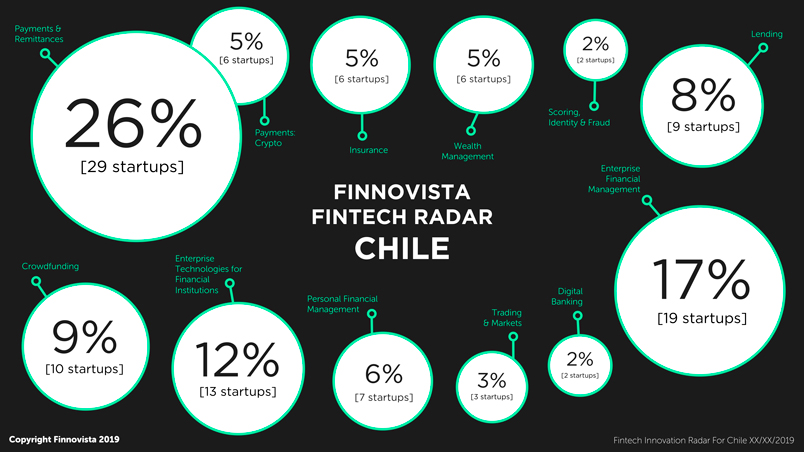 Payments & Remittances remains as the predominant segment by representing 31.3% of the identified startups (35 startups), followed by the Enterprise Financial Management segment which amounts to 17% (19 startups) staying in second place as in the previous version. However a greater activity was observed in the segment of Enterprise Technologies for Financial Institutions which displaced the Crowdfunding segment as the third most active segment in the Chilean ecosystem adding up to 11.6% (13 startups).
According to their size, the distribution of Fintech segments in Chile is:
Payments & Remittances, 35 startups (31.3%)
Enterprise Financial Management, 19 startups (17%)
Enterprise Technologies for Financial Institutions, 13 startups (11.6%)
Crowdfunding, 10 startups (8.9%)
Lending, 9 startups (8%)
Personal Financial Management, 7 startups (6.3%)
Insurance, 6 startups (5.4%)
Wealth Management, 6 startups (5.4%)
Trading & Capital Markets, 3 startups (2.7%)
Scoring, Identity & Fraud, 2 startups (1.8%)
Digital Banks, 2 startups (1.8%)
When compared to our previous publication, almost every Fintech segment increased in number of startups, although a couple of them reduced their size. That is the case for the segment of Scoring, Identity & Fraud which decrease 50% whereas the Crowdfunding segment slightly declined 9%. On the other hand, the segment of Enterprise Technologies for Financial Institutions had a remarkable growth by going from 2 to 13 startups.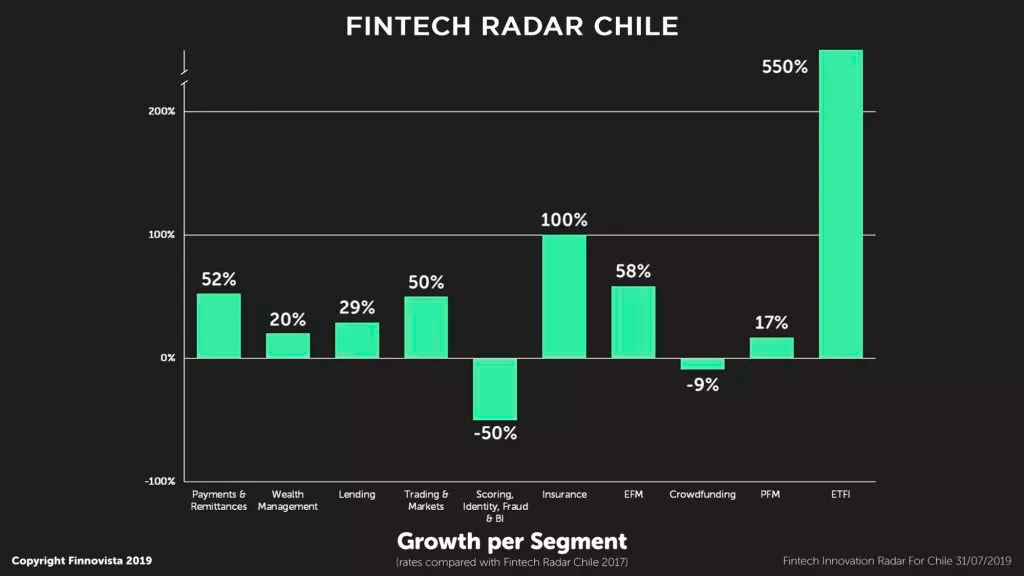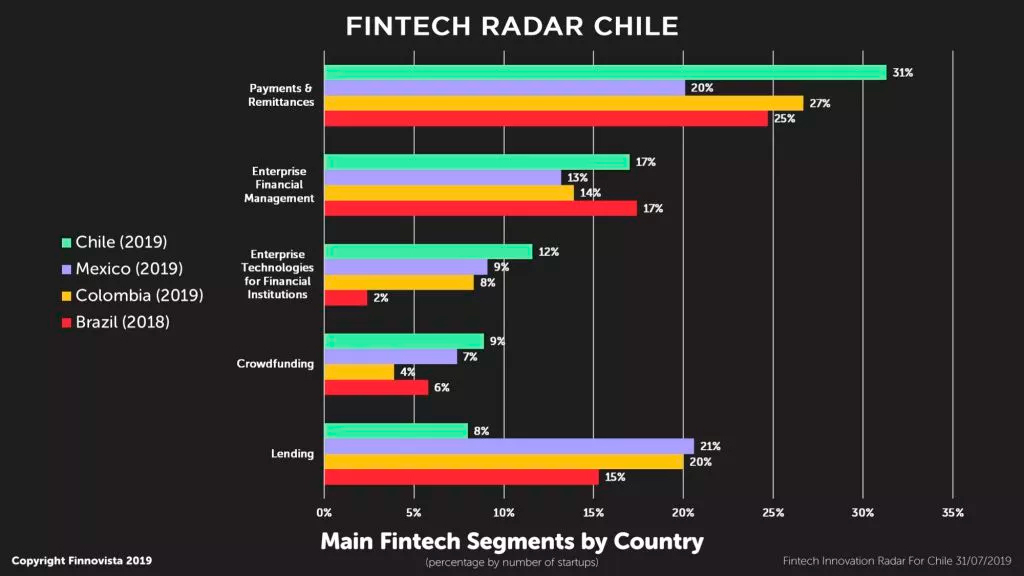 It is worth noting that this distribution contrasts with the distribution seen in the 3 main Fintech ecosystems of the Latin American region: Brazil, Mexico and Colombia, where the Lending segment is usually within the top 3 segments by number of startups thanks to a solid presence of consumer lending startups. In Chile, the Lending segment has been relegated to the fifth place, with a strong representation of factoring startups.
At the local level, Santiago remains as the main pole for Fintech innovation in the country: 92% of the startups originated in that city. It is also interesting to see how the Chilean ecosystem has become one the most mature in the region with 69% of the surveyed startups with more than 3 years of operations. In fact, such figure differs from that of other countries such as Colombia, where 55% of the startups originated less than 2 years ago and the ecosystem is characterized by a greater number of recent and emerging startups.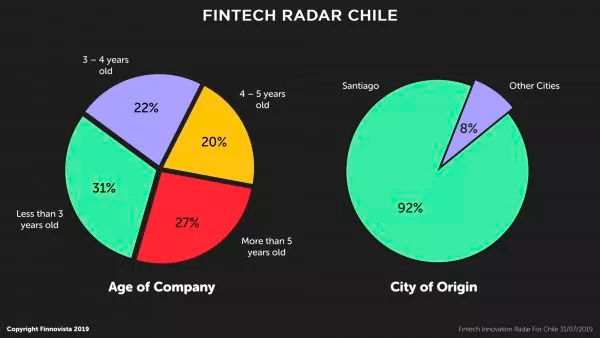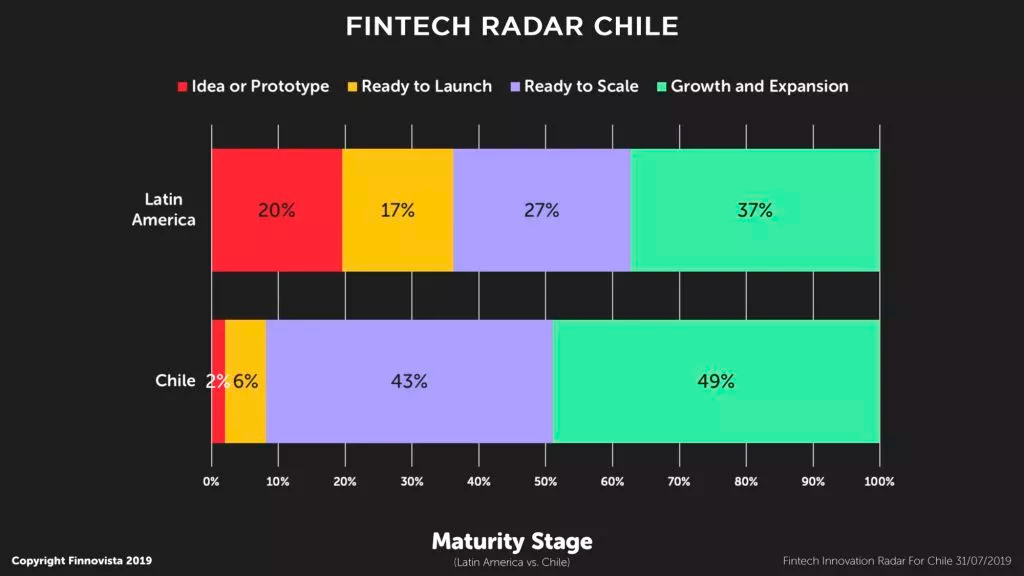 As a matter of fact, that explains why 91% of the startups in Chile say to be 'ready to scale' or undergoing 'growth and expansion'. In Latin America as a whole region, this same indicator reaches only 64%, confirming that the Chilean ecosystem is now much more developed and where further incentives may be now required for the sustained creation of new early-stage Fintech startups.
As a consequence to their maturity, Chilean startups are more susceptible to become international when compared to their Latin American peers. While the rate of international startups in the region is 32% according to the last report published in collaboration with the Inter-American Development Bank, the same rate in Chile gets as far as 53%. Looking for further markets to expand, Chilean Fintechs are turning to Mexico, Colombia, Peru and Argentina as their main destinations to offer their solutions beyond their country of origin.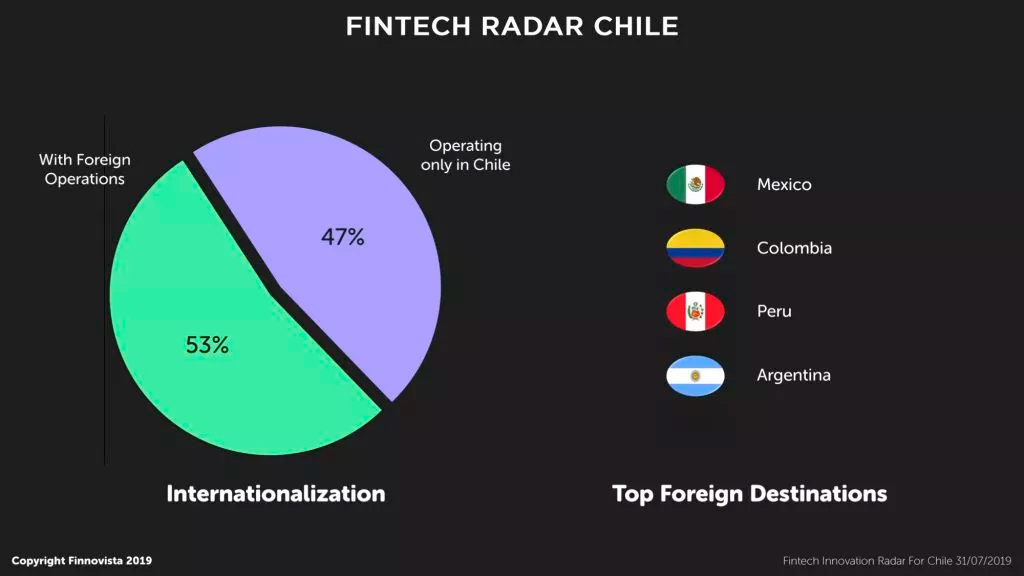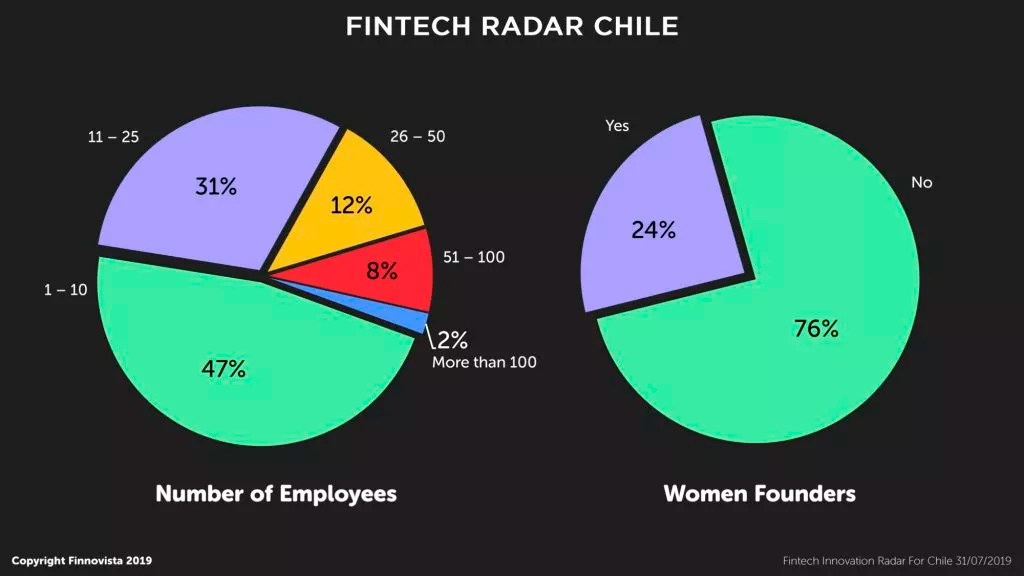 Fintech entrepreneurship in Chile has also become a driver for employment. Today 25% of surveyed startups indicate to have more than 25 employees and another 31% shows to have between 11 and 25 employees. On the other hand, 47% of the companies operates with less than 10 employees. When being asked about gender equality, around 24% of Fintech startups in Chile say to have women in their founding teams, a number that is lower than the average in the region which gets to 33%. Therefore, further efforts to promote female inclusion in technology startups and the financial industry might be still needed in order to improve gender equality.
According to our survey, Chilean Fintechs currently benefit from an active user base of 4 millions and transact at least 600 million USD per month (monthly gross transaction value). As a reference, Mexican Fintechs are estimated to transact about 2 billion USD per month — a 3.3-fold gross value for an ecosystem that is 3.5-fold bigger in number of startups. With respect to revenues, it is estimated that Chilean startups generated an aggregated income of 120 million USD in 2018, that is to say an average of around 1.1 million USD per Fintech startup.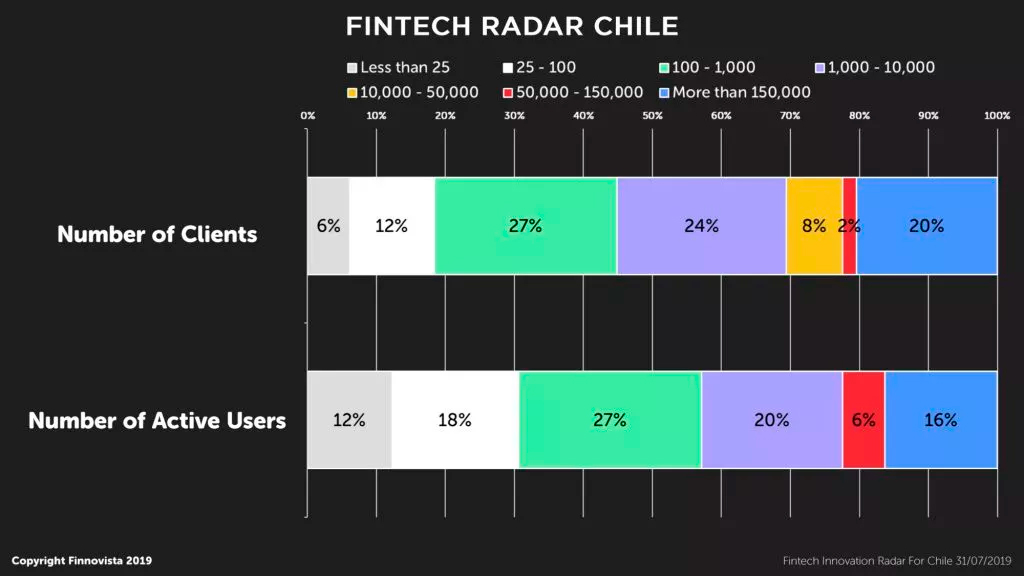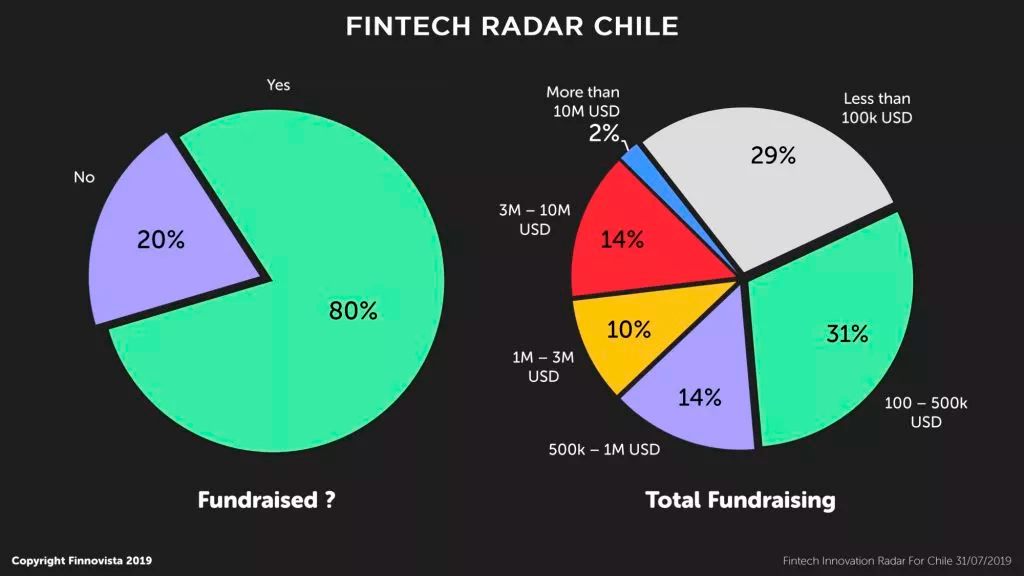 Availability of venture capital is one of the essential elements for technology startups to flourish. As of today, we estimate that Chilean Fintechs have fundraised an aggregated amount of 175 million USD — an average of 1.5 million USD per startup, although in some notable cases that figure is far more substantial as with ComparaOnline, a startup that has raised more than 30 million USD according to some public databases (i.e. Crunchbase, Owler). As a matter of fact, 80% of surveyed Fintech startups indicated to have received funds from third parties, a proportion that surpasses the regional rate of 63%. Additionally, 63% of Chilean Fintechs is said to be currently looking for further funds to grow their business.
Finnovista would like to thank Sophia Wood from Magma Partners, Alejandra Parra from Magical Startups, Guillermo Tello from Wayra Chile, and Edgar Huere from UsabilityChefs & Maastricht School of Management, for their collaboration in updating this Fintech Radar Chile 2019.
Do you know any other Fintech startup that was not included in our Fintech Radar?