The Fintech ecosystem in Chile consolidates itself with 75 startups, driven by the growth in the following segments: Wealth Management, Enterprise Financial Management, Crowdfunding and Payments.
In the last years Chile has demonstrated how the country's economic development is growing and consolidating, reinforced by the increase in the economic forecast for 2018 of the Organisation for Economic Cooperation and Development, which increased up to 2.8% in comparison with the 1.6% projected in 2017. In terms of digitalisation Chile has also made considerable progress, becoming the most connected country in Latin America, according to a study conducted by IMS Corporate, which highlighted that 72% of Chile's population has access to the Internet.
Both conditions, a steady economic growth and high digitalisation rates, are some of the main factors that have positioned Chile among the four largest Fintech ecosystems in Latin America. In this update of the Fintech Radar, Finnovista has identified a total of 75 Fintech startups in Chile distributed throughout 10 segments, which represents an increase of 34% since the last version published in June 2016. This growth implies that in the last year and a half 11 Chilean Fintech startups have ceased operations while another 30 Fintech startups have emerged in the country, which means that one in every two startups have appeared in the past 18 months. This increase positions Chile as the fourth largest Fintech ecosystem in Latin America, ahead of Argentina, Perú and behind México, Brazil and Colombia.
The main segments in the Chilean ecosystem are the following five:
Payments and Remittances, with 23 startups, a 30% of the total number of Fintech startups
Enterprise Financial Management, with 12 startups, representing 16% of the total number of startups
Crowdfunding, with 11 startups, which accounts for 15% of the total
Lending, with 7 startups, 9% of the total
Personal Financial Management, with 6 startups, accounting for 8% of total.
The remaining 5 segments are the emerging segments, each of them representing 7% or less of the total number of startups:
Wealth Management, with 5 startups, 7% of the total number of startups
Scoring, Identity and Fraud, with 4 startups, 5% of total
Insurance, with 3 startups accounting for 4% of total
Enterprise Technologies for Financial Institutions, with 2 startups, representing 3% of total
Trading & Markets, as well with 2 startups.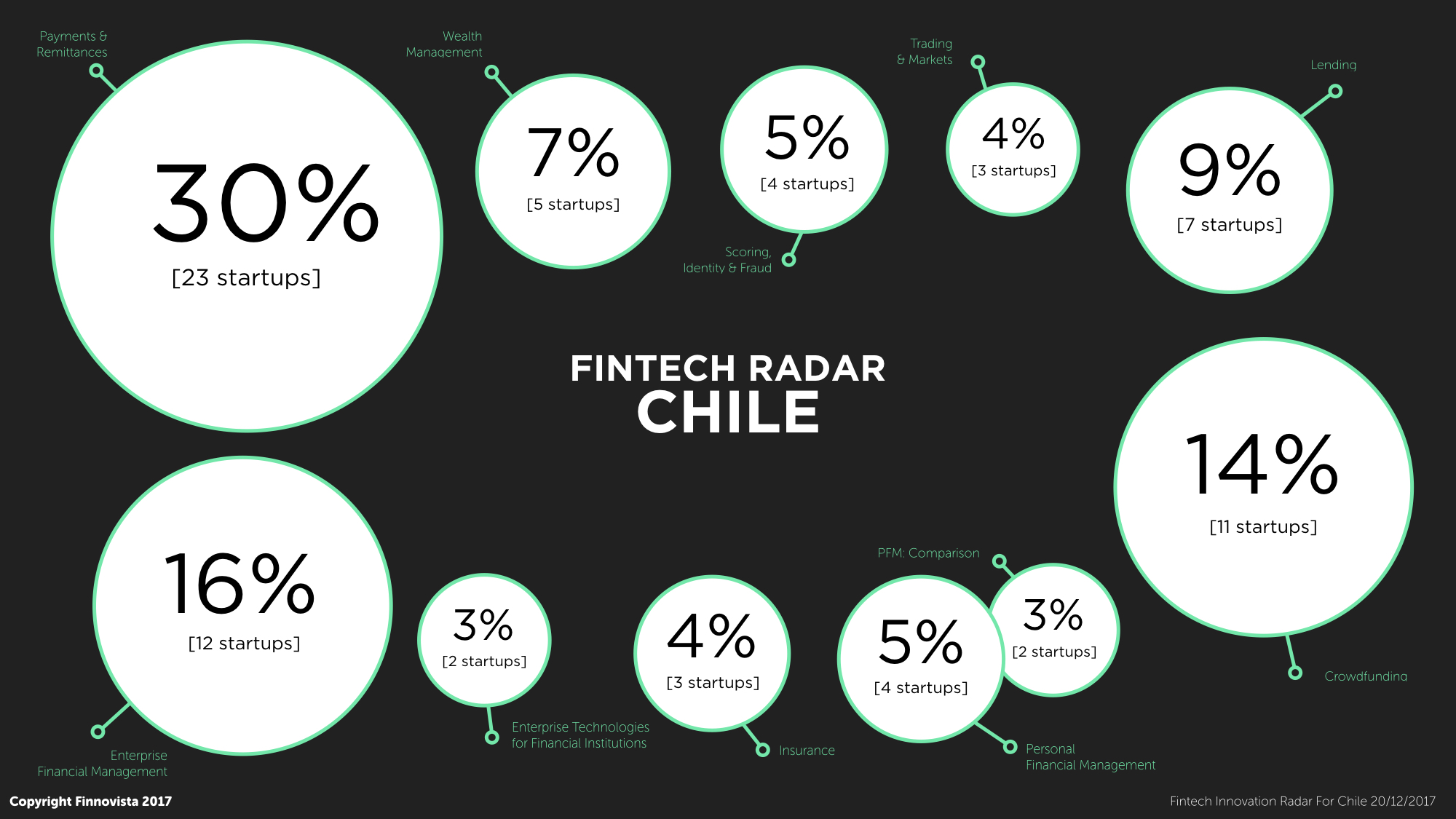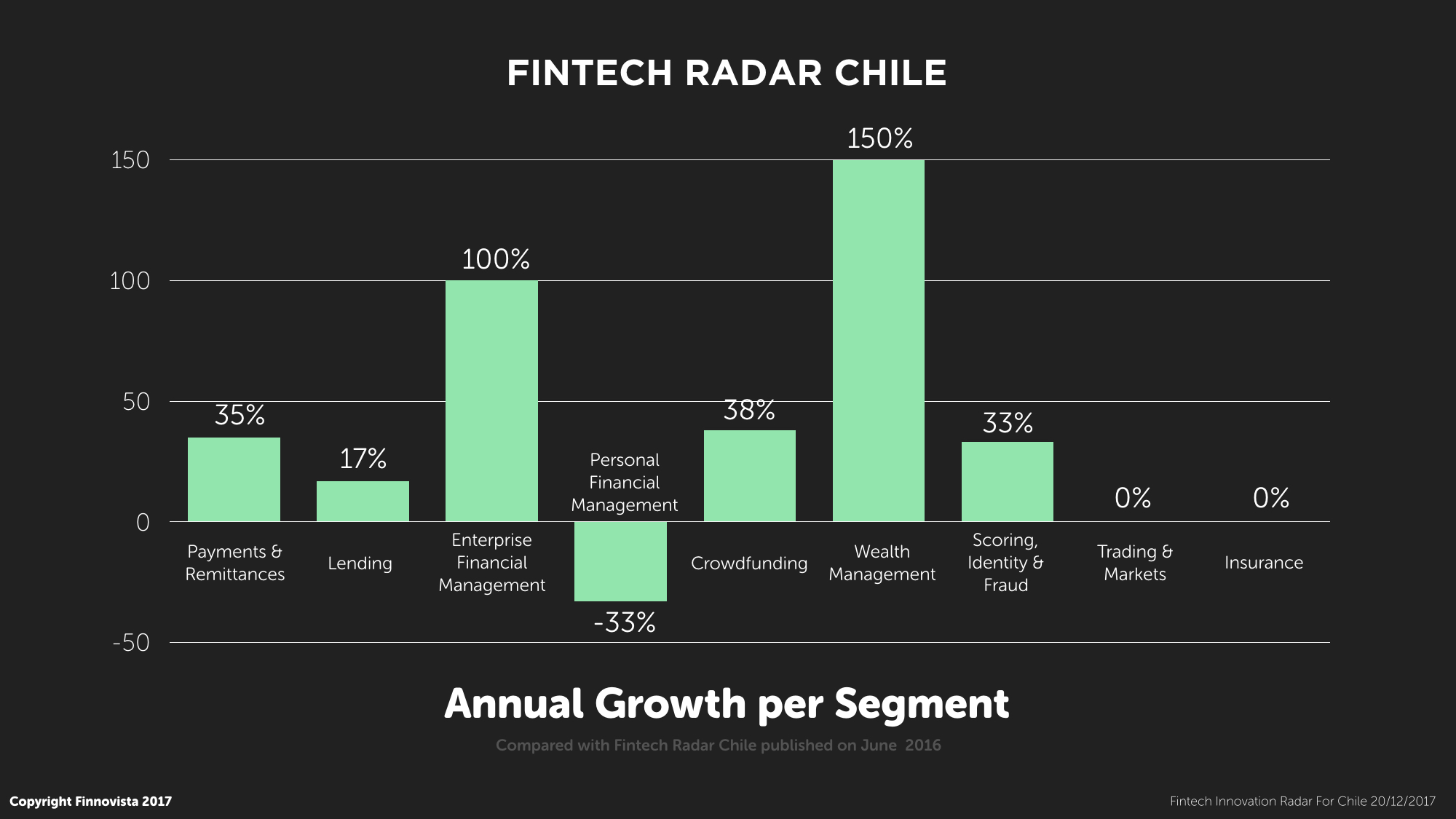 When compared to the first version published in 2016, this update of the Fintech Radar Chile reflects that not all the segments with the highest percentage growth in the last year are the segments experiencing the highest growth in number of startups. Specifically, the emerging segment of Wealth Management, which only accounts for 7% of the total number of Fintech startups in the country, has undergone the largest growth in the sector after increasing by 150% from 2 to 5 startups. The other segments with the highest growth in number of startups are: Enterprise Financial Management, which has doubled from 6 to 12 startups (50%); Crowdfunding, which has grown from 8 to 11 startups, increasing by 38%; Payments & Remittances, which grew by 35% and the segment of Scoring, Identity & Fraud, with a growth of 33%.
The high growth experienced by the segment of Enterprise Financial Management has been influenced by a wider adoption of technology within SMEs in the country. In Chile there are currently 206.773 SMEs, of which, according to Fundación País Digital, approximately 20% carry out online sales and a third has online presence.
On the other side, it is interesting to highlight how in this new version of the Fintech Radar Chile we identified segments that haven't grown in number of startups or have even experienced a negative growth. In this respect, the segments of Insurance and Trading & Markets haven't grown since 2016 and remain with 2 and 3 startups respectively. The most remarkable aspect is the negative growth experienced by the segment of Personal Financial Management, which in this new version brings together the old segments of "Personal Financial Management" and "Savings and Financial Education". It must be stressed that, although these two newly unified segments, which in 2016 added up to 9 startups (16% of the total), in this new version only have 6 active Fintech startups (8% of total), which represents a negative growth of 33% in respect to 2016.
If we compare the Fintech ecosystem in Chile with a similar ecosystem like Colombia, we find important aspects to be highlighted. The solutions of Payments and Remittances keep dominating the Fintech industry in Chile in terms of total number of startups, as it happens in other countries like Colombia, where it its the largest segment, accounting for 30% of the total number of startups. Likewise, it is notable how most of the main segments coincide in in both countries: after the segment of Payments & Remittances, in both countries the segments of Enterprise Financial Management, Crowdfunding and Personal Financial Managements stand out as principal segments. However, it is remarkable how the Lending segment in Chile is relegated to the fourth position, accounting only for 9% of the total number of startups with 7 startups, while in Colombia it is the second largest segment with 22 startups (18% of total).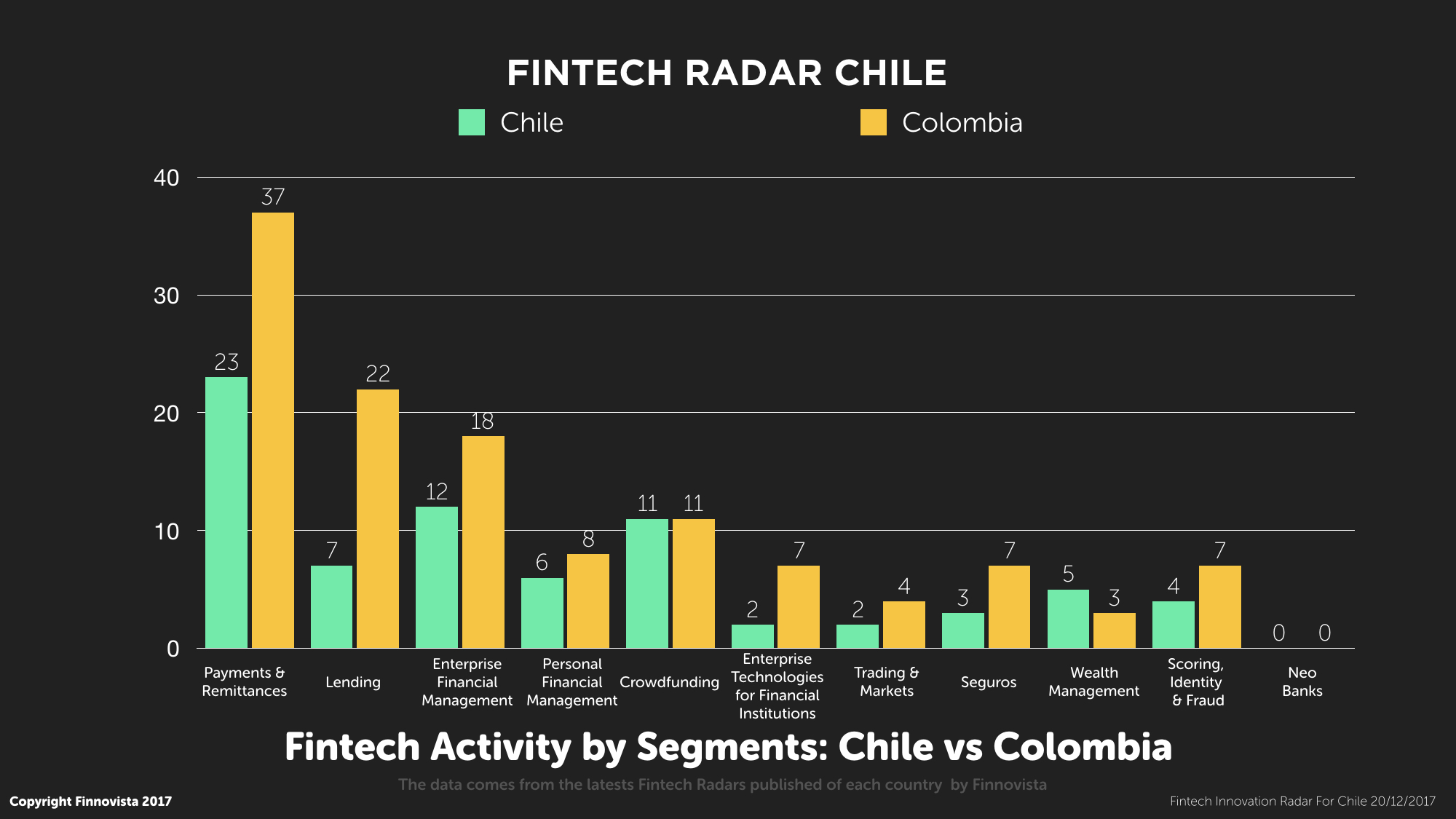 In order to carry out a more profound and detailed analysis of the Fintech ecosystem in Chile, we conducted a survey among Fintech startups in the country covering different aspects of their business model, which was answered by 37 startups. The most important results of the survey will now be highlighted.
The data gathered points out that the majority of Fintech startups in Chile come from the capital city, Santiago (94,6%), while 2,7% come from Viña del Mar and another 2,7% come from Mendoza. In terms of internationalization, it is interesting to highlight how in Chile we found a high percentage of startups operating beyond its national frontiers (22%) in comparison with other markets such as Mexico and Brazil, where only 10% of startups said to be expanding abroad. The main market where Chilean startups operate is Mexico (33%), followed by Colombia (17%), with the rest of the countries remaining at an 8%. However, the number of Chilean startups that operate beyond the Latin American region is still limited, as only one startup said it had expanded its operations outside the region.
Following the trends identified in other markets in Latin America like Mexico and Colombia, the underbanked and unbanked market in Chile is also the main market addressed by Fintech products and services. In Chile 40% of the surveyed Fintech startups said to have as its main target market underbanked and unbanked consumers and SMEs, a segment which at Finnovista we have called Fintech for Inclusion. However, it is important to highlight that Chile has made important progress in terms of financial inclusion as, according to the World Bank, 63% of the population over 15 years old has access to a bank account, well above rates in Mexico (39%) and Colombia (38%), which implies that the number of current accounts in the last 10 years has tripled, reaching 21 million units in 2016. However, there is an important opportunity for Fintech startups, as the country's main challenge lies in promoting the use of financial products as, according to the report conducted by the Banking Association in 2017, 18% of people with a bank account did not carry out a deposit in the 12 months previous to the survey, an inactivity that is above the average of 6% in high income economies and 14% in upper middle-income countries.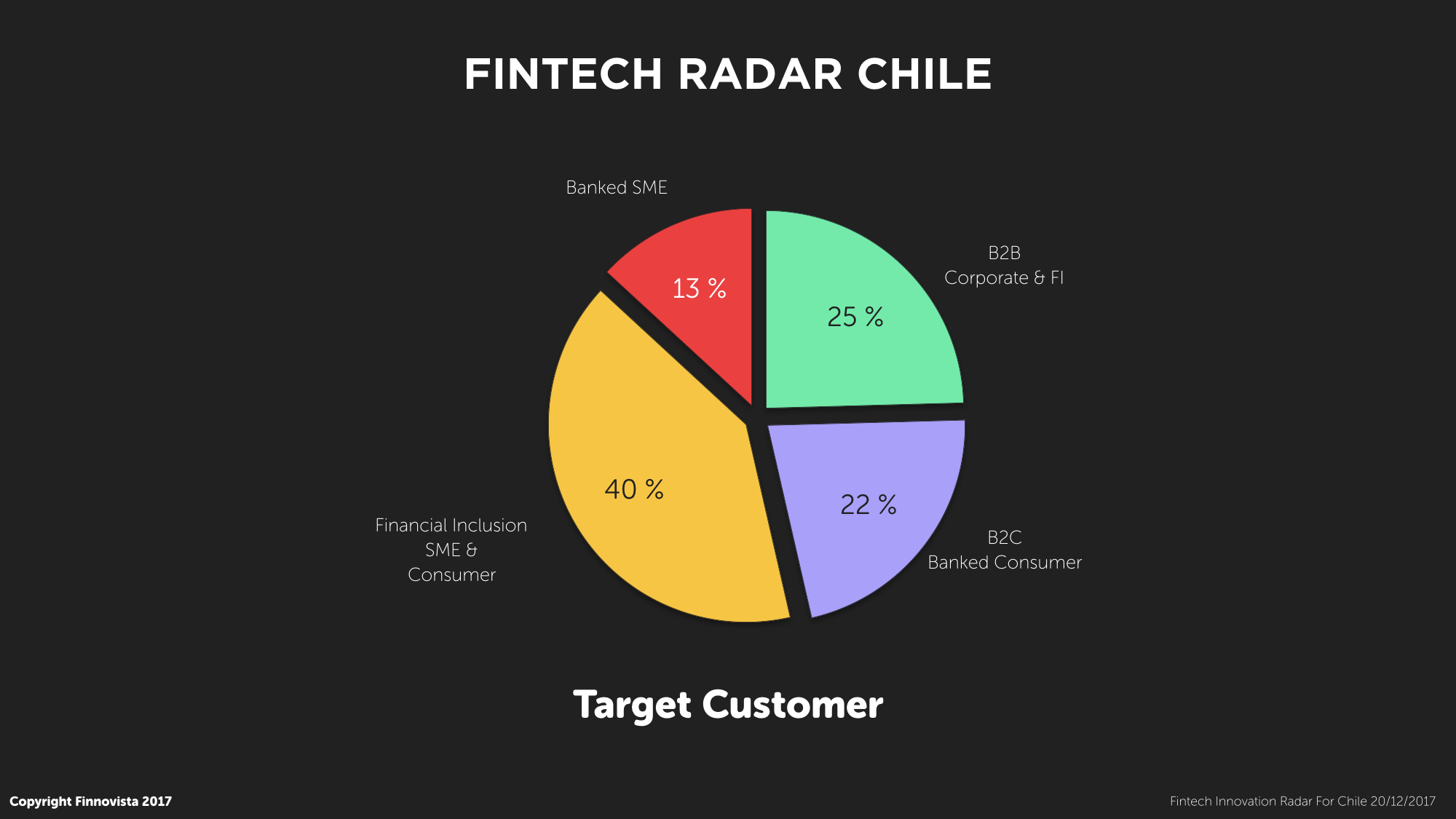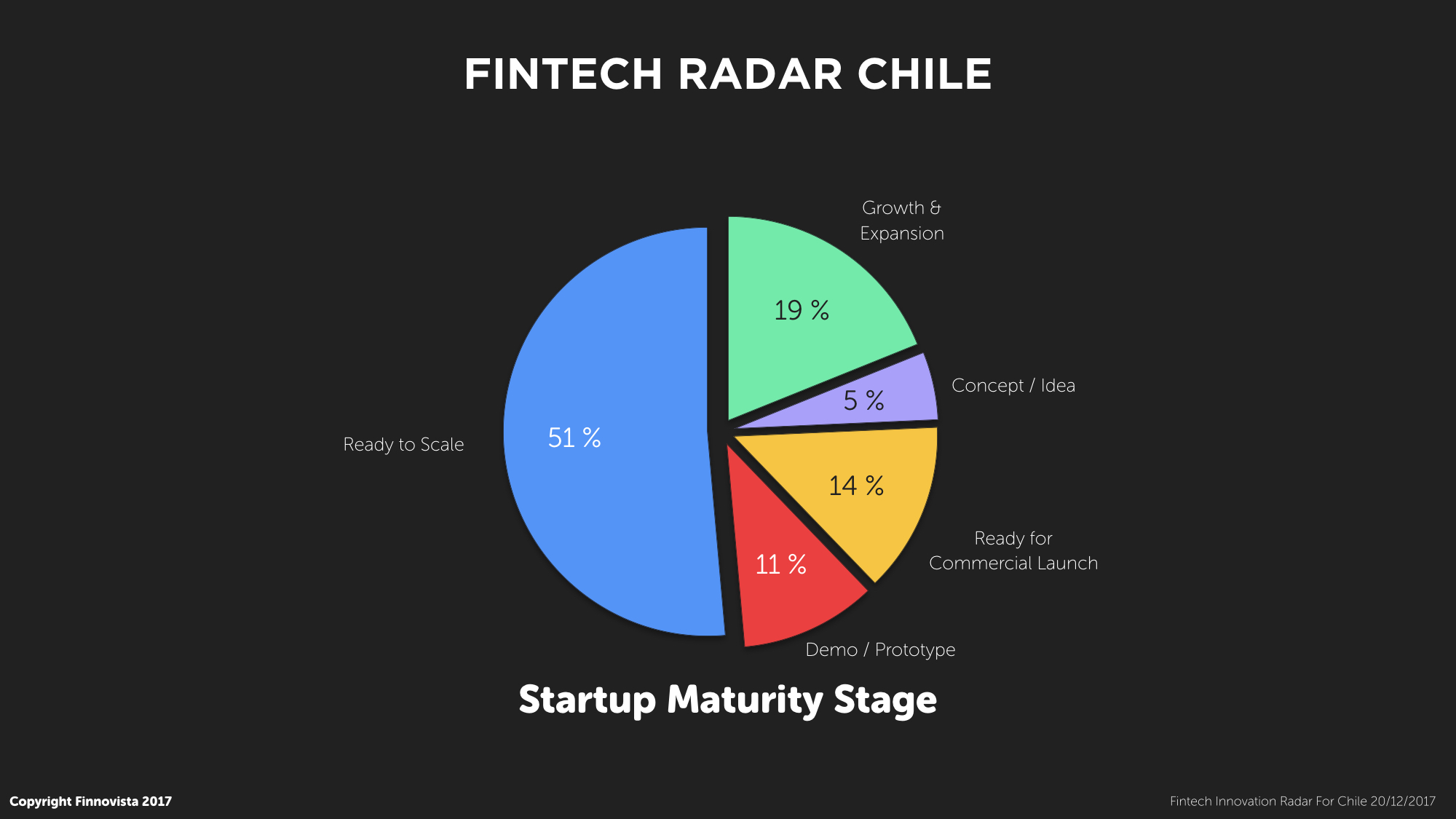 Regarding the maturity stage of Chilean Fintech startups, the vast majority of them are in advanced stages of maturity, as 51% claim to be ready to scale, 19% said they were in growth and expansion, while 14% claimed to be ready for commercial launch. This means only 16% of the startups in Chile are in the early stages (concept or prototype).
Chile represents a relatively young market, as we can observe that 81% of the surveyed startups have been created during the last 4 years, while only 19% are 5 years old or more. In this regard, we found out that the size of startups in terms of number of employees is still relatively low, as 70,3% of the surveyed startups have a total of 1 to 10 employees, while only 15% have over 25 employees.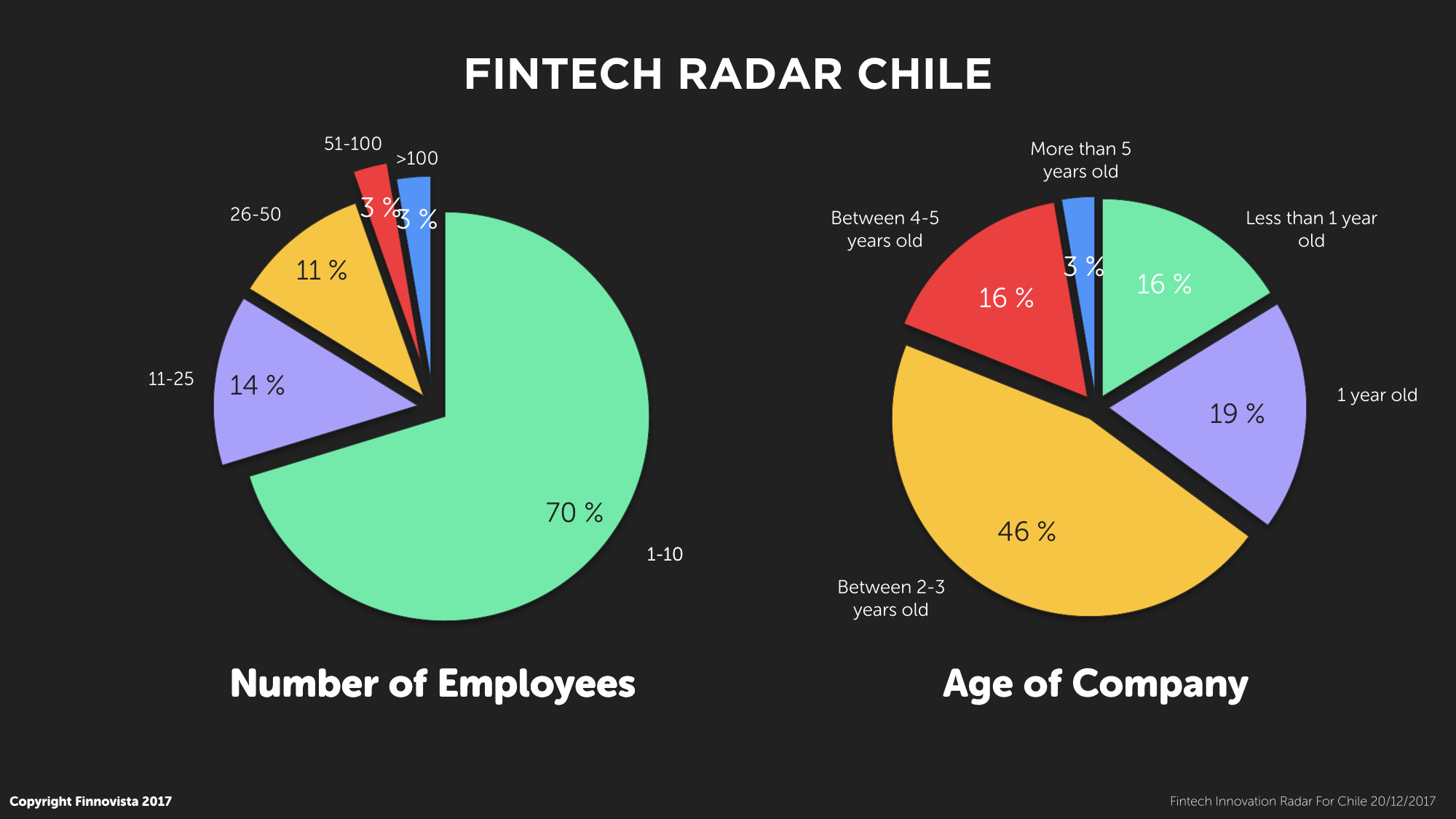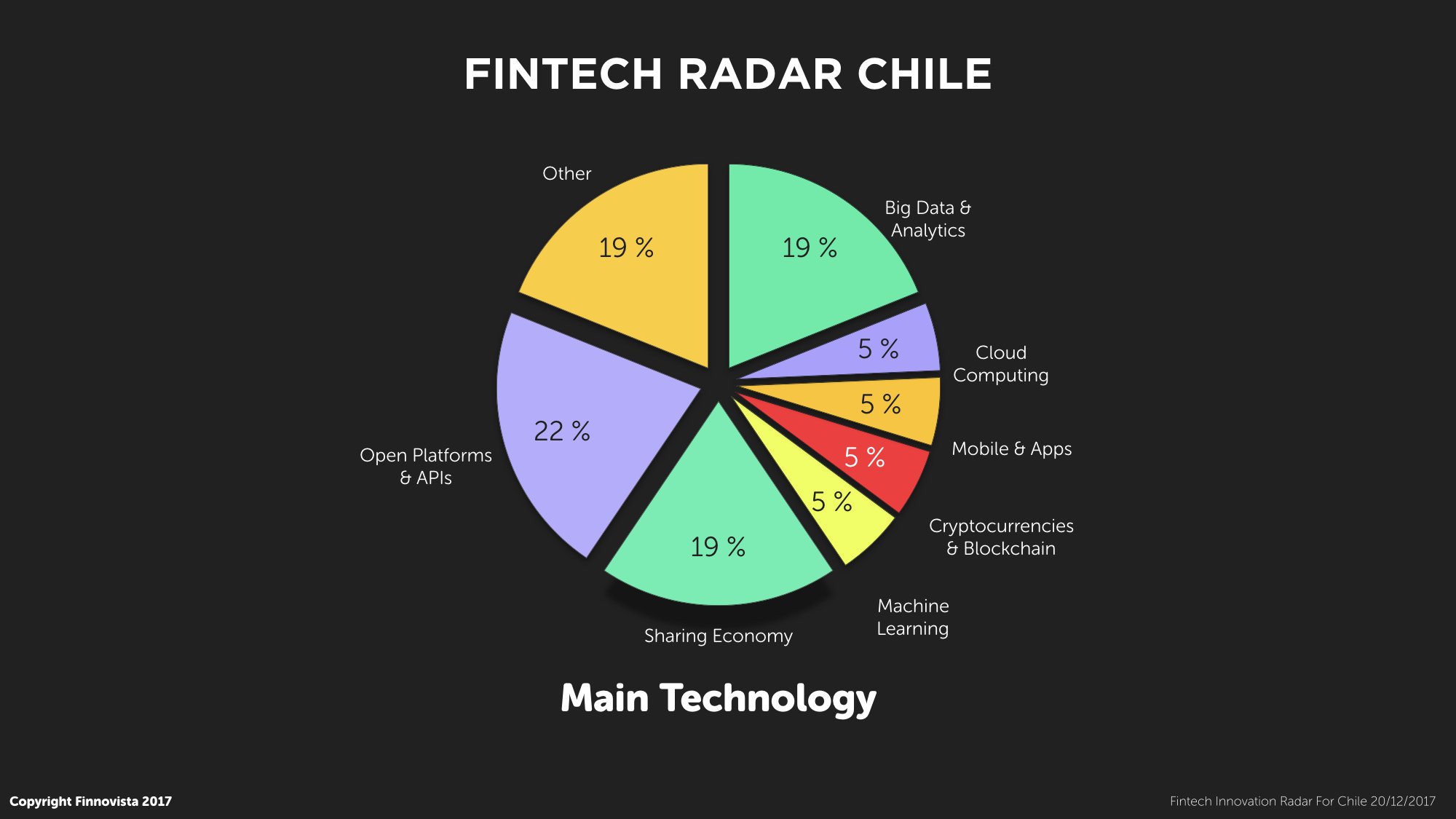 In technological terms, we found out that the most common technology used by Fintech startups in Chile are Open Platforms & APIs, present in 22% of the startups when developing their products and services; followed by the Sharing Economy and Big Data & Analytics, both present in 19% of the startups. This high rate of startups using Open Platforms & APIs coincides with the situation in Mexico, which is an indication of the progress made by financial entities in Chile in terms of platformization of the banks, which also represents an opportunity for financial entities to develop and evolve to become truly banking platforms.
When asked about the funding received, all surveyed startups said they had received external funding in the past. 43% of startups claimed to have received under 100 thousand dollars, while 32% said to have received between 100 thousand and 500 thousand dollars. These figures reflect that the external investment in startups in Chile is still in very early stages, lacking important funding rounds, especially if compared with Mexico or Brazil. On the other hand, in terms of revenues the Fintech market in Chile is also in early stages of monetization, as 71% of startups claimed to have an income of under 100 thousand dollars in the last year and only 8% said to have an income of over 1 million dollars.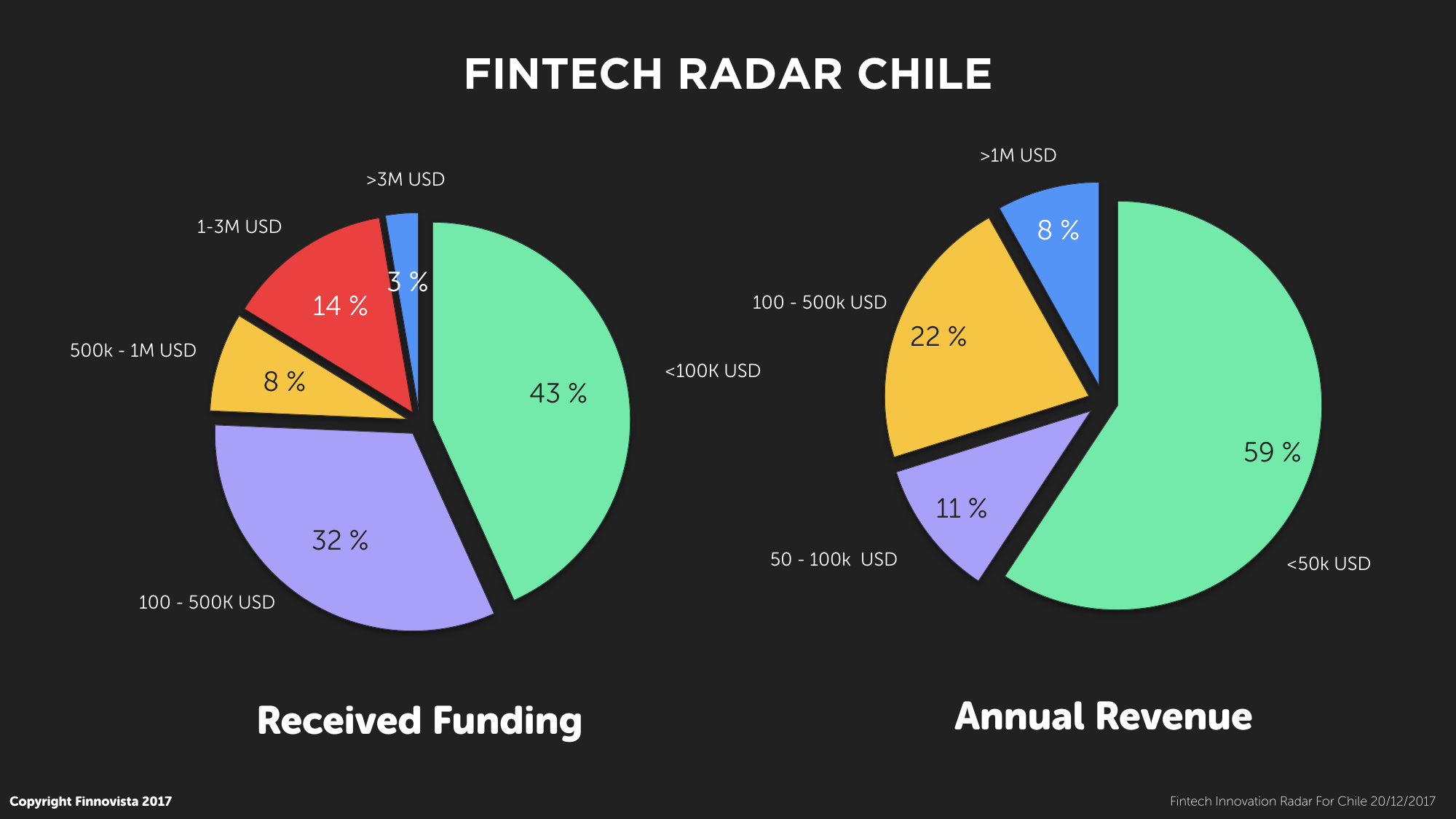 Despite the growth experienced by the Fintech sector in Chile, according to a report conducted by McKinsey & Company, the level of digitalisation of the economy is only a fraction of what we observed in more developed economies. This is because Chile has a digitalisation index of 5%, significantly under advanced economies like the United States (18%) or the United Kingdom (17%). Likewise, despite leading the region in global terms of technology, Chile is still behind other countries like Mexico, Brazil or Argentina in terms of e-commerce and digital banking transactions.
Lastly, it should be stressed that, although the Fintech ecosystem in Chile is gaining track and has given rise to high quality entrepreneurial projects such as Organízame, Pipol or Übank (startups finalists in the Latin American edition of Visa's competition, Visa Everywhere Initiative 2017), the ecosystem still lacks the maturity observed in the main Fintech ecosystems in Latin America. However, members of some Chilean Fintech startups are promoting the development of a Fintech Association in Chile, looking to address the main challenges of the industry. If this initiative consolidates, the Association will not only have to act as a public voice in the industry facing regulators and mass media, but will also have to lead the development of necessary conditions in order to position and boost the Fintech industry in Chile.
From Finnovista we want to thank our collaborators who have participated in the update of the Fintech Radar Chile, among them: Rocío Fonseca, David Fernández, Gabriel Roitman, Ángel Sierra, Jorge CamusyPepe Pascual.
Do you know about any Chilean Fintech startup that has not been included in our Fintech Radar?