At this event, we were honored to have the following distinguished participants: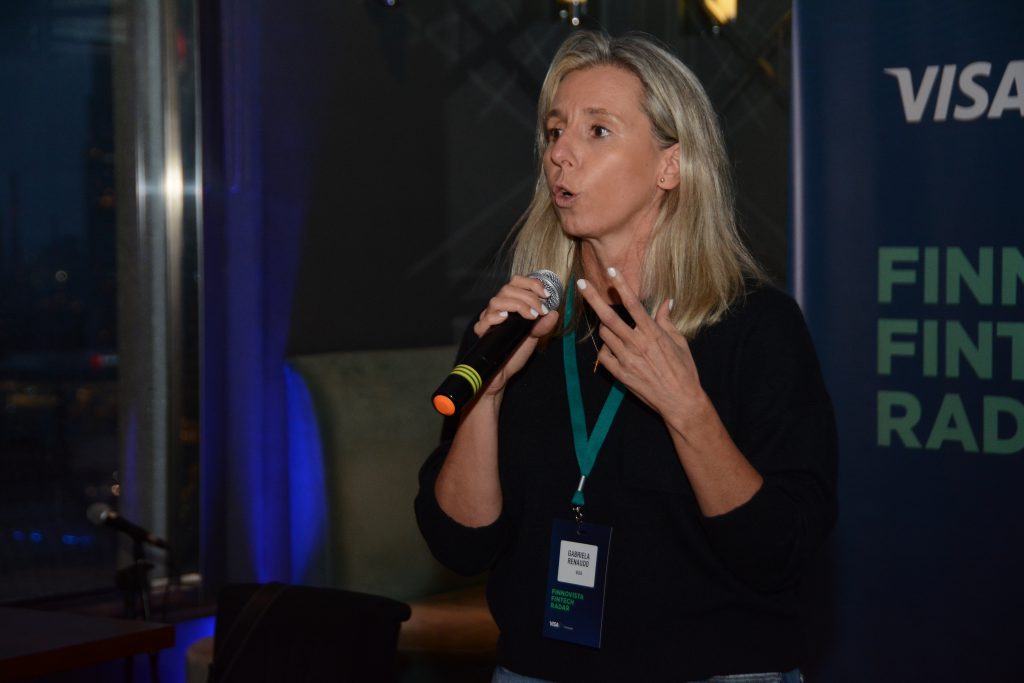 ---
Gabriela Renaudo: Country Manager for Cono Sur and Argentina at Visa.
Mariano Francisco Biocca: Executive Director of the Argentine Fintech Chamber.
Gonzalo Sánchez: Director of Programs for Startups and Ecosystems at Finnovista, who served as our event spokesperson.
Max Biocca: Representing Lemon.
Eduardo Novillo Astrada: Representing Agrotoken.
Guido Messi: Head of Sales at Ripio.
Additionally, the event featured a session where prominent startups made presentations:
Tomas Schapira: Strategy Manager at Tapi.
Virginia Folgueiro: Co-Founder and CEO of Menta.
Agustín de Zuviría Allende: CMO of BeClever.
Since 2021, the Fintech landscape in Argentina has exhibited a steady growth trajectory, experiencing an annual increase of 11.5%. According to the most recent edition of the Finnovista Fintech Radar Argentina 2023, conducted in collaboration with Visa, the number of Fintech companies in Argentina has reached 343 in 2023. This marks a significant increment of 154 new companies since the previous study published in 2021.
Out of these 343 startups identified in 2023, all are of domestic origin, operating within the country's borders and equipped to deliver a digital customer experience, collectively forming the "Argentine Fintech Ecosystem."
Comparing with the 2021 study, where 276 Fintech companies were identified, 189 of them have remained active in 2023, signifying that approximately 31.5% of startups exited the ecosystem during this two-year period.
While there has been some fluctuation in the number of companies operating in the market, this growth underscores the sustained interest and opportunities within the Argentine Fintech ecosystem. Nonetheless, it's important to note that this growth has decelerated in comparison to the 2019-2021 period, during which the ecosystem experienced a compounded annual growth rate of 20.4%.
Segment Distribution in the Argentine Fintech Ecosystem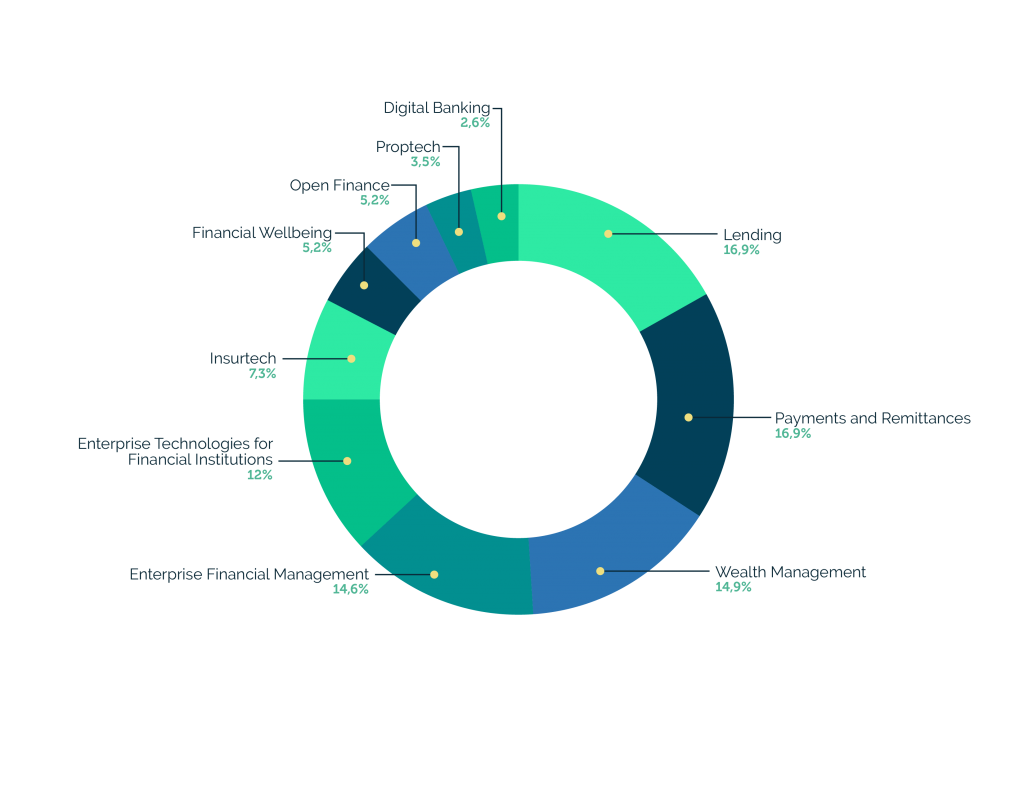 Regarding the distribution of identified ventures across different segments considered in the study, it's evident that over half of the ecosystem comprises Lending projects (16.9%), Payments and Remittances (16.9%), Wealth Management (14.9%), and Enterprise Financial Management (14.6%). Following closely in terms of representation are Enterprise Technologies for Financial Institutions (12.0%) and Insurtech (7.3%), while the remaining groups collectively constitute the remaining 17.5%.
Evolving Trends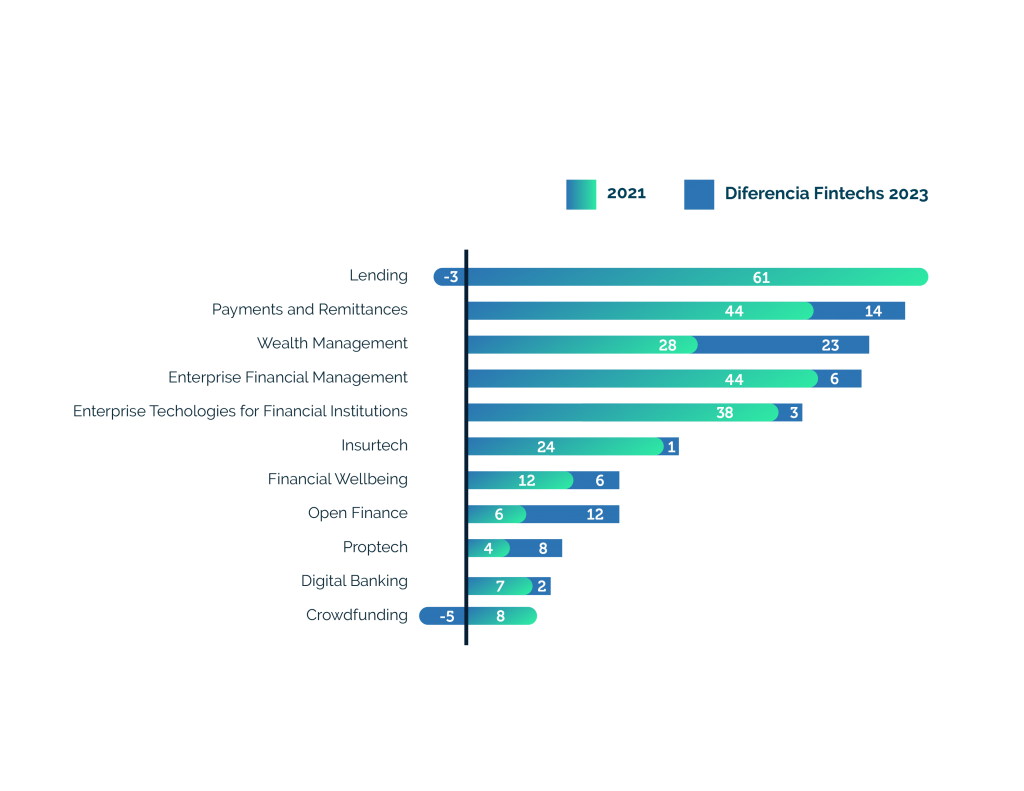 In terms of evolution, Wealth Management, Payments and Remittances, and Open Finance have emerged as the primary drivers of growth in the number of projects in recent years. Several other sectors have also witnessed notable growth, including Proptech, Enterprise Financial Management, and Financial Wellbeing. However, the Lending and Crowdfunding segments have experienced a reduction in the number of projects.
Regarding local trends, the Wealth Management segment has experienced significant growth (80%), predominantly attributed to the inclusion of ventures related to wealth investment and cryptocurrencies. The adoption of crypto asset technologies in Argentina has been remarkably high, with over 14% of the Argentine Fintech ecosystem involved in crypto solutions. According to Chainalysis's research on public blockchain transactions, Argentina ranked 15th in the global cryptocurrency adoption index in 2023.
Crypto companies have gained increasing prominence within the Argentine Fintech industry, offering millions of people alternative avenues to safeguard their income and invest their capital, particularly in an environment characterized by high inflation and a growing need for alternative and decentralized financial options.
Innovation and Regulation
The Argentine Fintech Chamber is collaboratively working with local authorities to develop new regulations for the crypto sector, aimed at ensuring user safety, market transparency, and fostering future innovation. Furthermore, efforts are underway to tokenize assets, a development that could inject dynamism into the economy, boost investment, and facilitate access to new funding sources for businesses of all sizes.
Despite the decline in projects within the Lending segment, Argentine Fintech companies continue to perform robustly in the lending market, witnessing an increase in the value of loans extended and a larger market share in general lending.
In summary, the Argentine Fintech ecosystem is demonstrating signs of maturation through a steady and moderate growth trajectory. Despite challenges like market volatility and talent emigration, it remains an appealing landscape with growth prospects and a rising adoption of financial technologies, especially in segments like Wealth Management and cryptocurrencies. The intersection of regulation and innovation will continue to play pivotal roles in shaping the future of the Fintech sector in Argentina.
You can download the full radar report here.