Visa announces the two finalist startups of the first Visa Everywhere Initiative: Women's Global Edition, DinDin from Brazil and Mujeres del Pacífico from Chile. This announcement comes at the same time that the Latin American edition of this program starts its Office Hours tour through the region to meet the best growth Fintech startups.

Visa is looking for growth-stage startups with presence in Latin America and the Caribbean (LAC) to participate in the third regional edition of Visa Everywhere Initiative, one of the most dynamic, collaborative and global innovation programs that tasks start-ups to solve commerce challenges of tomorrow. After two successful years, the 2019 edition brings a more practical approach focused on finding innovative startups in growth-stage capable of disrupting financial services. The start-ups are asked to solve for three real-life business challenges in the payments acceptance, affluent and digital commerce spaces. This year, the program adds new features such as proof of  concepts (PoC) to help accelerate the market launch of best-in-class visionary solutions.
"As the number of Latin American Fintech startups continues to increase and attract regional and international venture capital funding, we believe that we are nearing an inflection point whereby some of these startups are going to significantly rewire the payments and commerce ecosystem in the region. Further, we continue to see the benefits that startups can reap by deepening their level of engagement with companies like Visa. Together, we can accelerate the adoption of digital payments, drive increased digital inclusion, and foster a new wave of commerce – at scale," said Arnoldo J. Reyes, VP Digital Partnerships, Fintech & Ventures for Visa Latin America and the Caribbean. "The program has allowed us to work closely with pioneering startups and we are excited to receive many creative solutions this year to continue transforming the world of payments."
All eligible startups are invited to submit innovative solutions that directly solve one of the following business challenges:
Challenge #1 – Expand digital payments access and acceptance.
As Visa looks to expand digital acceptance across the LAC region, where the majority of payments are still done in cash, how can startups help merchants both online and offline accept digital payments with a particular focus on medium, small and micro merchants?
Challenge #2 – Increase Visa's share in the affluent segment
In an effort to provide a richer value proposition to this segment, how can startups provide Visa's affluent cardholders, or its affluent product suite, with unique benefits, capabilities, and solutions that will resonate strongly with this customer segment?
Challenge #3 – Drive secure digital commerce
As digital commerce continues to grow at double-digits across LAC, how can start-ups provide a greater level of security of those transactions and provide solutions that can help improve authorization rates, reduce domestic and cross-border fraud, and improve the online payments experience?
Every Fintech startup that wants to participate may be able to get more information on the program by applying for a meeting in one of the Office Hours that will be taking place in the coming days and in the following cities:  
Applications for the LAC 2019 Visa Everywhere Initiative can be submitted until June 30, 2019 in the Visa Everywhere Initiative website. Twelve finalist start-ups will participate in a five-week immersion program and attend the finals event, which, for the first time will include a pilot demonstration of the finalist's solutions. The VEI finals will take place during the 2019 FINNOSUMMIT Miami by LendIt Fintech on December 3rd and 4th.
The winner will receive a $50,000 award, and the opportunity to collaborate with Visa across Latin America, receive expert mentorships and gain exposure to investors and Visa's ecosystem of partners.
Last year's VEI winner, the Peruvian startup Culqi, shares that "The Visa Everywhere Initiative allowed us to add more value to our product offering by using the Visa Developer Platform. As a result, we garnered enough recognition to win new customers and business opportunities, including the recent investment of Credicorp, the biggest financial holding company in Peru, in our company. Personally, it was a great accomplishment and I am truly honored to be a part of the VEI Women's Global Edition campaign, said Amparo Nalvarte García, CEO & Co-Founder of Culqi. Amparo is also one of the eight program ambassadors of the VEI Women's Global Edition campaign.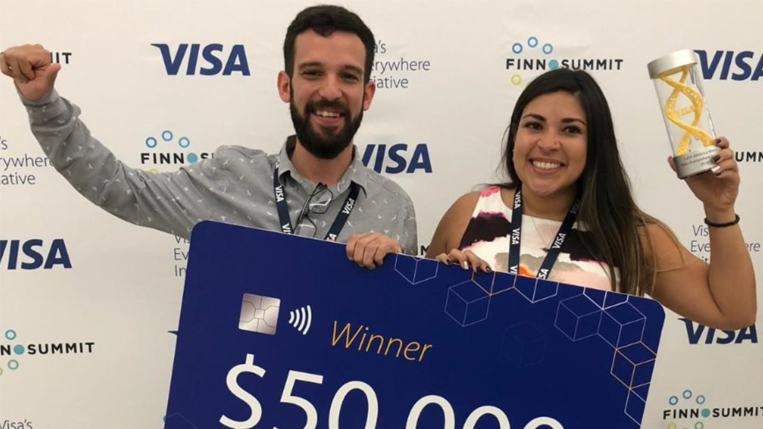 VEI Women's Global Edition: Latin America Finalists
The Visa Everywhere Initiative: Women's Global Edition is a fully female program dedicated to women making strides in Fintech and Social Impact. This unique program, launched in March, underscores Visa's ongoing commitment of supporting Fintechs and Social Impact organizations with at least one female founder or co-founder. DinDin from Brazil and Mujeres del Pacifico from Chile have been chosen as the two Latin America finalists that will represent the region at the final pitch session in Paris, which coincides with the kick-off of the FIFA Women's World Cup France 2019™ — one of many initiatives at Visa focused on supporting women across the globe.
DinDin provides access to a complete, seamless and easier financial experience for the unbanked, underbanked individuals and businesses in Brazil, through its app, web-based internet banking, prepaid cards and API platforms. Founded four years ago, its ambition is to promote financial inclusion to more than 115 million people in Brazil, also reaching the young population.
Mujeres del Pacifico, the Chilean startup, recognizes that starting a business in Latin America for women is very difficult and on average only 38% of entrepreneurs are women. For the last six years, the company has dedicated itself to empowering and professionally developing women entrepreneurs through training programs, networking and access to new marketplaces in Colombia, Mexico, Chile and Peru.
Since 2015, Visa's Everywhere Initiative have reached five continents and 75 countries, witnessing the participation of more than 4,000 startups. In Latin America, the program has successfully convened more than 600 startups since its launch in 2017, helping expand the payment ecosystem with emerging talent. Last year's program broke regional records with more than 350 proposals submitted from 15 countries.
Visa Everywhere Initiative in Latin America and Caribbean is organized in partnership with Finnovista. For more details about the program, requirements and applications, click here.