Finnovista has pursued its efforts to map and monitor the Fintech industry in Latin America by exploring in detail the Brazilian market after performing similar research studies for Argentina, Chile, Colombia and Mexico. As a result, Finnovista generated its first Fintech Radar for Brazil.
Our most recent findings show that at least 219 Fintech startups exist in Brazil which are disrupting the Financial Industry sector across 16 different segments. This figure makes Brazil the largest Fintech ecosystem in Latin America, followed by Mexico with 158 startups, Colombia with 77, Argentina with 60, and Chile with 56. Such a dynamic market in Brazil means greater opportunities for both banked and unbanked customers to get access to more and better financial products, and also a serious window for traditional financial institutions to take advantage of the innovation existing within the Fintech ecosystem.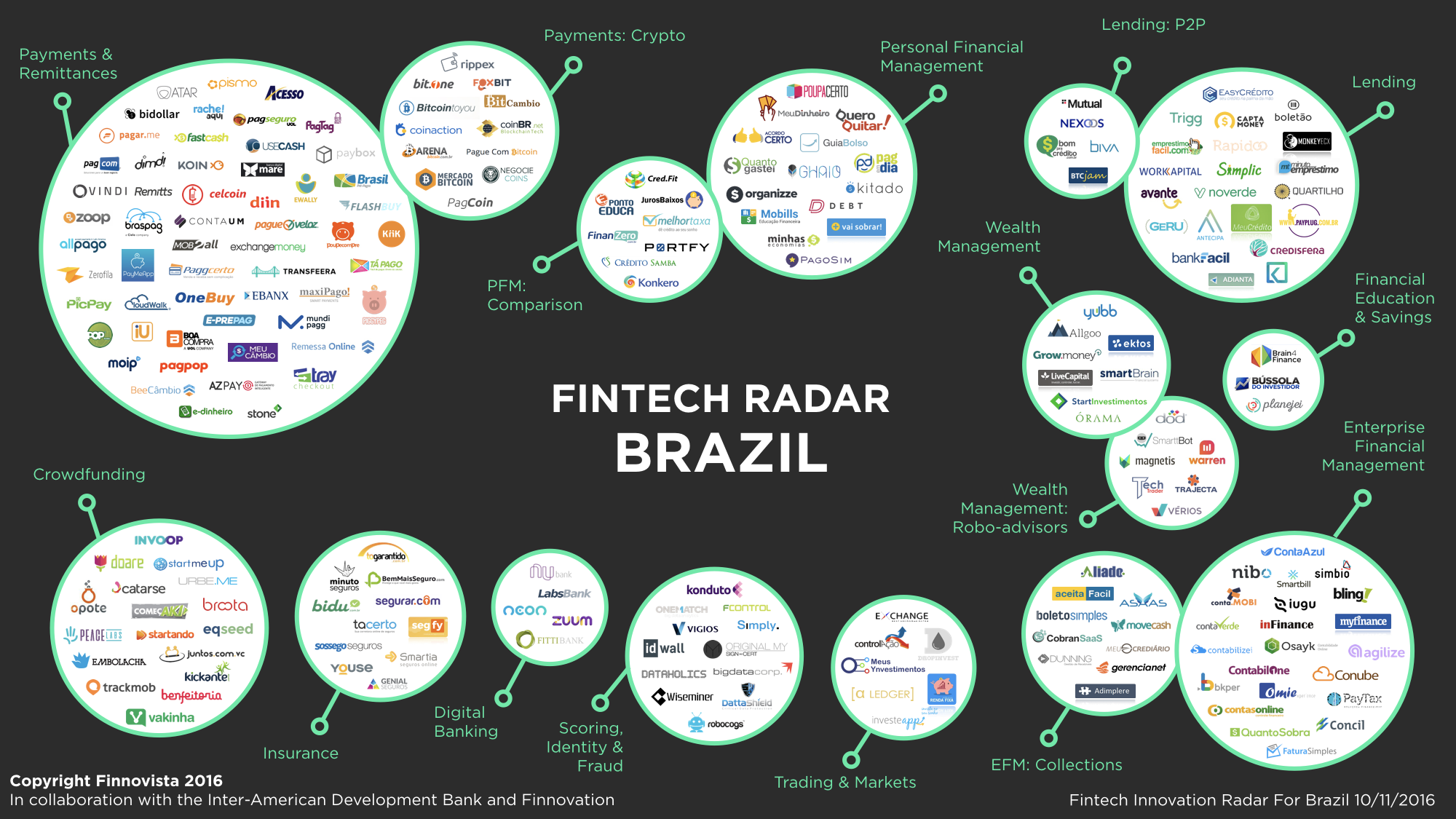 (You can download either a hi-res image HERE, or a ready-to-print version HERE)
As is the case with other Latin American countries, the segment with the highest number of Fintech startups in Brazil is Payments & Remittances accounting for 31%. It is followed by the Enterprise Financial Management segment with 15% of the total amount of identified startups, with Collections being an important sub-segment within this category. In third place, Lending startups (including both P2P and balance sheet lending platforms) account for 12% of total Brazilian Fintech startups. Another interesting fact that stands out when compared with other countries in the region is a greater number of Fintech startups in the Wealth Management segment, with almost half of them developing automated wealth management services or robo-advisors.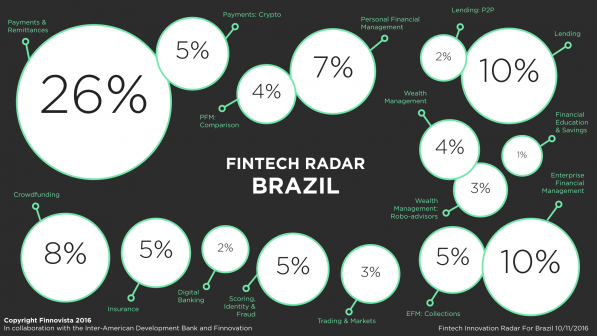 "Where is Fintech Innovation taking place in Brazil"
A more in-depth survey of Fintech startups in Brazil, allowed us to generate some insights on the Brazilian market. An analysis of the information, shows that Sao Paulo is the city where most of the startups come from, being mentioned as the city of origin for 54% of them, followed by Rio de Janeiro with 10%, Belo Horizonte with 8% and Porto Alegre with 6%. When asked about their market of operations, 90% responded that Brazil was their only market, and 10% of them had already expanded beyond Brazil.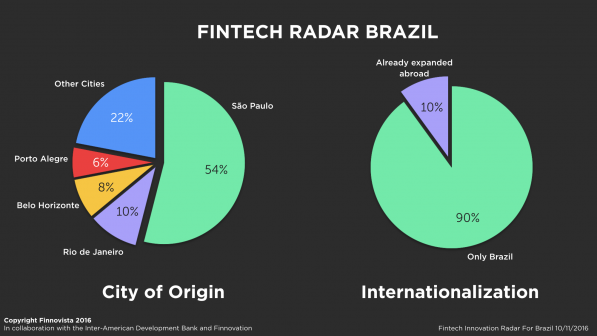 Regarding the stage of maturity of the startups, 35% described themselves as undergoing Growth & Expansion, 26% as being Ready to Scale, 23% as having a product Launched, and 16% as having a Beta Version, Demo or Prototype. As an interesting fact, business models spread mostly equally within 3 big groups as follows: 34% of startups target corporate businesses with a B2B approach, an additional 31% of startups target banked consumers with a B2C business model, and finally 28% of startups are creating solutions for financial inclusion either for individual consumers or SMEs. The remaining 7%, is developing solutions for already-banked SMEs.
When asked about the main technology they are leveraging to build their products and services, 6 technologies are highlighted: Big Data & Analytics, Mobile & Apps, Open Platforms & APIs, Cloud Computing, Machine Learning & AI and Crypto-currencies & Blockchain. As for the funding, fundraising has definitely played an important role in developing the current Fintech ecosystem in Brazil, with 57.5% of the companies having fundraised from third-parties in the past. Also 58.1% of startups say they are currently undergoing fundraising efforts for future investments.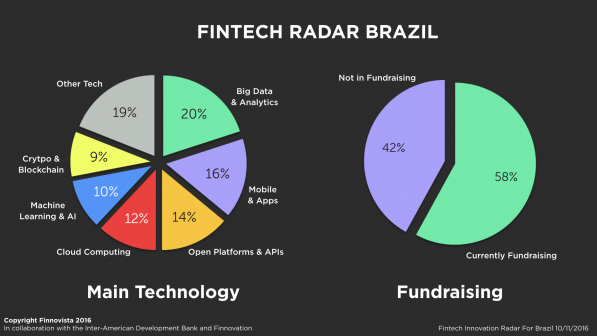 Finnovista and its team would like to thank the following mentors from our network who collaborated in the construction of the Fintech Radar Brazil: Guilherme Horn, Thiago Paiva, Arthur Farache, Ricardo Morikio and John Plaisted. Thanks to all of you for your inputs and feedback.
We also encourage other Fintech companies in Brazil to complete the IADB Fintech Survey to be part of the biggest research study executed so far for the Fintech industry in Latin America.
—

Do you know any other Fintech startup from Brazil that has not been included in our Fintech Radar? If so, please contact us at [email protected]