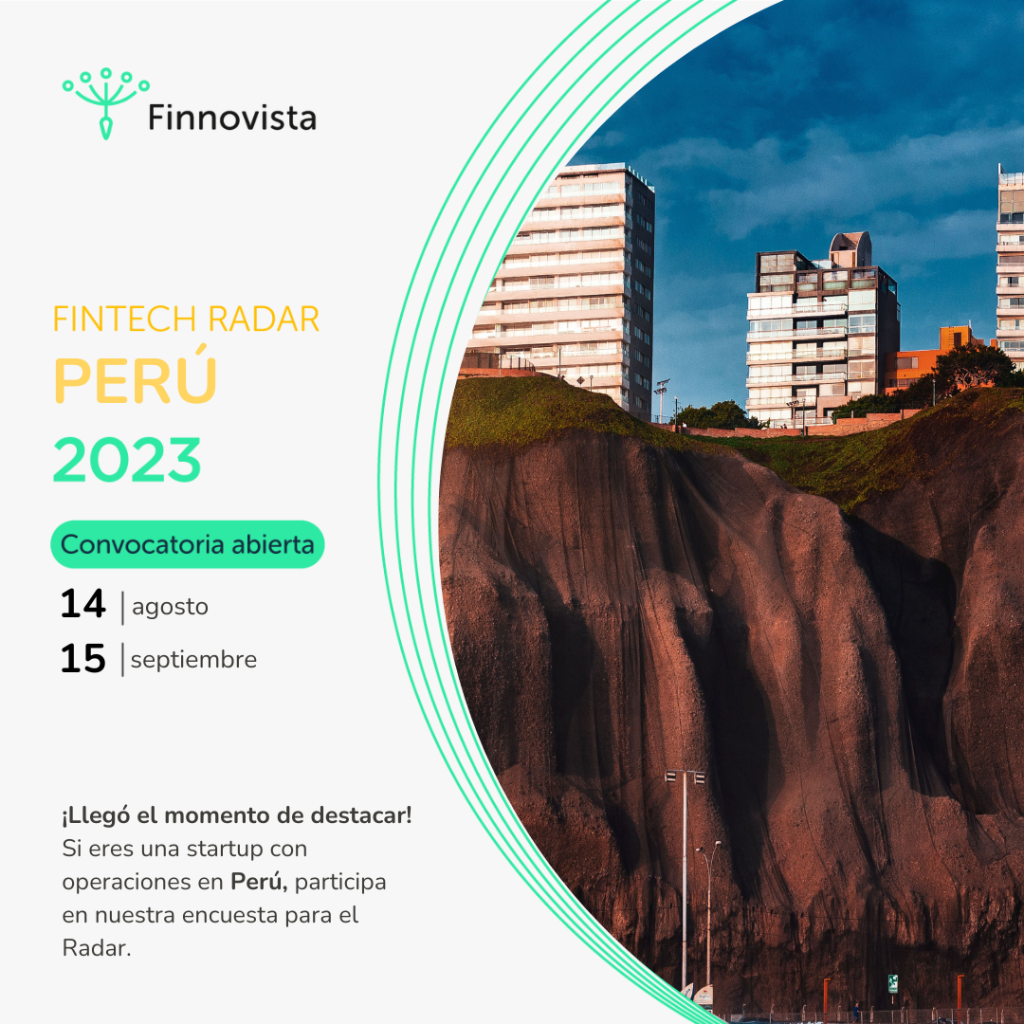 In the dynamic Fintech ecosystem in Latin America collaboration and strategic connections might be key to entrepreneurs' success. Engaging with the Finnovista Fintech Radar presents a unique opportunity that propels growth and amplifies visibility for Fintech startups across the region. For startups with a presence in Argentina and/or Peru, the deadline to complete the application form and join the forthcoming updates for these reports is September 12th.
Why Engage with Your Country's Finnovista Fintech Radar?
The Finnovista Fintech Radar reports are research and analysis reports that identify the latest trends and emerging startups in the Fintech ecosystems of different Spanish-speaking Latin American countries, serving as a lever for valuable connections with stakeholders within the Fintech domain.
These reports highlight the most promising Fintech startups in the region, providing them with visibility in the ecosystem and giving them the opportunity to access unique growth opportunities. Through a thorough research process, the Finnovista team selects and segments startups that are at the forefront of innovation in the financial sector.
In the current year, updates for Colombia and Mexico have been unveiled, and we are presently extending an invitation to startups from Argentina and Peru to partake in the forthcoming updates for these countries' radar reports.
Facilitating Strategic Connections Between Entrepreneurs and Key Players in the Regional Fintech Ecosystem
Investor Meetings: By appearing in the Finnovista Fintech Radar startups have a privileged opportunity to attract the attention of investors and investment funds interested in the Fintech ecosystem of Argentina and/or Peru. This direct access to funding sources is essential for the growth and expansion of startups.
Intersectoral Collaborations: The radar acts as a bridge that facilitates intersectoral collaborations between Fintech startups and other established companies or financial entities in the region. These alliances can open new distribution channels and help Fintech entrepreneurs bring their innovative solutions to a broader audience.
High-Level Networking: Participating in the Finnovista Fintech Radar provides startups with opportunities to take part in events like FINNOSUMMIT or FINNOSUMMIT Connect, specialized conferences, and meetings where they can interact with influential leaders in the Fintech sector. These connections enable them to learn from the best, receive valuable advice, and establish lasting relationships.
The Finnovista Fintech Radar represents an invaluable opportunity for Fintech startups with operations in Argentina and/or Peru to be part of the updates in the startup map of these countries. Through this recognition, entrepreneurs can establish strategic connections, increase their visibility, and achieve new levels of growth. Participating in the radar is an important step in making their way into the Fintech ecosystem and enhancing the positive impact of their innovative solutions in the Latin American market.
Participate by filling out this form here by September 12th.