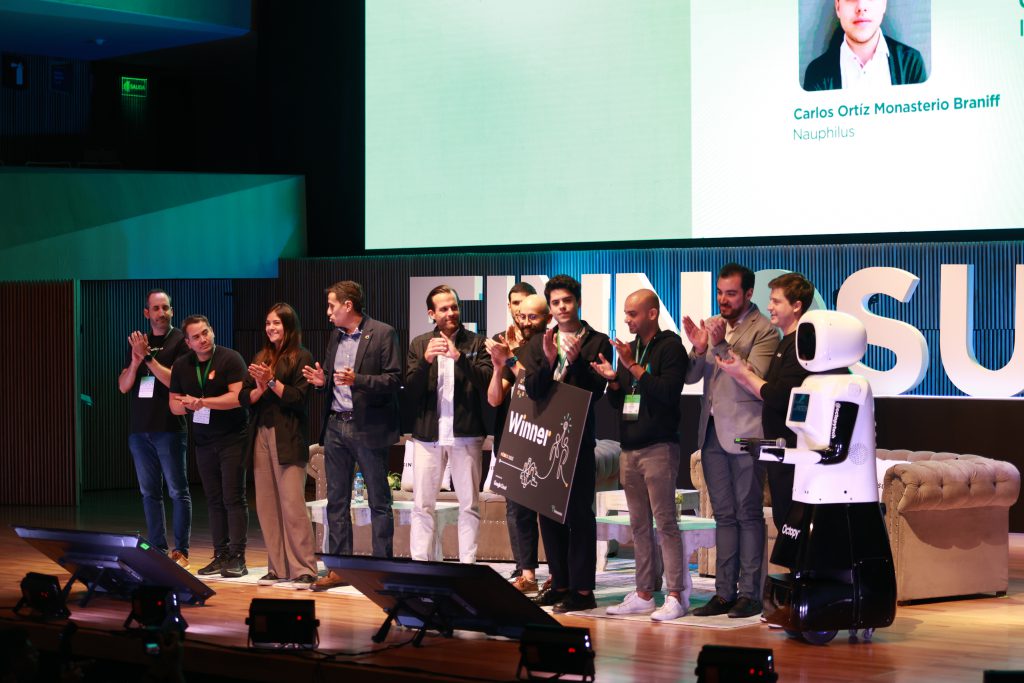 The Mexican startup Nauphilus took the first place in the 'FINNOSUMMIT Challenge, Artificial Intelligence in Fintech,' edition powered by Google Cloud, which took place on the first day of FINNOSUMMIT at El Cantoral and was co-hosted by the robot Octybot.
Nauphilus co-founder Carlos Ortíz presented their digital interviewer, based on behavioral sciences and equipped with biometric readers and artificial intelligence, which promotes greater financial inclusion, standardization, optimization, and savings in credit processes. Their pitch received the most votes from the jury, which included Miguel Lavalle, Business Development Head of Citi; Blanca Sañudo, Senior Investment Analyst at ALLVP; Edgar Torres, Sales, Financial Services & Fintech Leader at Google, and Gonzalo Sánchez, Fintech Startup Programs & Portfolio Director at Finnovista.
The entrepreneur received the first prize in this edition of FINNOSUMMIT Challenge, powered by Google Cloud, which aimed to discover, promote, and empower the most talented teams in the region. Nauphilus was awarded Google Cloud credits through the Google Cloud for Startups program and will have privileged access to the Google for Startups Accelerator, as well as mentorship.
Carlos Ortíz expressed his satisfaction after his appearance on the FINNOSUMMIT stage and said, "It is a great opportunity and privilege to present our solution in a forum of this caliber and before such an engaged audience. I am very grateful for the award and the opportunity to promote stronger financial inclusion in our country."
B2C and B2C Solutions Revolutionizing Finance through AI The 'FINNOSUMMIT Challenge, Artificial Intelligence in Fintech,' competition, powered by Google Cloud, sought innovative solutions that would redefine the way we operate in the financial world using artificial intelligence. From financing to risk management, artificial intelligence is at the center of this revolution.
Daniela Lascurain, co-founder of Zumma, along with two other entrepreneurs, took second place with another Mexican Fintech startup that is transforming personal finances with the help of artificial intelligence. Zumma guides users through their financial journey, from financial planning to investment, while rewarding them for making good financial decisions. This solution received the second-highest number of votes from the FINNOSUMMIT Challenge jury, while the American company QUASH took third place with its platform to assist financial institutions in measuring the profitability of their credit predictions to increase credit origination without increasing risk.
Finnovista's co-founder and Managing Partner, Andrés Fontao, recalled that "FINNOSUMMIT Challenge has become one of the most important competitions in Latin America, with startups like Openpay, later acquired by BBVA, and Arcus, acquired by Mastercard, participating. The success of entrepreneurs who have passed through here in previous editions leads us to believe that startups like Nauphilus are destined to be part of the next wave of Fintech solutions that will revolutionize Mexico and the region through artificial intelligence."