The countdown to FINNOSUMMIT in Mexico has begun. Less than one week before the start of what is already considered the most relevant Fintech event in the region, we do not want you to miss the opportunity to learn about the experience of Ignacio (Nacho) Deschamps, Group Head, International Banking & Digital Transformation of one of the most important banks in the world, Scotiabank, who will accompany us in the event. Do not miss this preview of what you can discover at FINNOSUMMIT about his vision of the great potential of Fintech in Latin America and his commitment to digital transformation.
-In recent years we have witnessed significant shifts in what consumers expect from the financial industry. They are starting to realize data's value, are starting to feel more comfortable with automated services and are increasingly demanding personalization. How is Scotiabank facing these changes in consumer behavior and expectations? Do you see innovation as a driver to reach Scotiabank's goals?
Consumers are demanding reliable, global, and seamless digital experiences. Scotiabank has adapted to meet these demands. This is the principal driver behind our Digital Transformation. We are investing significantly in analytics, and in the capabilities that will allow us to leverage and apply this information in ways that benefit our customers while positioning us as a digital leader in financial services.
Innovation is essential to achieve our digital goals. We developed a global operating model to focus on the creation of innovative, customer solutions. Across our enterprise and network, our support functions and communities of practice enable the digital strategy and leverage best-practices. The five Digital Factories in our priority markets (Canada, Colombia, Chile, Peru, and Mexico) enable access to diverse digital talent, share learnings among local and global teams, and allow us to co-create with our local customers around the world. We all work together under one single strategy – testing, learning and implementing at a faster pace. This model allows us to build once, and deploy across our global footprint.
-We are also witnessing a paradigm shift in the relationship between banks and Fintechs who are moving from competing to cooperating. How is Scotiabank working towards this collaboration?
We have immersed ourselves in an innovation ecosystem, and FinTechs are a major player within this ecosystem. Our partner relationships have expanded to include start-ups, FinTechs, Venture Capitalists (VCs), accelerators, incubators, and universities – in addition to traditional technology partners.
For example, we have partnered with 4 VCs in diverse global markets, including Latin America, North America, and Israel. In Latin America, with QED Investors we've created a joint venture capital fund to identify, invest and promote the growth of innovative start-ups across the FinTech spectrum. In addition, we have partnered with the accelerator NXTP Labs to access the most promising Latin American FinTech start-ups in their early stages, giving us visibility on transformative trends and technologies in the industry.  Since 2015 we have engaged with more than 1000 FinTechs and start-ups in various capacities. Our size, experience, and knowledge give us the capability to partner as an investor, advisor, mentor and customer.
In this digital age, we are proactively scanning the globe for partnerships and opportunities to cross-collaborate on solutions that focus on the customer experience. We believe that FinTechs and banks are not in competition, but rather share a common goal of providing a better banking experience and therefore there is great potential for collaboration. FinTechs are agile, responsive and have the ability to improve niche, user experiences. Scotiabank brings customers, funding, and stability to the table. There is an immense opportunity in partnering with FinTechs who can help us bring leading-edge, banking experiences to our customers. 
-Eager enthusiasts think Open Banking will revolutionize the industry, making banking more competitive, others believe it could have serious implications for people's private data? What's your opinion on this matter? Now that regulations are appearing in other parts of the world beyond the EU, what do you think of a potential worldwide open banking standard?
Scotiabank's first and foremost concern is the protection of its customers. The discussion around Open Banking and security, and the responsibility for data, is paramount. This presents both an opportunity and a risk for global financial services. Providing a better customer experience requires added convenience and simplicity, but also rigorous data privacy and security measures. More research is required to fully understand potential consequences and accountabilities of new risks that data sharing creates, particularly for validating the legitimacy of third parties and identifying responsibilities in the event of fraud or breaches.
-Fintech startups are increasingly collaborating with banks with the development of niche technologies such as biometrics, anti-fraud, identity theft technologies… Which are the priorities that Scotiabank is trying to approach through cooperating with startups?
We are no longer competing against traditional metrics and we don't just compare ourselves to banks; we judge ourselves against technology companies that deliver effective, reliable digital services. We are focused on improving each step of the customer journey and partner with FinTechs that can help us do that with their digital expertise in engagement, capabilities, AML and lending. For example, Konfío out of Mexico is building an online lending platform that makes affordable small business loans more accessible. Also, Coru, formerly known as Comparaguru, offers an innovative online comparison platform for financial products.
We have implemented more than 70 FinTech POCs and formalized more than 20 FinTech partnerships. Through our global venture capital partnerships in North America, Latin America, and Israel, we proactively scan the FinTech and start-up markets. We have built a strong network to support our Digital Transformation, and are now accelerating at a rapid pace. We are seeking partners that can keep up and work with us to deliver impact as we move forward.
-What are your expectations for FINNOSUMMIT México?
We continue to scan the globe for digital innovators who will help us develop the ultimate customer experience, and participating at FINNOSUMMIT México is part of that. It's a chance to engage with new FinTech partners and meet with many of our current partners face-to-face. FINNOSUMMIT also allows us to tap into a growing talent pool for our Digital Factory here in Mexico. In the future, I expect FINNOSUMMIT México will get bigger and better. All market indicators show us that Mexico is primed for continued and stable growth, particularly in the digital space, and we're excited to expand our innovation ecosystem here.   
About Ignacio (Nacho) Deschamps | Group Head, International Banking & Digital Transformation, Scotiabank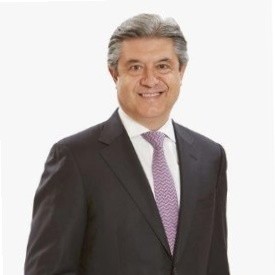 Nacho was appointed as Strategic Advisor to the President and CEO, for Global Digital Banking, in January 2016. He was subsequently appointed Group Head, International Banking and Digital
Transformation, in February 2016. As a Group Head with executive responsibility for International Banking, Nacho oversees all of the International Bank's personal, small business and commercial banking operations globally outside of Canada. Nacho also has executive responsibility for leading the digital transformation of Scotiabank, reimagining and simplifying the customer experience. Prior to joining Scotiabank, Nacho was a member of the Global Executive Committee of a leading European-based global bank, where he was Chairman and CEO of Mexico's largest bank, Head of South America, and Global Head of Retail Banking. Nacho is a graduate of Instituto Politécnico Nacional in Mexico City and has a Master of Engineering Administration from The George Washington University in Washington, D.C.