We are pleased to present the 30 startups selected among more than 300 applications from 27 countries that will participate in Visa Everywhere Initiative Latin America and Caribbean 2020, an initiative in association with Finnovista. In this year's edition, the first challenge is to help SMEs accelerate their economic recovery and the second is to provide frictionless mobility solutions.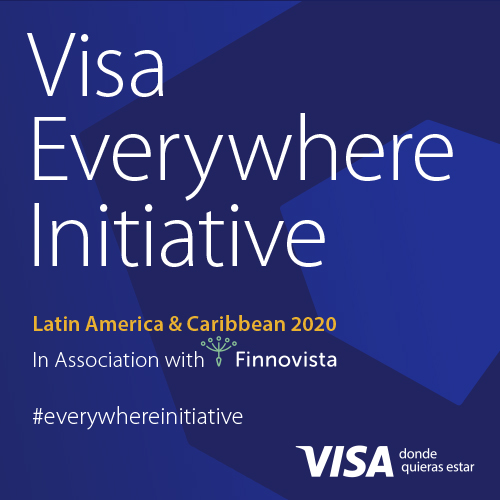 Visa Everywhere Initiative is a global innovation program that calls on startups to solve the commerce challenges of the future. In this occasion, two challenges were proposed, the first one consists of helping the small businesses in their economic recovery and the second challenge seeks to improve the experience of payments of hundreds of millions of people who use public transport, with systems of a frictionless collection that are fast, easy and safe.
Following a thorough evaluation, we are pleased to present the 30 startups that will compete virtually in the Visa Everywhere Initiative LAC 2020 semi-finals, which will be held privately and virtually.
Out of these, only 10 will make it to the grand final of the competition in October, when the finalist startups will present their solutions and proposals for collaboration with Visa to the Fintech community in Latin America and the Caribbean. In addition to this, during the grand final Visa will announce the 3 winners and will offer the possibility of connecting to a virtual network with the entire Fintech innovation community in Latin America and the Caribbean.
More than 300 applications were received in total, out of which 35% came from Mexico, 12% from Brazil, 23% from the Andean region, 20% from the southern cone, and 10% from Central America.
Payments and loans: the most active segments
The 30 semi-finalists work in 14 different Fintech segments. It should be noted that the two main Fintech areas in which the participating startups in Visa Everywhere Initiative LAC 2020 operate are payments (with 102 startups, representing 42% of total startups) and loans (with 48 startups, 20% of the total).
Other noteworthy segments are corporate finance management, to which 19 of the participating startups belong, representing 8% of the total participants; the segment that groups credit scoring, identity verification, and fraud prevention solutions, also with 19 startups, 8%, and the business technology segment for financial institutions, with 17 startups, 7%).
These are not the only segments represented. The branches of Fintech in which the participating startups operate also include digital banking, crowdfunding, personal financial management, trading and markets, wealth management, crowdlending / P2P loans, and insurance, as well as financial and savings education.
This data shows the dynamism of entrepreneurship in relation to payments and loans, since not only most startups operate in this sector, but also the number of participants in this category that have applied to Visa Everywhere Initiative LAC 2020 has increased in comparison with the last call.
On September 14, the 10 finalist startups, 2 from each Latin American region, will be announced and will have the opportunity to participate in an immersion program with Visa executives, held for the first time in a virtual format and starting on September 28.
The final, which will be held in a virtual and public event on October 16, will host the presentation of the 10 finalist startups that will showcase their achievements to our entire community and in which the 3 winners selected by Visa will be announced. Afterward, we will have virtual networking with the entire Latin American and Caribbean entrepreneurship community.
These are the 30 semi-finalist startups:
Mexico Semifinalists:
IF-bot (México): The first virtual business consultant for the improvement of MSMEs.
Lendera (México): Collective financing platform to invest in business projects in exchange for excellent returns.
Mobilender Inc (México): Software as a Service focused on developing Fintech solutions for financial inclusion.
Finnu (México): It is a mobile application that offers personal loans accessible online, without the need to have a credit history and using your cell phone as collateral for the loan.
Yaydoo (México): Smart Business Purchasing, Yaydoo helps companies to reduce their business expenses by optimizing each purchase.
YoFio (México): Microcredit app to make purchases with QR codes in small shops.
Central America and the Caribbean Semifinalists:
Aly-ai (Guatemala): Software specialized in the automation of marketing and digital advertising processes.
BOWPI (Guatemala): Lending as a Service platform that supports lenders and financial institutions throughout the consumer credit process.
Buguroo (Spain): Deep learning and biometrics solution for online fraud prevention
FT Technologies (Costa Rica): Tap On Phone" solution with Onboarding Digital
Fygaro (Panama): eCommerce generator with billing platform.
RocketPOS by GlobalPay Solutions (El Salvador): Point of sale and mobile wallet specialized in small shops.
Andean Region Semifinalists:
DASHFLEET (Colombia): Intelligent transport system that seeks to solve the technological needs of public passenger transport companies.
EPICA.ai (Colombia): A "prediction as a service" platform that democratizes Machine Learning so that businesses can thrive in a data-driven world
Hola Luka (Colombia): Platform for the automation of collection processes through messaging platforms.
Quipu Market (Colombia): A platform that creates community digital markets that make the supply of local products and services visible and facilitate trade without money.
Riqra (Peru): Comprehensive eCommerce platform for manufacturers and distributors
TuGerente (Bolivia): Administrative and accounting software for companies
Semifinalists Brazil:
A55 (Brazil): Alternative credit platform supported by the income of digital SMEs.
Datarisk (Brazil): Platform of "Decision as a Service" that allows to generate predictive models in an automated way.
Dinie (Brazil): Revolving credit line for SMEs available 100% online.
GYRA+ (Brazil): Loan platform based on digital data from SMEs.
GERU (Brazil): Online personal credit platform.
mGrana (Brazil): Instant credit mobile app that rates your users through data generated by their smartphones.
Southern Cone Semifinalists:
Came Pagos (Argentina): Digital payment tool between people and shops promoted by the Argentine Chamber of Medium Business
Dank (Chile): Neo-bank for Latin American SMEs.
Duemint (Chile): Software as a Service" platform that automates the collection process of any SME.
Prometeo (Uruguay): The largest platform of banking APIs connecting Latin American Financial Institutions.
Ualabee (Argentina): The first collaborative platform for moving around on public transport.
Wibond (Argentina): Corporate payment method for companies to manage all their movements on a single platform.
We want to thank all the startups that applied and congratulate the 30 semi-finalists. Now it's time to get ready to pitch in the semi-finals and share your innovative solutions to dazzle the jury! Which will be the 10 finalist startups? Stay tuned to our social media channels!