In a global context impacted by COVID-19, startups in the region can find an opportunity in startups engagement program Visa Everywhere Initiative, organized by Visa in association with Finnovista, to be part of the future of digital payments and contribute to the economic recovery of SMEs and the digitalization of Latin American society.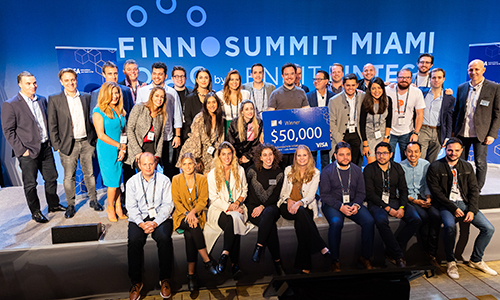 The fourth edition of the Visa Everywhere Initiative (VEI) in Latin America and the Caribbean, organized by Visa in association with Finnovista, invites startups from Fintech and other sectors to present, before June 30, innovative solutions to boost the economic recovery of small and medium businesses and generate frictionless payments in public transportation in the region.
At a time of uncertainty when digitization has become an urgent requirement for economies and societies, as well as innovation is more necessary than ever, the region's startups have seen an open door to collaboration with one of the main players in the global payments ecosystem, Visa, and its entire network of partners, merchants, and customers.
An opportunity for startups
According to the report Entrepreneurial Ecosystems in Latin America and the Caribbean vis-à-vis COVID-19: Impacts, Needs and Recommendations, recently published by the Inter-American Development Bank, the region's most successful entrepreneurs are facing the crisis because they are more resilient at times like these.
Furthermore, the fact that people are using, among many other technological applications, those financial service solutions that facilitate safer and healthier living habits in this context, makes it possible to envision a more positive future for Fintech startups in the region. For example, in Mexico alone, the download of applications of Fintech solutions has gone from 0.002 downloads per capita to 0.010, that is, it has multiplied by 5, according to the report The Global Impact of COVID-19 on Fintech Adoption.
All of this, together with the call for Visa Everywhere Initiative in Latin America and the Caribbean, which has just been launched, allows startups in the growth and scale-up phase to apply their innovative solutions, opening the door for entrepreneurs in the region to take advantage of this situation of uncertainty in the economy and society to help drive economic recovery for small and medium-sized businesses and progress towards a faster, more agile and secure public transportation payment system in the region.
Two challenges
Through this initiative, Visa, as a leader in the global payments ecosystem, seeks to strengthen the position of SMEs in the current context through technology solutions related to the adoption of contactless and mobile payments, a strengthening of their e-commerce activities or increased liquidity, among others.
Also, being key to the recovery of the cities around the region in view of the return to the "new normality", urban mobility is expected to change significantly. Hundreds of millions of people use public transport daily in Latin America.
That is why Visa has been working to facilitate payment experiences in public transportation, with its contactless EMV-based Public Transaction (MTT) model, which enables payment transactions within public transportation systems via contactless cards, mobile devices or wearables.
In that regard, Visa continues to work with the urban mobility industry to enable fast, secure and easy payments on more modes of transportation in the region and seeks innovative solutions to help improve people's door-to-door travel.
Startups and solutions that can participate
All eligible startups with operations in Latin America and the Caribbean can submit their innovative Fintech ecosystem solutions and apply until June 30th via this link.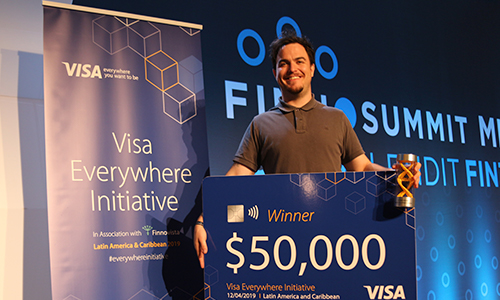 Startups working in contactless and mobile payments; E-commerce and point-of-sale lending, with solutions that offer more liquidity and money movement; Returns, claims, and refunds; Transaction and authentication fees; SME financial management and loyalty programs, can apply to Visa Everywhere Initiative LAC 2020 Challenge 1 and contribute to the recovery of small businesses.
Those enterprises that are growing or scaling up with a focus on Biometrics, Authentication, Internet of Things, Artificial Intelligence, Security and Identity, Blockchain, P2P Payments, and Mobile Payment Infrastructure, are called to apply to this year's Challenge 2 and contribute to creating frictionless mobility.
Take your startup to the next level
Thirty of the participating entrepreneurs with their startups will be able to reach one of the five digital semi-finals taking place from August 17-21, where they will be able to establish contact with other startups and Visa members at these private events. In the semi-finals, the startups will present their pitch to the jury, and, after deliberation, the two finalists chosen from each semi-final will be announced.
Finalists will present their pitch to a jury in a virtual final, which will take place on October 16th, and which will bring together the most important members of the Latin American entrepreneurial ecosystem. The winner of the fourth edition of Visa Everywhere Initiative LAC 2020 will receive a prize of US$25,000. The second and third place startups in the program will be awarded US$15,000 and US$10,000, respectively. Visa will explore different avenues of collaboration with the winning startup, such as developing pilot programs or proofs of concept, participating in one or more one-year mentoring meetings, or other alternatives.
In addition, winners will participate in a 3-week immersion program involving Visa representatives. Visa partner startups will have access to the expertise of Visa professionals and Finnovista network of mentors to help them grow their expanding and growing business, as well as to meet key players in the region's payments ecosystem.
The 2019 Visa Everywhere Initiative LAC winner Flexio describes his time at the program in the words of CEO and Co-Founder Nathan Schorr: "The Visa Everywhere Initiative was the turning point. We went from being a Fintech promise in Latin America to being a consolidated company with a regional reach, backed by one of the most powerful brands in the world: Visa. Visa Everywhere Initiative and Finnovista connected us to the Visa team, which helped us grow our business exponentially.
If like him and his team, you have the capacity to develop and strengthen public transport experiences, micro-mobility services and other forms of ticketing and payments for millions of people, or to support and accelerate the economic recovery of small businesses while improving the digital payments ecosystem in the region hand in hand with your startup, we invite you to participate in the competition and take your startup to the next level!